ThatChickWithTheGoggles

Real Name

Krissy Diggs

Affiliation

Contributions

ThatChickWithTheGoggles started out as a candidate for the position of "Nostalgia Chick". This title eventually went to Lindsey Ellis, but Goggles was allowed to stay on the site as a contributor on Blistered Thumbs. Her contributions have been low as she had been focused with school. However, she has cameoed in the Year Two event, Kickassia, and in comments she stated that she will return.
As of January 2011, Krissy left the site to pursue other interests.
In June of 2014, Krissy returned as one of the co-hosts of Transmission Awesome. She has since decided to continue making videos on YouTube.
TGWTG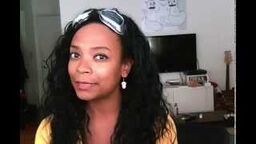 ThatChickWithTheGoggles a.k.a. Krissy Diggs is an illustrator and contributor at ThatGuyWithTheGlasses.com. She is originally from Kansas City, Missouri, but currently attends the Maryland Institute College of Art in Baltimore, MD.
Born in Frankfurt, Germany, an army brat, Krissy moved to the states when she was about 2. Her birthday is February 22, 1988 and she's a Pisces.
As a gamer, Krissy enjoys playing games from every genre. Her favorite types are JRPGs, Action Adventure, Puzzle, and Retro.
A gamer since she was young, Krissy grew up with a vast variety of games for many different platforms including Sega Genesis (her first system), Game Boy and PC. To highlight her many adventures in the world of gaming and to capture the nostalgic feeling of the games she used to play, Krissy developed a game review series entitled "The Games I Grew Up On." In each "review," she combines practical rationality with childhood beliefs on the game.
Her other supplement series is entitled "Quickies." These are fast-paced overviews of a game or series of games key lighting the most important parts to her. Not exactly a review, more so an overview. An overview hocked up on speed!
Krissy, as of January 2011, left the site to pursue other interests.
Other Appearances
Krissy has also appeared in:
External Links
Community content is available under
CC-BY-SA
unless otherwise noted.