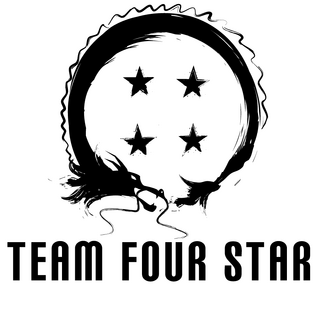 Team Four Star are a group of Anime fans who abridge many Anime series. They are well known for their Dragonball Z Abridged Series. The team consists of such talents:


Guest Stars:

KrisRix
Kirbopher15
Lord Quadros
WhipOfAlchemy
Hnilmik
Shows Produced by Team Four Star Members
TFS Helsing Ultimate Abridged
Yu-Gi-Oh: The Abridged Series
Naruto: The Abridged Series
Yu Yu Hakusho: The Abridged Series
Avatar: The Abridged Series
Sailor Moon: The Abridged Series
Berserk: The Abridged Series
Gantz: The Abridged Series
Vision of Escaflowne: The Abridged Series
Lupin the 3rd: The Abridged Series
JoJo's Bizarre Adventure Abridged
Saiyuki Reload Abridged
YouTube Suspension
On 11 August 2009, TeamFourStar's YouTube Channel became suspended, with all of their videos becoming removed. The videos received thousands, upon millions of views. Much fan hatemail has been sent to YouTube for this, and many fan tributes have been uploaded.
On the same day of their suspension, TeamFourStar released a new YouTube channel at Tfsdbzabridged. A website hosting all TeamFourStar's work was also created by fans and has since been recognized by TeamFourStar as a possible home due to their FAQ Special 2 video being taken off of their Tfsdbzabridged YouTube channel. Team Four Star got their original channel back in January 2010, but some videos have been removed since then.
Specials
Team4Star Does Canada (September 3rd, 2010)
Youmacon 2010 (December 12th, 2010)
Xmas Tree of Might (December 18th, 2010)
Behind the Scenes
Voice Acting (January 8th, 2011)
Advanced Lip Sync. (January 15th, 2011)
External Links