Tamara's Never Seen

Created by

Produced by

Starring

Produced

137 (on Channel Awesome)

Running Time

Variable

Website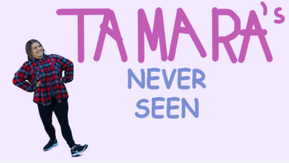 Tamara's Never Seen is a series where Tamara Chambers watches movies she has never seen before.
Return to Oz (June 26th, 2016)
Jurassic Park (July 17th, 2016)
The Secret of NIMH (July 24th, 2016)
The Goonies (July 31st, 2016)
The Dark Crystal (August 7th, 2016)
The Fifth Element (August 14th, 2016)
The Fly (August 21st, 2016)
Back to the Future (August 28th, 2016)
Back to the Future Part II (September 4th, 2016)
Back to the Future Part III (September 11th, 2016)
Young Frankenstein (September 18th, 2016)
Blazing Saddles (September 25th, 2016)
The Evil Dead (October 2nd, 2016)
Evil Dead 2 (October 9th, 2016)
Army of Darkness (October 16th, 2016)
The Exorcist (October 23rd, 2016)
The Blair Witch Project & Blair Witch, w/ Malcolm Ray (October 30th, 2016)
The Terminator w/ Taylor Chambers (November 6th, 2016)
Terminator 2: Judgment Day (November 13th, 2016)
Jaws (November 20th, 2016)
Creepshow (November 27th, 2016)
Die Hard (December 4th, 2016)
Gremlins (December 11th, 2016)
Home Alone w/ Jim Jarosz (December 18th, 2016)
Jingle All the Way (December 25th, 2016)
Pulp Fiction (January 8th, 2017)
Saving Private Ryan (January 15th, 2017)
The Meteor Man w/ Heather Reusz & Aiyanna Wade (January 22nd, 2017)
Ferris Bueller's Day Off (January 29th, 2017)
Groundhog Day (February 5th, 2017)
John Wick (February 12th, 2017)
Big Trouble in Little China w/ ThatGuyWithTheGlasses (February 19th, 2017)
Beetlejuice (February 25th, 2017)
The NeverEnding Story (March 4th, 2017)
Spirited Away (March 11th, 2017)
Heathers (March 18th, 2017)
Rocky w/ Walter Banasiak (March 25th, 2017)
Bill and Ted's Excellent Adventure (April 1st, 2017)
RoboCop (April 8th, 2017)
The Thing (April 15th, 2017)
Stephen King's IT w/ Taylor Chambers (April 22nd, 2017)
Kiki's Delivery Service (April 29th, 2017)
Kill Bill: Volume 2 (May 6th, 2017)
The Fugitive (May 13th, 2017)
The Mask (May 20th, 2017)
Escape From New York (May 27th, 2017)
Watership Down (June 3rd, 2017)
Death Note (June 10th, 2017)
The Crow (June 17th, 2017)
Ghostbusters (June 24th, 2017)
Judge Dredd (June 31st, 2017)
Dredd (July 8th, 2017)
Demolition Man (July 15th, 2017)
Scott Pilgrim vs. the World (July 22nd, 2017)
They Live (July 29th, 2017)
Shaun of the Dead (August 5th, 2017)
Hot Fuzz (August 12th, 2017)
The World's End (August 19th, 2017)
Planet of the Apes - 1968 (August 26th, 2017)
Brazil w/ Malcolm Ray (September 2nd, 2017)
Starship Troopers (September 9th, 2017)
Trainspotting w/ Jory Carrot (September 16th, 2017)
A League of Their Own (September 23rd, 2017)
Howard the Duck (September 30th, 2017)
Rosemary's Baby (October 7th, 2017)
Scream (October 14th, 2017)
Poltergeist - 1982 (October 21st, 2017)
Hellraiser films (October 28th, 2017)
Super Mario Bros. (November 4th, 2017)
The Garbage Pail Kids Movie (November 11th, 2017)
The Last Airbender (November 18th, 2017)
Troll 2 (November 25th, 2017)
The Star Wars Holiday Special (December 2nd, 2017)
Home Alone 2: Lost in New York (December 9th, 2017)
Scrooged (December 16th, 2017)
It's a Wonderful Life (December 23rd, 2017)
Black Christmas w/ Sally (December 30th, 2017)
Adventures in Babysitting w/ the Chambers family (January 6th, 2018)
Cool Runnings (January 13th, 2018)
Austin Powers: International Man of Mystery (January 20th, 2018)
Robin Hood: Men in Tights (January 28th, 2018)
Titanic (February 17th, 2018)
The Simpsons: Season 1 w/ Taylor Chambers (February 24th, 2018)
Brokeback Mountain (March 3rd, 2018)
The Lost Boys w/ Doug Walker (March 10th, 2018)
Legend w/ Doug Walker (March 17th, 2018)
Reservoir Dogs w/ Doug Walker (March 24th, 2018)
Teenage Mutant Ninja Turtles (1990) (April 7th, 2018)
Teenage Mutant Ninja Turtles II (April 28th, 2018)
Ed Wood (1994) (May 12th, 2018)
The Lost World: Jurassic Park (May 19th, 2018)
The Mighty Ducks (May 26th, 2018)
Suicide Squad (June 2nd, 2018)
Green Lantern (June 9th, 2018)
Kazaam (June 16th, 2018)
The Indian in the Cupboard (June 23rd, 2018)
Street Fighter (June 30th, 2018)
Jupiter Ascending (July 7th, 2018)
Skyscraper (July 14th, 2018)
The Muppet Movie (July 22nd, 2018)
Gremlins 2: The New Batch (July 28th, 2018)
Mortal Kombat (August 4th, 2018)
True Lies (August 11th, 2018)
The Lego Movie (August 18th, 2018)
Tombstone (August 25th, 2018)
Top Gun (September 1st, 2018)
Howl's Moving Castle (September 8th, 2018)
Braveheart (September 15th, 2018)
Freddy Got Fingered (September 22nd, 2018)
The Last Starfighter (September 29th, 2018)
Casper (October 6th, 2018)
Monster Squad (October 13th, 2018)
Carrie (1976) (October 20th, 2018)
The Texas Chainsaw Massacre (October 27th, 2018)
The Human Centipede (November 3rd, 2018)
Cat in the Hat (November 10th, 2018)
Mortal Kombat: Annihilation (November 18th, 2018)
Son of the Mask (November 24th, 2018)
Birdemic (December 2nd, 2018)
The Santa Clause (December 8th, 2018)
Eight Crazy Nights (December 16th, 2018)
The Muppet Christmas Carol (December 23rd, 2018)
Grandma Got Ran Over by a Reindeer (December 29th, 2018)
Mamma Mia! (January 5th, 2019)
Wreck-It Ralph (January 12th, 2019)
Speed (January 19th, 2019)
Dark City (January 26th, 2019)
The Green Mile (February 2nd, 2019)
Clue (February 9th, 2019)
Battleship (February 16th, 2019)
Rocky IV (February 23rd, 2019)
Goodfellas (March 2nd, 2019)
The Godfather (March 9th, 2019)
The Godfather Part II (March 16th, 2019)
Scarface (March 23rd, 2019)
Mary Poppins w/ Malcolm Ray (March 30th, 2019)
Big Fish w/ Walter Banasiak (April 6th, 2019)
Highlander w/ ThatGuyWithTheGlasses (April 13th, 2019)
Mighty Morphin Power Rangers: The Movie w/ Brad Jones (April 20th, 2019)
Fear and Loathing in Las Vegas w/ Taylor Chambers (April 27th, 2019)
The Big Lebowski (May 4th, 2019)
Pokemon: The First Movie w/ Taylor Chambers (May 11th, 2019)
Independence Day (May 18th, 2019)
Léon: The Professional (May 25th, 2019)
UHF (May 31st, 2019)
Ghost (June 7th, 2019)
Mars Attacks! (June 14th, 2019)
Fargo (June 21st, 2019)
Citizen Kane (June 28th, 2019)
Mystery Men (August 22, 2020)
Sky High (September 6, 2020)
Raising Arizona (September 12, 2020)
City of Angels (September 19, 2020)
Community content is available under
CC-BY-SA
unless otherwise noted.