Substance TV

Created by

Brian Castleberry & Erik Neal

Affiliation

Contributions

Website

Substance TV is the definitive source for entertaining videos, news and information on the video game industry, comic book world, and all things nerd. We strive to give you current, and up-to-date content when we see it and how we see it! Subscribe to our many video channels of awesomeness; Substance TV, Boomzies, and Extra Joy!.
The inspiration for Substance TV came from a mix of unemployment, boredom, and frustration at the lack of quality video game review shows. Instead of focusing on the bad games, each episode reviewed three of the best video games. With an ample amount of free time, Brian produced the first episode of Substance TV within a week. In the following few weeks, episodes two, three, and four premiered on YouTube.
Episode five would be the first retooling of the show. It also saw the addition of Brian's good college friend and fellow graphic designer, Erik Neal to the show. Episode five was the first big break for the duo as it was featured on both Gametrailers and ScrewAttack.
After the release of episode nine, the show was once again redesigned with a new look and logo. With the birth of Brian's second child, the show went on hiatus.
Almost two years years later, Substance TV would come back in a new volume format covering Zone of the Enders: The Second Runner.
As time progressed, Substance TV expanded into other ventures such as 'Extra Joy' and 'Boomzies'.
Originally Substance TV reviewed three games per episode. After episode eleven, the show switched formats to reviewing one game per volume. Each volume was a review of not only the game, but everything surrounding the game. From the history of the franchise, background of the publisher/developer, composers, artists, designers, and anything related to that game. Sprinkled within each volume were factoids that pop up on the screen giving the viewer supplemental information.
In 2011 Substance TV officially expanded from a single show into a network of varied shows covering video game culture.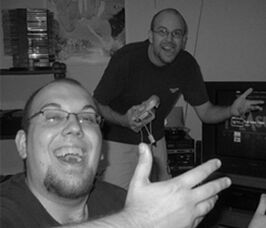 Episode 1 (June 21st, 2006)
Episode 2 (June 22nd, 2006)
Episode 3 (June 30th, 2006)
Episode 4 (July 18th, 2006)
Episode 5 (March 30th, 2008)
Episode 6 (September 2nd, 2008)
Episode 7 (December 25th, 2008)
Episode 8 (March 11th, 2009)
Episode 9 (May 26th, 2009)
Episode 10 (October 21st, 2009)
Episode 11 (January 31st, 2010)
Volume 1: Zone of the Enders 2 (October 16th, 2010)
Volume 2: In the Hunt (TDB)
On January 21, 2011, Substance TV premiered on Blistered Thumbs with Volume 1.
On July 2, 2011, Boomzies premiered on Blistered Thumbs with Issue #3.
Community content is available under
CC-BY-SA
unless otherwise noted.