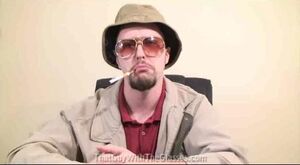 Raoul Puke, father of Fozzie journalism, is a character played by Doug Walker. A parody of Hunter S. Thompson's Raoul Duke, he even quotes phrases of Fear and Loathing in Las Vegas in his appearances.
His first appearance was in We're Back: A Dinosaur's Story, taking the place of the Nostalgia Critic. He also took over another of Doug's characters, Chester A. Bum, in the Bum Review of Rango, since "he appears in it!" (a Hunter S. Thompson lookalike appears in a scene of the movie) In the sketch Fear and Loathing in ShadoCon Raoul and artist Egoraptor visit the ShadoCon anime conference in Tampa, Florida.
He interrupts the Nostalgia Critic's Reefer Madness review to discuss misconceptions about marijuana.
Appearance
Raoul Puke wears Hunter S. Thompson's trademark sunglasses, and like him always has a cigarette in his mouth. The rest of his clothes mimic what Johnny Depp wore in his portrayal of Raoul Duke in Fear and Loathing in Las Vegas (hat, red shirt, beige jacket).
Community content is available under
CC-BY-SA
unless otherwise noted.