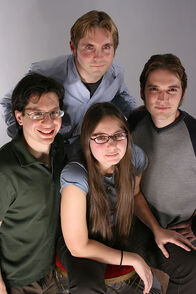 History
PBC Productions is a small company based out of New York City that specializes in creating internet TV based around topics such as video games, anime, puppetry and the nerdcore. Since launching pbc-productions.com in January 2007, PBC has released a new video every Friday, creating a catalog of documentaries, humorous shorts, and video game reviews.
PBC Productions was founded by actor Brett Vanderbrook, actor/writer Devon Riley, puppeteer Lindsay "Z" Briggs and filmmaker Chad Williams. Their first production was the internet sitcom The New Adventures of Captain S, which parodied Saturday morning TV programs from the late 80s and early 90s. In mid-2007, Devon Riley left the group, and Darrin DeMarco from X-Strike Studios joined. Shortly after the first season of Captain S ended, they began a new show called Little Miss Gamer. Hosted by Lindsey "Z" Briggs, it started as a straight-up review show for classic games, but has recently branched out and become an issue driven show. Episodes can be found on PBC Productions website as well as thatguywiththeglasses.com. By the summer of 2010, LMG and PBC productions was put on indefinite hold.
Connection to TGWTG
PBC recently became a featured contributor on TGWTG's video section. An episode of their show "Little Miss Gamer" is their first contribution to the site.
Podcast
On March 22nd, 2009, PBC Productions and Lee Davidge from Still Gaming brought to TGWTG a new podcast starring Lee and Z from Little Miss Gamer. The show focuses on retro gaming with a look at current games out on the market. They also discuss movies, comics and everything else in between.
Shows
The New Adventures of Captain S
Greater Gamer Culture (a documentary series)
Filler Fridays
External Links
Community content is available under
CC-BY-SA
unless otherwise noted.