NostalgiaWeen is a month where the Nostalgia Critic does Halloween themed videos, usually reviewing scary movies and talking about Halloween related topics.
NostalgiaWeen 2010
Edit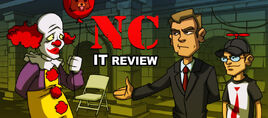 A parody of It's the Great Pumpkin, Charlie Brown. Lucy and Linus are walking home with the pumpkin when a masked murderer shows up and slices off their heads with a chainsaw and runs off laughing maniacally.
Episodes
Edit
NostalgiaWeen 2011
Edit
A parody of The X-Files opening, featuring visual jokes like Casper appearing, Charlie Brown appearing in his ghost costume, and NC falling down the stairs.
Episodes
Edit
NostalgiaWeen 2013
Edit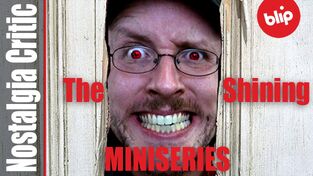 A parody of The Nightmare Before Christmas, Jack Skellington dressed as NC is walking through the forest, and finds a door with the ThatGuyWithTheGlasses logo on it. He opens it, when suddenly Pennywise steps out and shoots Jack, laughing.
Episodes
Edit
NostalgiaWeen 2014
Edit
A parody of Halloween. An unknown figure puts on a mask and heads into NC's house. He finds him at his computer, and NC yells at him for going into his house. The figure then stabs NC to death and it is shown that it is JonTron, getting revenge for the Critic reviewing Food Fight.
Episodes
Edit
NostalgiaWeen 2015
Edit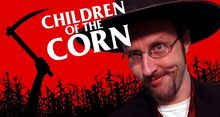 A parody of Goosebumps. NC is walking with a briefcase as it pops open and a shadowy "N" goes throughout the town, gliding past a Stephen King billboard. One of the pages comes across Jack Black, reading the paper that says "Goosebumps Now Nostalgically Popular!" The "N" goes into a house that show clips from past NostalgiaWeens, before revealing the title.
Episodes
Edit
NostalgiaWeen 2016
Edit
A parody of the intro for Gravity Falls, it parodies the theme song with Malcolm and Tamara as Dipper and Mabel, and NC as Stan. The opening has callbacks to Casper, IT, and Teddy Ruxpin, as well as past years of NostalgiaWeen.
Episodes
Edit
NostalgiaWeen 2017
Edit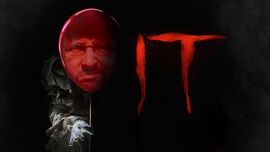 A parody of The Simpsons Treehouse of Horror, it features storm clouds that move to reveal NostalgiaWeen in bloody font, then transitions to a "Joke Cemetery". The graves change in every episode. It then cuts inside of Channel Awesome studios where Critic, Tamara and Malcolm reenact a Simpsons Couch Gag, which also changes every episode.
Episodes
Edit
NostalgiaWeen 2018
Edit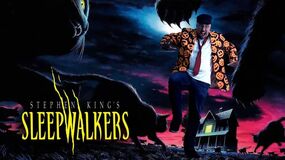 A parody of the intro for the Beetlejuice cartoon series, with NC as Beetlejuice and Tamara as Lydia.
Episodes
Edit
Other Halloween Episodes
Edit
Hocus Pocus was the first NostalgiaWeen review to be in November, since there were only two Halloween reviews in 2015.
There was no NostalgiaWeen for 2012, since Doug Walker stopped the show to work on Demo Reel, but brought it back in 2013 when Nostalgia Critic returned.
NC reviews at least one Stephen King movie every Nostalgia-ween.
Reversing the 2016 NostalgiaWeen theme, the whisper says "You really played this backwards? What's wrong with you?"
The Nostalgia Critic Transcripts
2008:
Transformers · Cartoon All-Stars to the Rescue · Cloverfield Trailer Review · Power Rangers: A Look Back · Harry Potter and the Deathly Hallows Book Launch · Teenage Mutant Ninja Turtles: The Movies · The Top 11 Scariest Nostalgic Moments · Super Mario Bros.: The Movie · Cloverfield Review · Street Fighter · Mortal Kombat · Space Jam · The Nerd Rant · The Nerd Rant Part 2 · Pokémon The First Movie · The Nerd Wizard Rant · The Wizard · The Top 11 Naughtiest Moments in Animaniacs · Batman & Robin · The Top 11 Catchiest Theme Songs · '90s Sports Montage · The Nerd Response…Response · The Top 11 Drug PSAs · The Battle of Epic Proportions · Captain Planet · Double Dare · 3 Ninjas · Top 11 Hottest Animated Women · Video Game Review · The Search for the Nostalgia Chick · He-Man and the Masters of the Universe · Follow That Bird · Saved By the Bell · Tom and Jerry: The Movie · Top 11 Saddest Moments · Nostalgia Chick Winner · Surf Ninjas · NC vs The Nerd Showdown · Top 11 Nostalgic Animated Shows · Kazaam · The Nerd vs. NC: The Final Battle · Off to Beat the Nerd · Drew Struzan Tribute · Halloween '08 Special · Double Dragon · Top 11 Underrated Nostalgic Classics · Howard the Duck · Mortal Kombat: Annihilation · Godzilla · Top 11 Disney Villains · The Super Mario Bros. Super Show · Top 12 Greatest Christmas Specials · Jingle All the Way
2009:
Nicktoons · Nickcoms · SNICK · Good Burger · The Making of the Final Battle · Ferngully: The Last Rain Forest · A Kid in King Arthur's Court · The Good Son · The Adventures of Sonic the Hedgehog · Top 11 Nostalgic Mindfucks · Twister · Garbage Pail Kids · Rock-A-Doodle · Titanic - The Legend Goes On · The Pagemaster · The NeverEnding Story · Moonwalker · Top 11 Dumbest Superman Moments · TMNT · Red Sonja · TGWTG Team Brawl · Short Circuit 1 & 2 · Batman vs. The Dark Knight · Full House · North · Critic and Nerd: TMNT Making of Coming Out of Their Shells · Sidekicks · Gargoyles · Transformers 2: Revenge of the Fallen · Steel · Top 11 Cereal Mascots · Barb Wire · New vs Old - LOTR Animated vs Lord of the Rings · Last Action Hero · Captain N · We're Back: A Dinosaur's Story · Warriors of Virtue · Captain America · Top 11 F*ckups · Alone in the Dark · Blank Check · Old vs. New: Willy Wonka · Cool as Ice · Suburban Commando · Next Karate Kid · Casper · Superman IV · Congo · Siskel and Ebert Tribute · Judge Dredd · Tank Girl · Jack Frost · He-Man and She-Ra Christmas Special · Next Best Christmas Specials · Star Wars Holiday Special · Ernest Saves Christmas
2010:
Commando · Junior · Conan and Conan the Destroyer · End of Days · Battlefield Earth · Bebe's Kids · Lost in Space · Top 11 Villain Songs · Quest for Camelot · Old vs. New: Nutty Professor · Bio-Dome · NeverEnding Story II · Top 11 Most Awkward Christopher Walken Moments · Flubber · Home Alone 3 · Old vs. New: King Kong · Drop Dead Fred · The Care Bears Movie · Kickassia: Part 1, Part 2, Part 3, Part 4, Part 5, Part 6 · Jaws 3 · Free Willy · A Troll in Central Park · Theodore Rex · Top 11 Coolest Cliches · Hook · Independence Day · The Room · The Phantom · Zeus and Roxanne · Animaniacs Tribute · Flintstones Movie · Mr. Nanny · Rocky IV · Chairman of the Board · Next Top 11 NC Fuckups · Pound Puppies and the Legend of Big Paw · Pebble and the Penguin · Ernest Scared Stupid · Top 11 Scariest Performances · IT · Leprechaun · My Pet Monster · Commercial Special · Old vs. New: 10 Commandments vs. Prince of Egypt · The Thief and the Cobbler · Waterworld · Little Monsters · Rover Dangerfield · You're a Rotten Dirty Bastard · The First Couple: TMNT
2011:
NeverEnding Story III · Ferngully 2 · Secret of NIMH 2 · Care Bears 2 · Dungeons and Dragons · Top 11 Dumbest Spider-Man Moments · The Lost World: Jurassic Park · Return of the Nostalgic Commercials · Inspector Gadget · Old vs. New: The Karate Kid · The Langoliers · Airborne · Baby Geniuses · Raiders of the Story Arc: X-Men · The Magic Voyage · Double Team · Top 11 Dumbasses in Distress · Jaws: The Revenge · Gordy · The OTHER Animated Titanic Movie · Revenge of the Nostalgic Commercials · Once Upon a Forest · Little Nemo · Old vs. New: True Grit · Suburban Knights: Part 1, Part 2, Part 3, Part 4, Part 5, Part 6, Part 7 · Transformers 3: Dark of the Moon · Milk Money · Rad · Raiders of the Story Arc: Duck Tales · Care Bears in Wonderland · Cop and a Half · Top 11 Batman TAS Episodes · Alaska · Let's Play Bart's Nightmare · James and the Giant Peach · The Avengers · Simon Sez · The Tommyknockers · The Haunting · Blair Witch 2: Book of Shadows · Exorcist 2 · Doug's 1st Movie · The Cell · Raiders of the Story Arc: Superman · Felix the Cat · Moulin Rouge · Babes in Toyland · How the Grinch Stole Christmas · Child's Play
2012:
Santa Claus: The Movie · Star Trek: The Motion Picture · Star Trek 3: The Search for Spock · Star Trek 5: The Final Frontier · Star Trek 7: Generations · Star Trek 9: Insurrection · Patch Adams · Ponyo · Dunston Checks In · Thomas and the Magic Railroad · Top 11 Nostalgia Critic F*** Ups Part 3 · Richie Rich · Jungle 2 Jungle · Old vs. New: Manhunter vs. Red Dragon · Star Chaser · Transformers Cartoon · A Simple Wish · Alien Resurrection · Jack · Heavy Metal · Mr. Magoo · Top 11 Simpsons Episodes · Signs · Digimon: The Movie · Top 11 F*** YEAH Movie Themes · Baby Geniuses 2 · Indiana Jones and the Temple of Doom · The Wiz · Total Recall (with Sci-Fi Guy) · Scooby-Doo · To Boldly Flee: Part 1, Part 2, Part 3, Part 4, Part 5, Part 6, Part 7, Part 8 · NC's Top 11 Favorite Jokes · The WORST Movies Nostalgia Critic's Reviewed
2013:
The Review Must Go On · The Odd Life of Timothy Green · Pearl Harbor · Son of the Mask · The King and I · Catwoman · The Cat in the Hat · Top 11 South Park Episodes · Jurassic Park · A.I. Artificial Intelligence · The Master of Disguise · Turbo - A Power Rangers Movie · Top 11 Dumbest Lord of the Rings Moments · Sailor Moon · Les Miserables · Top 11 Adult Jokes We Never Got as Kids · The Last Airbender · Bridge to Terabithia · The Shining Mini-Series · Sharknado · Devil · Dawn of the Commercials · Man of Steel · Top 12 Santa Clauses · Eight Crazy Nights · The Christmas Tree
2014:
Face/Off · The Wicker Man · Ghost Rider · Top 11 Strangest Best Couples · Ghost Dad · Disney's Alice in Wonderland · Top 11 Moments You Never Noticed in Ghostbusters · Disney Afternoon · Foodfight · Swan Princess · The Lorax · Old vs. New: Spider-Man · Blues Brothers 2000 · Jurassic Park 3 · After Earth · Bloodrayne · The Purge · Top 11 Trailers · Small Soldiers · The Princess Diaries 2: Royal Engagement · Ghost Rider 2 · Top 11 Worst Avatar Episodes · Top 11 Best Avatars (with Dante Basco) · Maximum Overdrive · Top 11 New Halloween Classics · Monster Squad · Rise of the Commercials · Forest Warrior · Grandma Got Run Over by a Reindeer (NC) · Christmas Story 2 · Care Bears Nutcracker
2015:
The Matrix · The Animatrix · The Matrix Reloaded · The Matrix Revolutions · AVGN Movie · Mamma Mia! · The Haunted Mansion · Daredevil · Teenage Mutant Ninja Turtles (2014) · Demolition Man · Top 11 Animaniacs Episodes · Legend of Zorro · The Ewoks Cartoon - Was That Real? · Fantastic Four · Cowboys of Moo Mesa - Was That Real? · Sharkboy and Lavagirl · Small Wonder - Was That Real? · Jupiter Ascending · Jurassic World · Top 11 TV Show Intros · Planet of the Apes · Osmosis Jones · Garfield: The Movie · Pixels · The Smurfs · Hammerman - Was That Real? · Mad Max: Fury Road · Event Horizon · Children of the Corn · Hocus Pocus · Conquest of the Commercials · Dragon's Lair · We Wish You a Turtle Christmas · Christmas with the Kranks · Star Wars: The Force Awakens (NC)
2016:
The Happening · Top 11 Funniest Shyamalan Moments · Lady in the Water · Labyrinth · Spawn · Cats & Dogs · The Phantom of the Opera · The Adventures of Pluto Nash · Pinky, Elmyra and the Brain - Was That Real? · Batman v Superman · Blade · Old vs. New: Cinderella · Spy Kids 3D: Game Over · Jem and the Holograms (2015) · The Grinch vs. The Cat in the Hat - Was That Real? · Scooby-Doo 2 · Alvin and the Chipmunks · Ghostbusters (2016) · Teddy Ruxpin Live Action Series - Was That Real? · Wild Wild West · The 3rd Animated Titanic Movie (Tentacolino) · The Adventures of Rocky and Bullwinkle · Stephen King's Dreamcatcher · Freddy vs. Jason · Teenage Mutant Ninja Turtles: Out of the Shadows · Battle of the Commercials · Inspector Gadget Saves Christmas · Top 12 Christmas Commercials · I'll Be Home For Christmas · Rogue One: A Star Wars Story
2017:
Top 11 Best Movie Sequels · Alvin and the Chipmunks: The Squeakquel · Top 11 Worst Movie Sequels · The Smurfs 2 · Garfield 2: A Tail of Two Kitties · Cool World · Old vs. New: Evil Dead · Top 11 WTF Alternate Endings · Balto · Fant4stic · Clockstoppers · The Flintstones in Viva Rock Vegas · Suicide Squad Trailer · Suicide Squad · Alien vs. Predator · Transformers: The Last Knight NON-Review · Wonder Woman · Norm of the North · Hulk (2003) · Monkeybone · The Sorcerer's Apprentice · Eragon · Kangaroo Jack · Green Lantern · It (2017) · The Mummy · The Mummy (2017) · Dragonball Evolution · War of the Commercials · Rapsittie Street Kids: Believe in Santa · Home Alone 2: Lost in New York · Star Wars: The Last Jedi
2018:
Lara Croft: Tomb Raider · Top 11 Good Adam Sandler Movies · Yogi Bear · Batman Forever · Alvin and the Chipmunks: Chipwrecked · Alice Through the Looking Glass · Beauty and the Beast (2017) · Jack and Jill · Starship Troopers · Scooby-Doo: The Mystery Begins · The Spirit · Deadpool 2 · The Angry Birds Movie · Fox Kids · The League of Extraordinary Gentlemen · Mission: Impossible 2 · Doom · Ghostbusters 2 · Freddy Got Fingered · Fantastic 4: Rise of the Silver Surfer · Sleepwalkers · Van Helsing · Rubber (2010) · Jurassic World: Fallen Kingdom · Escape from the Commercials · A Christmas Story Live · The Nutcracker (2010)
2019:
Max Payne · Robocop (2014) · The Black Cauldron (NC) · Top 11 Funniest Siskel and Ebert Reviews · The Country Bears · X-Men: The Animated Series · X-Men · X-Men: The Last Stand · Best F(r)iends · Hop
DVD Exclusives:
Turkish Rambo · Video Game Review 2: Blues Brothers (SNES) · Reefer Madness · Doomsday Machine · NC - Kickassia · NC - Suburban Knights · NC - To Boldly Flee · NC - Live Review of Twilight Breaking Dawn Part 2 · Paranoia · Cup of Idiocy (Doug's Old Home Movies) · Night of the Living Dead · The Cinema Snob Movie · The Review Must Go On Review
Theme months
NostalgiaWeen · Christmas · Annual Theme Month