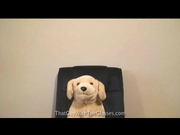 Mr. Puppy is the rarely seen but often beloved canine friend and associate of That Guy With The Glasses.
History
Mr. Puppy made his debut appearance in the "Explanation of 5 Second Movies" video that appeared on 5 Second Movies' third YouTube channel. His role was to ask That Guy With The Glasses questions about how the new channel worked. He also made the unfortunate mistake in pointing out that not all of the 5 Second Movies were exactly five seconds long, to which a large glass got dropped on his puppeteer's head.
In The Nostalgia Critic's "Top 11 Nostalgic Mindfucks" video, Mr. Puppy made a surprise reappearance...only to immediately transform into a giant gorilla.
Mr. Puppy later appeared in the Nostalgia Critic's review of "Barb Wire" in a very brief cameo. It was during the "fade in, fade out" joke sequence.
After a long absence, he reappeared in the Jurassic World review and helped to explain the situation with Youtube taking down several videos. This was a homage to the Explanation of 5 Second Movies video.
List of Video Appearances
Nostalgia Critic
5 Second Movies
Explanation of 5 Second Movies
Community content is available under
CC-BY-SA
unless otherwise noted.