Melvin Brother of the Joker

Created by

Produced by

Starring

Produced

1

Running Time

8:46

Website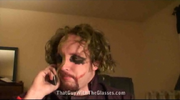 Melvin Brother of the Joker is a sketch show where the title character, who looks like the Heath Ledger version of the Joker from The Dark Knight, hosts a special vlog show where he discusses various topics. ThatGuyWithTheGlasses portrays the character as a person living at home while attempting to become every bit the super villain his more successful brother is. The Other Guy plays the often overbearing mother in the sketch. He does have a super hero arch nemesis in "The Human Ant".
The first episode was generally considered to be lacking in humor, a fact the ThatGuyWithTheGlasses staff made fun of during their one-year anniversary video. The sketch was discontinued after the negative reactions to it.
Doug filmed The Nostalgia Critic's "Top 11 Dumbest Superman Moments" right after shooting the Melvin sketch, so he has eyeliner in that NC video (a fact he addressees in the "Top 11 Nostalgia Critic Fuck-Ups", complete with Melvin Brother of the Joker's theme playing in the background - which annoys the Critic, but not more than the Doug theme that goes after). The sketch is jokingly referred to again in the "James and the Giant Peach" review during the session in which Doug formally apologizes for the failure of his Let's Play of Bart's Nightmare.
For the second donation drive, Melvin was stabbed to death as they reach their goal of twenty-five thousand dollars.
It was revealed on the 4th anniversary DVD that Melvin became the Hummel figurine, featured on AskThatGuyWithTheGlasses, after his death.
Episodes
Links