Lori Prince Live

Created by

Produced by

Starring

Produced

2

Running Time

6 mins.

Website
In late July 2007, Doug posted a pilot for a series titled Lori Prince Live. The show is a fictonal news show that airs on GNN (Gotham News Network). The show takes place in the same continuity as the films Batman Begins and The Dark Knight. Prince (played by Doug) is the host of a roundtable discussion show talking about the impact of violence on society. This pilot takes place during the events of The Dark Knight. The Joker (voiced by Doug) is a guest on the show discussing violence in the media. When Batman (as "Mr. Man", voiced by The Other Guy aka Rob Walker) calls the show, the two get into a heated argument.
The second episode was posted on Sept. 3, 2008. This episode featured Alice in Wonderland's March Hare (Rob) and Mad Hatter (Doug) as guests, discussing the growing drug epidemic. Later on in the show, the Joker and Batman ("Mr. Man") showed up to weigh in on the topic and argue. In both episodes, producer/tech guy Bhargav provides the "straight man" role as a psychologist.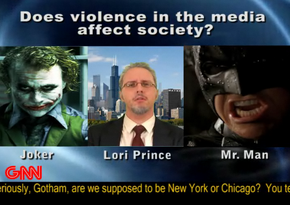 Rob has stated on the TGWTG.com forums that more episodes are planned. He also says that "in future episodes, we're talking about Lori moving to an actual cartoon themed station."
On August 21st, 2009, an announcement was made stating that new episodes of Lori Prince Live would be on the way! This has yet to happen, unfortunately.
In the end stinger of Linkara's review of The Godyssey 1, GNN briefly reappears as Lori Prince is heard off-screen talking about pieces of the world and people going missing. He takes a call at the end, which turns out to be the Joker again.
In the first part of Suburban Knights, Lori Prince's show appears, but it is instead hosted by Larry Prince, who in the commentary for Suburban Knights is revealed to be played by Doug and Rob Walker's father, as Larry is also the father of Lori Prince. Since this is an episode from the early 80's it indicates that Larry use to host the show before it was given to Lori 20+ years later.
External Links
Community content is available under
CC-BY-SA
unless otherwise noted.