Benzaie's Hardcorner

Created by

Produced by

Starring

Produced

31

Running Time

Variable

Website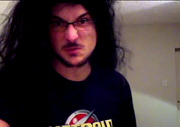 Benzaie's series Hardcorner is where our host reviews various things such as hardware or collectibles while wearing the long wig from his Farewell That Dude In the Suede video and uses a tough guy accent. The show is also inspired by a friends' series called From Pixels to Plastic! It is produced by Blistered Thumbs.
Episodes
Street Fighter 4 Pad (February 25th 2009)
Mini Megadrive (March 30th, 2009)
2 Goodies (May 20th, 2009)
Street Fighter Plug N Play (June 28th, 2009)
Technigame (September 27th, 2009)
Let's Play the III demo ! (November 1st, 2009)
Benzaie VS Handsome Tom: Revenge! (November 8th, 2009)
Handsome Tom Vs Benzaie: Tom's game! (November 15th, 2009)
A Frog in Chicago (November 22nd, 2009)-Part of the Year One event. This was his 2 hour long vlog that was in the premiums area.
Rush Rush Rally Racing (December 5th, 2009 as part of the December 2009 donation drive , December 11th, 2009)
Nintendo Candies (May 2nd, 2010)
Dead Space 2 Collector (January 29th, 2011)
Halo Reach R.C. Warthog (March 7th, 2011)
The Witcher 2 Deluxe Edition (June 9th, 2011)
The Real Mana Potion (August 6th, 2011)
Mortal Kombat Arcade Stick (August 20th, 2011)
The Rarest NES Game? (October 15th, 2011)
Skyrim: Collector's Edition (January 28th, 2012)
The WonderSwan & MegaMan (February 4th, 2012)
Zelda Collectors Items (February 12th, 2012)
Mass Effect 3 Collector (March 10th, 2012)
Lego Mario Kart (April 14th, 2012)
BERSERK Special (May 20th, 2012)
Diablo III Collector (May 27th, 2012)
The Neo Geo AES (June 17th, 2012)
The First Handheld Console (August 19th, 2012)
Guild Wars 2 (September 2nd, 2012)
Borderlands 2 Loot Chest (September 30th, 2012)
Resident Evil SIIIX (October 22nd, 2012)
Black Ops 2 Care Package (November 22nd, 2012)
Hardcorner the Movie Trailer (March 8th, 2014)
Links
Benzaie's Hardcorner at TGWTG.
Community content is available under
CC-BY-SA
unless otherwise noted.