Epic Fail

Created by

Produced by

Starring

Written By

Produced

31

Running Time

Variable

Website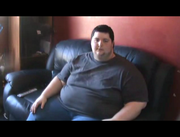 Epic Fail by Sean Fausz is a show starring the Transmission Awesome host where he finds the worst videos on Youtube ever and comments on them. The idea came about after a conversation with a friend of his and over time, he posted the videos on both Youtube and ThatGuyWithTheGlasses.com. By late January of 2009, he became a featured show on the site and now brings the site the worst videos ever lampooned. The show is part of Channel Awesome.
What is an Epic Fail?
An epic fail according to Sean is "A video that is incredibly bad, or consists of something so idiotic it just shouldn't be conceived in the mind of human nature. But sometimes I'll add in videos that are just randomly hilarious, such as the Darth Vader being a Jerk video from my (then) latest epic fail."
Gags
Usually before each episode, Sean is seen playing various games before deciding to go on with the show.
Episodes
| Episode Number | Episode Title | Gag | Date Released |
| --- | --- | --- | --- |
| 1 | It begins! | No gag. Just the series premiere! | August 20th, 2008 (February 18th, 2010 on the site) |
| 2 | The Spectrum is a Lie! | ... | August 22nd, 2008 (March 4th, 2010) |
| 3 | Thats a Huge Horse | The third ep of the Epic Fail list! | August 23rd, 2008 (Digitally remastered and put on the site February 3rd, 2010) |
| 4 | WRASTLIN' FAIL | Sean enters the room a la a WWE Superstar. In this case, he was imitating Bret Hart. | August 29th, 2008 (January 28th, 2010 on the site) |
| 5 | Super Saiyan 3 My Ass | With his back hurt, Sean presents his fail list. This was digitally remastered and put on the site in Jan 2010. | January 21st, 2010 (Remastered version) |
| 6 | Bust A Nut | Sean turns his had to show what type of people wear it that way. | October 20th, 2008 |
| 7 | Common Sense Rejected | Bros on the 's Virtual Console. | October 20th, 2008 |
| 8 | The Procrastination Is Over. | Received from Coldguy. | December 8th, 2008 |
| 9 | Left 4 Idiocy (Cameo by Benzaie.) | It begins with a read of a zombie fighting strategy guide. Benzaie later cameos. | December 18th, 2008 |
| 10 | New Year, New Fail | Goes straight to the intro. | January 8th, 2008 |
| 11 | Bake That Cake, Bitch! | Plays and says "What? Not my fault loves me." | (January 16th, 2009 on the blogs. Jan 24th, Featured) |
| 12 | Inaugural Headache | Sean receives an e-mail from Mike Michaud and calls Rollo T to tell him he's featured like the others. Chris then says his brother got hit by a bus. | January 24th, 2009 |
| 13 | Fuel For the Fail | ThatAussieGuy introduces the fails in the video. As it turns out, the intro was a rip-off. | February 8th, 2009 |
| 14 | As the World Burns | Reacts to mailed copy of Chuck Palahniuk's highly graphic and disturbing short story Guts. | March 2, 2009 |
| 15 | Final Countdown | Sean has a nightmare where past Fails are shown and says "Thank God it's just a dream" until he sees the camera. Episode was also cowritten with Rollo T. | March 9, 2009 |
| 16 | Clone Love | Starts with a warning showing an image of Wilfred Brimley talking about "Diabeetus". | March 17, 2009 |
| 17 | Epic Fail #911: I need help | Sean asks his viewers for help finding fails. | April 9th, 2009 |
| 18 | Crossover Win | Sean begins with what he assumes is a man singing a song from Disney's "" beautifully. It turns to shock when the guy starts to sing like Jasmine. Spoony also cameos as Ultimate Warrior. Paw and AngryJoe also have cameos. | May 26th, 2009 |
| 19 | Sean VS Microsoft | Sean's X-Box breaks down and he and his friends destroy it in a funny way. | July 23rd, 2009 |
| 20 | Rebirth | Sean starts the rebirth of his show only to have Admiral Ackbar from "Star Wars" yell "It's a Trap!" | August 23rd, 2009 |
| 21 | Forum Focus | Sean Vs some seriously over the top fails like HD sunglasses. You can't make this stuff up! | October 3rd, 2009 |
| 22 | Magic: Paw is not allowed. | Sean plays Magic on XBLA with Rollo T and Paw. Hilarity ensues. | October 10th, 2009 |
| 23 | We're Going to MAGfest! | Sean talks about MAGfest, a convention taking place on Jan 1st-4th, 2010. A number of Channel Awesome staff are slated to attend. | November 28th, 2009 |
| 24 | Special: The Carlton Dance | Part of the December 2009 donation drive. Contributors from the site dance the Carton Dance to Tom Jone's "It's Not Unusual". | December 5th, 2009 for the drive. December 6th, 2009 on the site. |
| 25 | Ep 20: A Look back | The full version of the video from the December 2009 Donation drive. Now with a couple more Cameos! | December 18th, 2009 |
| 26 | Epic Fail 21 - Shake THIS | Sean tries to play Sonic 2006 with Tails and dies. Various contributors call and wonder when his next Epic Fail is coming out. | June 12th, 2010 |
| 27 | Epic Fail 22 - Chop Fooey | Gobot gangbangs, Avril Lavigne ruins music as we know it, and Gary Busey talks about Dyslexia on this edition of Epic Fail. | February 26th, 2011 |
| 28 | Epic Fail 23 - Food Fetish | Wrap your mouth around this Cheeto, and your mind around these terrible Epic Fails. | May 21st, 2011 |
| 29 | Epic Fail 24 - Sean Officially Derped | What the heck did Sean do, for him to feature his own video on Epic Fail? How bad was it? | May 28th, 2011 |
| 30 | Epic Fail 25 - There Are No Words | Sean, JW, and Yanki J team up to tackle Dragonforce covers, the Shake Weight sequel, and more! | November 12th, 2011 |
| 31 | Epic Fail 26 - Like a Circus | Don't worry, the Clap Attack inside is for kids! | December 10th, 2012 |
External Links