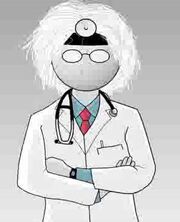 Dr. Wiki is a character from That SciFi Guy. He is an entity seemingly born in cyberspace, who is a wellspring of knowledge for almost anything and everything. He appears in each of That SciFi Guy's shows, always offering information about a recently mentioned subject. The character is a simple hand-drawn faceless image wearing glasses and a doctor's smock.
Since arriving on Channel Awesome, Dr. Wiki's original voice (which seemed to be a simple text-to-voice program) has been re-dubbed by a variety of guest stars, including Linkara, AngryJoe, and others.
May 16, 2011: The Core: Unknown/Uncredited
May 30, 2011: Superman Returns: Alex McDaniel, Nick Wright, Linkara
June 13, 2011: Robot Jox: AngryJoe
July 25, 2011: Demolition Man: Allen Stephens
September 19, 2011: Final Fantasy - The Spirits Within: Kim Thompson
October 25, 2011: Jason X: Nick Wright, Jason Wade
November 21, 2011: Johnny Mnemonic: Damian Williams, John Pierce, Oancitizen
December 14, 2011: Star Wars Holiday Special: Allen Stephens, Nick Wright
February 20, 2012: G.I. Joe: Nick Wright
March 13, 2012: Wild Wild West: Ian Kent, Nick Wright, Benzaie
July 02, 2012: Splice: Justin "JW" Carmical
August 08, 2012: Total Recall (crossover with Nostalgia Critic): That SciFi Guy and Doug Walker (both uncredited)
October 22, 2012: Zombie Apocalypse: Kim Thompson, Dena Natali
March 18, 2013: Man With The Screaming Brain: Allen Stephens
September 10, 2013: Hardware: Brian Heinz
Community content is available under
CC-BY-SA
unless otherwise noted.