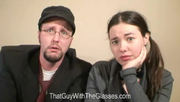 Cameos or crossovers have been a part of ThatGuyWithTheGlasses.com since the beginning of the site. Here is a list of who appeared in what videos over the history of the TGWTG.com. A few notes on this section:
If (Co-Reviewer) is next to a line, that means the person either wrote or acted with the fellow producer in the majority of the review. If they were not in the majority but still were credited as a writer, (Co-Writer) is next to the line.
If (Guest Lead) is next to a line, it means that person replaces who regularly hosts the show's as the lead for that episode for the actual review. But just because that episode has a Guest Lead doesn't mean the regular lead doesn't appear in the episode at all.
If (Co-Star) is next to a line, it means that person is featured predominantly in the video but doesn't help out with any actually reviewing or if they were feature predominantly in a video that wasn't a review.
If (Editor) is next to a line, it means that person was the one who actually did the majority of work on the review (including actually editing it altogether) thus are the ones who technically made the video, even if it listed in someone else's section (thus why they're getting a credit here) for one reason or another.
If (Voiceover) is next to a line, that means the person was only heard in the review but not seen.
If (Archive Footage) is next to a line, that means the clip of the person was used from something else they were in on the site or another place, and not recorded for that particular review.
If (Archive Voiceover) was next to a line, a clip of them speaking previously was used from something before that review.
If (X) was next to the name, this is a person no longer affiliated with thatguywiththeglasses/channel awesome at this time.
If (*) is next to a line, that means the review/skit/series is no longer on the site and can't be watched by going on it's main page. It is either not on the site or is only available in the archive/search function.
SPECIAL NOTE: If one of those titles does not cover all the person did as part of the cameo you can use two. For example: if someone did a voiceover but also appears only in archive footage, you can list both of them. However some titles do override others so you can only one. For example if someone appears in (Archive Footage) but also appears regularly in a review, you don't need to include archive footage.
Also here are the things that do NOT count as Cameos:
When Someone Appears In A Podcast
When Someone Appears In A Let's Play
When Someone Appears in the Bloopers/Commentary/Trailer of a video they've already appeared/will appear in. Anything in fact that is a behinds the scene of the majority of the video in fact does not count for a cameo (unless it is fake behind the scenes which would make it a sketch, thus acceptable to appear in). Neither do vlogs unless they involve a review, or interview of some kind.
When Someone Appears in one of the yearly specials (Kickassia, Suburban Knights) that was credited as a main performer/star of the special and appeared in multiple consecutive parts of it. That also includes other anniversary videos (that aren't just crossovers) like Paw's Dance Specials, Angry Joe Hotel, Benzaie's Vlogs, etc.
When You Use The Meme Of Another Producer (like Big Lipped Alligator Moment) without getting said producer to alter it in anyway.
If someone uses clips of a good majority of TGWTG Producers (at least more then five) for some sort of video or clip as (Archive Footage).
If someone is the regular singer (onscreen or off) of someone else's series. For example, Sad Panda for Phelous's shows or for Benaie's GYMDK. Give credit however if it is only a special one time thing, like Phelous doing the "theme song" in an episode of Forget About It.
When Someone is actually already part of the regular process of the show due to being related to the production of the episode/series. For example, Rob Walker is a co writer for a lot of Nostalgia Critic episodes, Welshy is the co-writer and actor of Sad Panda Q&A, and Nella and Elisa are part of the Nostalgia Chick team (so same goes for Lindsey in one of Nella or Elisa's projects), to give examples. However credit should be given if someone acts or is given special credit in something they are only occasionally apart of. Like Bhargav/The Other Guy acting in Nostalgia Critic, or Iron Liz of Atop The Fourth Wall.
Number
Name
Appearance
1
8 Bit Mickey (X)

Bad Movie Beatdown: Far Cry
Phelous (shows): Cinema Snob & Phelous - Troll 4
The AngryJoeShow: Hotel Awesome: Season 2 - Episode 2
The AngryJoeShow: Hotel Awesome: Season 2 - Episode 4
Atop The Fourth Wall: AT4W & Spoony: Experiment Warrior 2-3
Atop The Fourth Wall: 100th Episode
Specials: The Asylum's Sherlock Holmes
Specials: The Airzone Solution
The Nostalgia Chick: The Sexual Awakening Of Nerds A Scientific Study Part 2
Specials: Friday by all of TGWTG
Specials: Brad And Phelan Try Grass Jelly
Specials: Warrior #4 Comic Review
Angry Specials: Darth Joe vs. SpoonyWan
Forget About It: Top 10 TGWTG Reviewers
Music Moves: Fantasia 2000
Forget About It: TGWTG 1st Year Brawl (Voiceover)
Todd's Pop Song Reviews: Want U Back by Cher Lloyd (Archive Footage)

2
AngryJoe

Atop the Fourth Wall: Daredevil #306
Specials: Benzaie Vs Angry Joe Dance Off (Co-Star)
The Spoony Experiment: Warrior #1*
Epic Fail #17
Marzgurl's Sketches: Cool World
Full Circle: Top 9: Music Moments in Gaming (New School Edition)
GYMDK: IK+
Atop the Fourth Wall: Doom #1
Full Circle: Great Moments in Video Game Music History: Dragon Age - Origins
Epic Fail Special: Carlton Dance (Later called Ep 20: A Look back )
Specials: Spooning With Spoony Episode 2 (Co-Star)
Sage Reviews: Space Thunder Kids
You Can Play This: You Can Hear This Music Video*
The Nostalgia Critic: Bebe's Kids
The Game Heroes: 8-Bit Mickey vs Lord Kat Robot Unicorn Attack*
Phelous (shows): Cinema Snob & Phelous - Troll 4
Atop The Fourth Wall: AT4W & Spoony: Experiment Warrior 2-3
Phelous (shows): Pulse 3
The Cinema Snob: Caligula (Part 1)
Atop The Fourth Wall: 100th Episode
Obscurus Lupa Presents: Phantasm 3 and 4
Music Games: Top 9 Video Game Composers (Part 1: Cataclysm) (Co-Star)
Music Games: Top 9 Video Game Composers (Part 2: Convergence)
Brad Tries: Pepsi Holiday Spice (Co-Reviewer)
The Nostalgia Critic: A Nostalgia Critic Christmas
Atop the Fourth Wall: Cry for Justice #1 and 2
Atop the Fourth Wall: Youngblood #3
Atop the Fourth Wall: Doctor Who Classics #7
King's Quest Retrospective: Absence Makes The Heart Go Yonder
Benzaie Specials: Benzaie is a Douche in America
JW Special: Fanime 2011: Special Convention only YCPT! Episode*
That SciFi Guy: Robot Jox (Voiceover)
The Nostalgia Chick: The Sexual Awakening Of Nerds A Scientific Study
Specials: Friday by all of TGWTG
Comic Book Issues: Star Wars: Legacy - War (Archive Footage)
Specials: Warrior #4 Comic Review
Sad Panda Q and A: Christmas Special (Archive Voiceover)
Nostalgia Chick Specials: Mr. Awesome Goes to Washington
The Nostalgia Critic: Star Trek The Motion Picture
Comic Book Issues: Mass Effect: Evolution
The Blockbuster Buster: Top 10 Hispanic Heroes
Forget About It: Top 10 TGWTG Reviewers
Specials:Rejected Spooning with Spoony Ideas
Comic Book Issues: Avengers: The Children's Crusade
Music Movies: Fantasia 2000
THe Nostalgia Chick: The Fresh Prince of Bel-Air
The Nostalgia Critic: Digimon the Movie (with JesuOtaku)
The Blockbuster Buster: Casting The Teen Titans (Archive Footage)
Atop The Fourth Wall: Star Trek IV: The Voyage Home
Hagan Reviews: Nixon and Hogan Smoke Christmas (Archive Footage)
JO Anime Reviews: High School of the Dead
GH Specials: Handsome Tom and GH Retiring (Archive Footage)*
Music Movies: The Devil's Carnival (Archive Footage)
5 Second Movies: Kickassia in 5 Seconds (Diamanda Hagan) (Archive Footage)
The Nostalgia Critic: Dawn of the Commercials
The Nostalgia Critic: Man of Steel (Co-Reviewer)

3
Antfish
4
Andrew Dickman (X)

Phelous (shows): Chain Letter
Phelous (shows): Phelous And Film Brain Lockjaw
Phelous (shows): Croc
Phelous (shows): House Of Wax
Sad Panda Q and A: Christmas Special
Obscurus Lupa Presents: Peewee's Playhouse Christmas Special
Specials: Channel Awesome Holiday Video
Sad Panda Specials: Team Marganaras: Bloody Mallory
Phelous (shows): Evil Toons (Editor) (Co-Reviewer)
Phelous (shows): Allison & Phelan Eat While Julien & Andrew Watch (Co-Star)
Atop The Fourth Wall: Mr. T #2 (AP Comics)
Phelous (shows): Aladdin
Obscurus Lupa Presents: Robot in the Family
Obscurus Lupa Presents: 100th Episode - Evil Dead 2
Phelous (shows): Top 10 Phelous Moments 2012 (Archive Footage)
Phelous (shows): The Adventure to Shrek Feast (Co-Star)

5
Apollo Z. Hack (X)

Obscurus Lupa Presents: Hard To Kill
Obscurus Lupa Presents: Razor Sharpe
WTFIWWY - Episode 21
Brows Held High: Gerry (Voiceover)
Hagan Reviews: Freaks (Archive Footage)
Hagan Reviews: Terror of Tiny Town (Archive Footage)
Hagan Reviews: Schizophreniac the Whore Mangler (Archive Footage)
Brows Held High: The Girlfriend Experience (Voiceover)*
Brows Held High: W.R: Mysteries of the Organism
Vangelus Reviews: Gamera 1967 (Revoltech Sci-Fi) (Co-Reviewer)
Hagan Reviews: The Island of Doctor Moreau

6
Ashens

Wez + Larry's Top 10: Top Ten Villians Part 1
Wez + Larry's Top 10: Top Ten Villains Part 2
Guru Reviews: Pac-Man - The Board Game
Guru Reviews: Ashens And Gury Larry Play Donkey Kong: The Board Game
Press Start 2 Continue: Sneak Peak.
Bad Movie Beatdown: The Texas Chainsaw Massacre: The Beginning
Welshy Specials: TGWTG Brit - LFCC Vlog
Shameful Sequals: Matrix Revolutions Part II
Ninja the Mission Force: Ninja Godfather (Voiceover)
Ninja the Mission Force: Citizen Ninja (Voiceover)
Ninja the Mission Force: "N" is for Ninja (Voiceover)
Ninja the Mission Force: Ninja Virus (Voiceover)
Ninja the Mission Force: Space Ninja in Space (Voiceover)
Ninja the Mission Force: Ninja Delievery (Voiceover)
Welshy Specials: NerdQuest Behind the Scenes (Days 1, 2, 3, 4, 5)*

7
Bennett The Sage

Specials: Happy Holidays 2008
Specials: Goodbye Suede!
The Spoony Experiment: Final Fantasy VIII: The Finale*
The AngryJoeShow: Hotel Awesome: Season 1 - Episode 2
Bad Movie Beatdown: Far Cry
Atop The Fourth Wall: Doom #1
Specials: Spooning With Spoony Episode 2
Ask That Guy With the Glasses: Episode 44 (Co-Star)
Phelous (shows): Cinema Snob & Phelous - Troll 4
The AngryJoeShow: Hotel Awesome: Season 2 - Episode 4
Atop The Fourth Wall: AT4W & Spoony: Experiment Warrior 2-3
Nostalgia Chick Specials: Linking Up With Linkara
The Nostalgia Chick: Grease
The Spoony Experiment: Ultima 3: Exodus*
Atop The Fourth Wall: Action Comics #593
Atop The Fourth Wall: 100th Episode
The Cinema Snob: Violent Shit
Brad Tries: Pepsi Holiday Spice (Co-Reviewer)
JO Anime Reviews: Eiken! (with Sage)
The Spoony Experiment: The Dungeonmaster*
The Nostalgia Critic: Care Bears 2
King's Quest Retrospective: Absence Makes The Heart Go Yonder
Music Movies: The Sound Of Music Part Two
Specials: Benzaie is a Douche in America
Specials: The Airzone Solution
Specials: Bad Movie Beatdown: Sunday School Muscial
Specials: Friday by all of TGWTG
The Nostalgia Chick: The Sexual Awakening Of Nerds A Scientific Study Part 2
Comic Book Issues: Star Wars: Legacy - War (Archive Footage)
JO Anime Reviews: Koi Kaze
JO Anime Reviews: Master Of Martial Hearts
Specials: Warrior #4 Comic Review
Specials: Channel Awesome Holiday Video
The Spoony Experiment: Final Fantasy X-2 Part 3*
JO Anime Reviews: Fullmetal Alchemist
Bad Movie Beatdown: Sucker Punch (w/Jesuotaku)
Forget About It: Top 10 TGWTG Reviewers
The Nostalgia Critic: Star Chaser (Co-Reviewer)
Specials:Rejected Spooning with Spoony Ideas
Comic Book Issues: Avengers: The Children's Crusade
That SciFi Guy: Splice
Atop The Fourth Wall: 200th Episode (Parts 1&2)
JO Anime Reviews: High School of the Dead
Bad Movie Beatdown: Batman Returns (Co-Reviewer)
Team Blistered Thumbs: Weird Video Games - Rock 'n Rage (Arcade)
Music Movies: The Devil's Carnival (Archive Footage)
The LIG: Köstritzer: Schwarzbier (Co-Reviewer)

8
Benzaie

Animenia: Top 11 Anime Villains
Specials: Happy Holidays 2008
Epic Fail #9: Left 4 Idiocy
Specials: Goodbye Suede!
Specials: Benzaie Vs Angry Joe Dance Off
Atop The Fourth Wall: Daredevil #306
Specials: Benzaie Vs Handsome Tom
Atop The Fourth Wall: Sultry Teenage Super-Foxes #1 (Archive Footage)
The Spoony Experiment: Warrior #1*
The Nostalgia Critic: Full House
MarzGurl's Sketches: Cool World
Atop The Fourth Wall: Top 15 Worst Moments of Countdown (Archive Footage)
The Spoony Experiment: FMV Hell Halloween Special - Bloodwings: Pumpkinhead's Revenge*
Full Circle: Wi-Fidelity (Air - Love 2)
Epic Fail Special: Carlton Dance (Later called Ep 20: A Look back )
That Jewish Guy: Eight Myths of Hanukkah*
You Can Play This: You Can Hear This Music Video*
Specials: That Guy With The Glasses Christmas Special
MikeJ Specials: The 12 Days of Geekmas
The Nostalgia Critic: Bebe's Kids
The Spoony Experiment: Party Mania Review*
The Nostalgia Critic: Old Vs New: The Nutty Professor
The Game Heroes: 8-Bit Mickey vs Lord Kat Robot Unicorn Attack*
Atop The Fourth Wall: AT4W & Spoony: Experiment Warrior 2-3
Phelous (shows): Benzaie And Phelous - Humains (Co-Reviewer)
The Nostalgia Chick: Grease
Phelous (shows): PulselousDotCom.Com
The Spoony Experiment: Mazes and Monsters*
Ask That Guy With The Glasses Episode 54
Specials: Mozart's Balls and Schwarzenegger Museums: Doug in Austria
Artist's Alley: #2
Atop The Fourth Wall: 100th Episode
Sad Panda Q and A: Episode 1
Sad Panda Q and A: Episode 7
Phelous (shows): Silent Hill Again
Phelous (shows): Chain Letter
The Nostalgia Chick: Disaster Movies Of Roland Emmerich: PART ONE
Sad Panda Q and A: Episode 10
The Spoony Experiment: Beastmaster 2: Through The Portal Of Time (Archive Footage)*
JW Special: Fanime 2011: Special Convention only YCPT! Episode*
Specials: Benzaie is a Douche in America (Co-Star)
The Nostalgia Chick: Les Miserables The Musical
Specials: Friday by all of TGWTG
The Nostalgia Chick: The Sexual Awakening Of Nerds A Scientific Study Part 3
Bad Movie Beatdown: Mercanery For Justice (Voiceover)
Monkey Death Ray Episode 3 (Voiceover)*
Phelous (shows): 1983 Boogeyman II (Archive Footage)
Phelous (shows): Quarantine 2
Specials: Doug, Spoony, Benzaie and SadPanda Try PUSSY (Co-Star)
Monkey Death Ray Episode 4 (Voiceover)*
Fandom Stranger: The Phoenix Wright Musical (Archive Footage)
Specials: The Most Useless Game In The World
Welshy Specials: Aninite 2011 Vlog (Co-Star)*
Read Right to Left: Nintendo Manga (Archive Footage)
Phelous (shows): House Of Wax
Atop The Fourth Wall: Silent HIll - The Grinning Man
Specials: Warrior #4 Comic Review
The Sound Pit: RHCP - I'm With You (2011)
Todd's Pop Song Reviews: Ep 30: Sexy and I know It (Archive Voiceover)
You Can Play This: Mahjong Part 2 (Co-Reviewer)*
Sad Panda Q and A: Christmas Special
Anifile: The XXX Files
Guru Larry Sketches: TGWTG UK Q&A at the London Gaming Convention (Co-Star)
Specials: Channel Awesome Holiday Video
Nash Specials: Doctor Who Classic - The Twin Dilemma (Archive Footage)
The Spoony Experiment: Top 11 Spoony Moments of 2011 (Archive Footage)*
Sad Panda Specials: Team Marganaras: Bloody Mallory (Archive Footage)
That SciFi Guy: Wild Wild West (Voiceover)
Atop The Fourth Wall: 200th Episode (Part 2) (Archive Footage)
The Nostalgia Critic: To Boldly Flee, Part 4
GH Specials: Handsome Tom and GH Retiring (Archive Footage)*

9

The Nostalgia Critic: Captain Planet
The Nostalgia Critic: Mortal Kombat: Annihilation
The Nostalgia Critic: Surf Ninjas
Sketches: The Bjork Show Episode 2
Specials: Goodbye Suede!
Atop The Fourth Wall: Uncanny X-Men #424
Specials: Geek Fight Commercial
Thanks for the Feedback! Episode 1
True Internet Story: Episode 1: The Nostalgia Critic
The Nostalgia Critic: Alone in the Dark
The Nostalgia Chick: Bratz
The Nostalgia Critic: Siskel and Ebert Tribute (Voiceover)
That Jewish Guy: Eight Myths of Hanukkah*
Specials: That Guy With The Glasses Christmas Specia
Atop The Fourth Wall: Top 15 Missed Opportunties Of AT4W
The Nostalgia Critic: Junior
The Nostalgia Critic: Battlefield Earth
The Nostalgia Critic: Neverending Story II
The Nostalgia Critic: Ask That Guy VIOLATES Ma-Ti (Co-Star)
The Nostalgia Critic: Drop Dead Fred
The Nostalgia Critic: Kickassia Part 4
Phelous (shows) : Cinema Snob & Phelous - Troll 4
Atop The Fourth Wall: AT4W & Spoony: Experiment Warrior 2-3
Nostalgia Chick Specials: : Linking Up With Linkara
The Nostalgia Chick: Grease
Specials: Coffee With Bhargav (Guest Lead)
The Nostalgia Critic: Ernest Scared Stupid
Specials: Coffee with Bargo: Alice in Wonderland...sort of (Guest Lead)
WTFIWWY: It's Stupid at the Top
The Nostalgia Critic: A Nostalgia Critic Christmas
Specials: Coffee with Bhargo: Alice's SEXUAL Adventures in Wonderland (Guest Lead)
Specials: Coffee with Bhargo: The Penguin Story Part 3 (Guest Lead)
Specials: Bhargav PSA - You Don't Read (Guest Lead)
King's Quest Retrospective: Absence Makes The Heart Go Yonder
Comic Book Issues: Top 11 Stand Alone Stories
The Nostalgia Critic: Inspector Gadget: The Movie
5 Second Movies: Puss In Boots in 5 Seconds (Archive Footage)

Specials: Friday by all of TGWTG
The Nostalgia Chick: The Sexual Awakening Of Nerds A Scientific Study Part 2
Musical Youth: Meet The California Raisins*
Rap Critic Reviews: "Raise Up" featuring Mues
That SciFi Guy: Final Fantasy- The Spirits Within
Specials: Warrior #4 Comic Review

10
The Blockbuster Buster

Specials: Channel Awesome Holiday Video
The Nostalgia Critic: To Boldly Flee, Part 8
Welshy Reviews: Saw Retrospective Part 1 (Introduction)*

11
Beary

The Spoony Experiment Warrior #1*
Atop The Fourth Wall: Doom #1
Linkara Specials: AT4W & Spoony: Experiment Warrior 2-3
Phelous (shows): La Horde
Specials: Warrior #4 Comic Review

12
Brad Jones

Phelous (shows): The Other Troll 3
Until We Win: Ninja Gaiden*
Sketches: Disgruntled Mimes! (Co-Star)
The Angry Joe Show: Hotel Awesome Season 2 Episode 3
Bad Movie Beatdown: McBain (Co-Reviewer)
Phelous (shows): Cinema Snob & Phelous - Troll 4 (Co-Reviewer)
The Nostalgia Critic: Jaws 3D
Atop The Fourth Wall : AT4W & Spoony: Experiment Warrior 2-3
Epic Fail: 21 - Shake THIS
Obscurus Lupa Presents: Shark Attack 3
Obscurus Lupa Sketches: A Day in the Life of Tommy Wiseau
Phelous (shows): Fatal Pulse (Archive Footage)
Atop The Fourth Wall: Action Comics #593
Atop The Fourth Wall: 100th Episode
The Nostalgia Critic: Leprechaun (Co-Reviewer)
That Guy Riffs: The Snob (Co-Writer)
Familiar Faces: Episode 45: Krampus (Archive Footage)
The Nostalgia Critic: A Nostalgia Critic Christmas
Sad Panda Q and A: Episode 9
Atop The Fourth Wall: Youngblood #3
King's Quest Retrospective: Absence Makes The Heart Go Yonder
The Machinimist: Soulja Boy Presents My Halo Episode 1
Sad Panda Q and A : Episode 10
Revieweraverse Saga: Episode 4 Kamen Rider ZO (Archive Footage)*
Obscurus Lupa Presents: Birdemic
Guru Larry Sketches: How to make Coca Cola BlaK (and Coke Vanilla) (Archive Footage)
Specials: The Asylum's Sherlock Holmes (Co-Reviewer)
Phelous (shows): The Airzone Solution
JW Special: Fanime 2011: Special Convention only YCPT! Episode*
Specials: Mainmal (Co-Reviewer) (Editor)
Specials: Linkara and Brad Bimbos B.C (Co-Reviewer)
Phelous (Shows): A Serbian Film
Projector: Mother's Day (Archive Footage)
Specials: Friday by all of TGWTG
Specials: Brad And Phelan Try Grass Jelly (Co-Reviewer) (Editor)
Bad Movie Beatdown: Out Of Reach (Voiceover)
The Nostalgia Chick: The Sexual Awakening Of Nerds A Scientific Study Part 3
Phelous (Shows): The Boogeyman
Phelous (shows): 1983 Boogeyman II (Archive Footage)
Brows Held High: Me and You and Everyone We Know (Archive Footage)
Welshy Reviews: Red Eye*
5 Second Movies: Paranoia (Archive Footage)
Atop The Fourth Wall: Mightily Murdered Power Ringers #1
You Know Who: Let's Kill Hitler!
Familiar Faces: Episode 57; My Little Pony Retrospective Part 1 (Archive Footage)
Wez Vs Larry: Uncharted 3 (Voiceover)
Phelous (shows): House Of Wax
The Nostalgia Critic: The Tommyknockers
Specials: Warrior #4 Comic Review
JO Anime Reviews: FLCL
Obscurus Lupa Presents: The Howling - Reborn
The Nostalgia Critic: Nostalgia Critic MUSICAL REVIEW: Moulin Rouge
Sad Panda Q and A: Christmas Special (Archive Footage)
Heart Of Gaming: Cards (Voiceover)
Specials: Channel Awesome Holiday Video
Hagan Reviews The Taint (Archive Footage)
Phelous (shows): Evil Toons
Sketches: Brad Makes Sarah Cry at The Mask (Archive Voiceover)
Forget About It: Top 10 TGWTG Reviewers
Specials: Brad Tries Airheads (Co-Reviewer)
The Nostalgia Critic: Transformers Cartoon
Comic Book Issues: Avengers: The Children's Crusade
Brows Held High: Tromeo and Juliet (Co-Reviewer)
Atop The Fourth Wall: Marville #2
The Nostalgia Chick: Freddy Got Fingered (Voiceover)
One Hit Wonderland: Kung Fu Fighting by Carl Douglas
The Nostalgia Chick: The Fresh Prince of Bel-Air
Bad Movie Beatdown: Going Overboard (Full Episode)
Atop The Fourth Wall: Star Trek IV: The Voyage Home
The Nostalgia Critic: Indiana Jones and the Temple of Doom
Hagan Reviews: Chopping Mall
Atop The Fourth Wall: 200th Episode (Part 2)
The Nostalgia Critic: Scooby Doo
Familiar Faces: Episode 69 - Animalympics (Archive Footage)
Hagan Reviews: Maniac Nurses Find Ectasy (Voiceover)
GH Specials: Handsome Tom and GH Retiring (Archive Voiceover)*
Atop The Fourth Wall: The Thing from Another World #2
That SciFi Guy: Zombie Aocalypse
Brows Held high: Vase De Noces
Comic Book Issues: World's Finest #1-4
Obscurus Lupa Presents: 100th Episode - Evil Dead 2
Comic Book Issues: The Search for the Geek (Movie) (Archive Footage)
PushingUpRoses Specials: Behind the Video (Voiceover)*
Phelous (shows): Top 10 Phelous Moments 2012 (Archive Footage)
The Nostalgia Critic: The Review Must Go On
Atop The Fourth Wall: Frankenstein Meets the Space Monster (Voiceover)
Phelous (shows): Marvel Unvierse: The Book of the Dead
Renegade Cut: That One Movie
Year Five: The Uncanny Valley - Dragged In
The Nostalgia Critic: Sharknado (Co-Reviewer)
The Nostalgia Critic: Wicker Man (Co-Writer)
Bad Movie Beatdown: Texas Chainsaw
Shut Up and Talk: Brad Jones (Co-Star)
The Nostalgia Critic: Bloodrayne

13
Brentalfloss

Stuck In Your Head: Rescue Rangers*
The Nostalgia Chick: Kate And Leopold
The Nostalgia Critic: Nostalgia Critic MUSICAL REVIEW: Moulin Rouge (Co-Reviewer)
The Nostalgia Chick: Lindsay's Top Ten Guilty Pleasures (Archive Voiceover)
Music Movies: Cannibal! The Musical
The Nostalgia Cirtic: Baby Geniuses 2
Music Movies: Dr Horrible's Singalong Blog
The Nostalgia Critic: To Boldly Flee, Part 1 (Voiceover)
Music Movies: Fiddler on the Roof
Nostalgia Chick Specials:Highlights from NYCC Party 2011
BT Staff: Sahun K - Thumb Wars: Episode 19; A Wii U Review WITH(out) LYRICS (Voiceover) (Co-Star) (Archive Footage)
Music Movies: A Muppet Christmas Carol
BT Staff: MegaGWolf - GView - Sonic Fan Movie Thoughts (Archive Footage)
The Nostalgia Critic: The Review Must Go On (Archive Footage)
Music Movies: West Side Story 
The Nostalgia Critic: Les Miserables (Co-Star)
Anime Abandon: The Guyver with the Nostalgia Critic

14
TheCat

Specials: That Guy With The Glasses Christmas Special (Voiceover)
Paw: Dragonball Evolution: The Epic Review (Voiceover)
Benzaie Specials: TGWTG Special Sing Along!!!
The Nostalgia Critic: Kickassia Part 5
Atop The Fourth Wall: 100th Episode
Sad Panda Q and A: Episode 5
YROT Specials: The Last Airbender (Voiceover)
Space Ninja: The Demon's Gaze (Voiceover)
Space Ninja: The House Of Pink Lanterns (Voiceover)
JW Special: Fanime 2011: Special Convention only YCPT! Episode*
Space Ninja: The Eel And The Rat (Voiceover)
Space Ninja: Killers (Voiceover)
Sad Panda Q and A: Christmas Special (Archive Footage)

15
ChaosD1

Phelous (shows): House of the Dead
Phelous (shows): La Horde (Co-Reviewer)
Sad Panda Q and A: Episode 9
Sad Panda Q and A: Episode 10
Phelous (shows): Birdemic Part One
Welshy Reviews: Scream 3 Part 1*
Phelous (shows): Jeepers Creepers
Welshy Reviews: The Loved Ones*
Phelous (shows): House Of Wax
Forget About It: Kickass
Forget About It: How to get it
Sad Panda Q and A: Christmas Special
Atop The Fourth Wall: Marville #1
Sad Panda Specials: Team Marganaras: Bloody Mallory (Co-Reviewer)
Forget About It: Batman
Forget About It: Batman (Part 2) (Voiceover)
Obscurus Lupa Specials: Karate Dog
Phelous (shows): Mortal Komedy (Voiceover) (Archive Footage)
You Can Play This: J-Dub Reviews - Sword Girls (Co-Reviewer)*
Atop the Fourth Wall: Southland Tales (Co-Reviewer)
Phelous (shows): Aladdin (Voiceover) (Archive Footage)
Sad Panda Specials: Casual Gamer View - Bastion (Voiceover)
Welshy Specials: TGWTG 4th Year Anniversary*
BT Staff: Sahun K - Thumb Wars: Episode 5; The Changing of the MMO (Voiceover) (Co-Star)
Forget About It: TGWTG 1st Year Brawl
Obscurus Lupa Presents: 100th Episode - Evil Dead 2
BT Staff: Smarty - MAGFest! Blistered Thumbs Community Q&A! (Parts 1&2) (Co-Star)
Last on the Bandwagon: Psychonauts
BT Staff: Shaun K - Blistered Thumbs Roundtable: Neverwinter Beta Weekend 2 (Voiceover) (Co-Reviewer)
Sad Panda Specials: Top 10 TGWTG Something Whatever I Guess...
Nash Specials: Channel Awesome Against Humanity (Voiceover)
Phelous (shows): Garfield's Halloween Adventure
WTFIWWY: Live - Chicken Slayer Romance (Co-Star)

16
Coldguy

Specials: Happy Holidays 2008 (Voiceover)
Specials: Goodbye Suede! (Voiceover)
The Spoony Experiment: Warrior #1*
The Spoony Experiment: Final Fantasy VIII: The Finale*
Epic Fail Special: Carlton Dance (Later called Ep 20: A Look back )
Paw Specials: Dragonball Evolution: The Epic Review
The Nostalgia Critic: Kickassia Part 5
Atop The Fourth Wall: 100th Episode
Sad Panda Q and A Episode: Episode 6
Sad Panda Q and A Episode: Episode 7
Sad Panda Q and A Episode: Episode 10
JW Special: Fanime 2011: Special Convention only YCPT! Episode*
Hagan Reviews: The Perils Of Gwendoline

17

Count Jackula

Shark Jumping: Saved By the Bell
WTFIWWY: Live - Come On Baby, "Like" My Fire (Co-Star)
Hagan Reviews: (Ultimate) Versus

18
CR

Atop the Fourth Wall: 100th Episode
The Nostalgia Critic: Top 11 Batman TAS Episodes (Archive Footage)
Specials: Brad Tries Airheads (Co-Reviewer) (Editor)
The Nostalgia Critic: Heavy Metal (with Diamanda Hagan)
The Nostalgia Critic: Son of the Mask

19
Cross

Sad Panda Q and A: Episode 7

20
Diamanda Hagan

Obscurus Lupa Presents: Hard to Kill
A Reviewaverse Saga: Episode 5 Battle For Terra*
Welshy: An Introduction to Welshy*
The Sound Pit: Top 5 Songs That Make Me Happy
Brows Held High: Gerry (Voiceover)
The Nostalgia Chick: The Little Mermaid
Brows Held High: Perfume - The Story of a Murderer
Atop The Fourth Wall: Rise Of Arsenal #3-4
Rap Critic Reviews: "Raise Up" featuring Mues
Sad Panda Q and A: Christmas Special
Nash Specials: Doctor Who Classic - The Twin Dilemma (Archive Footage)
The Machinimist: 1 Long Year!
Brows Held High: W.R: Mysteries of the Organism
The Spoony Experiment: Game Over*
The Nostalgia Critic: Heavy Metal (with Diamanda Hagan) (Co-Reviewer)
Heart Of Gaming: Calls (Voiceover)
Atop The Fourth Wall: Southland Tales
Brows Held High: The Devils
WTFIWWY: Dumber Than Curling
The Nostalgia Critic: To Bldly Flee, Part 2
Brows Held High: Ken Park
Nash Specials: Doctor Who Classic - The Cartmel Masterplan (Voiceover)
Welshy Reviews: Saw Retrospective Part 4 (Saw III)*
That SciFi Guy: Zombie Aocalypse
Brows Held High: Ep. 50 - Melancholia (Part 2)
Team Blistered Thumbs: Weird Video Games - House of the Dead - Part 1 (Co-Reviewer)
BT Staff: Smarty - MAGFest! Blistered Thumbs Community Q&A! (Part 1) (Voiceover)
Phelous (shows): The Adventure to Shrek Feast
Last on the Bandwagon: Psychonauts
Year Five: The Uncanny Valley - Internet Dating and Me
Rap Critic: The Great Milenko (Co-Reviewer)

21
Dena

Still Gaming: Top 10 Anime Openings And Endings (Co-Reviewer)
Atop The Fourth Wall: Doom #1
You Can Play This: You Can Hear This Music Video
Phelous (shows): FearDotCom
Phelous (shows): Pet Sematary Two
Great Moments in Video Game Music: Silent Hill 4 (Guest Lead)
The Nostalgia Critic: Kickassia Part 5
Atop The Fourth Wall: 100th Episode
Phelous (shows): Silent Hill Again
Welshy Reviews: Scream 1 Part 1*
JW Special: Fanime 2011: Special Convention only YCPT! Episode*
The Nostalgia Critic: To Boldly Flee, Part 8
That SciFi Guy: Zombie Aocalypse (Voiceover)

22
Dr. Gonzo

Atop the Fourth Wall: 100th Episode

23
Ed Glaser

The Spoony Experiment: Warrior #1*
The Spoony Experiment: Final Fantasy VIII: The Finale*
The Spoony Experiment: Robowar*
Atop the Fourth Wall: Doom #1
Sage Reviews: Space Thunder Kids
The Bruno Mattei Show: Hell of the Living Dead (Co-Reviewer)
Atop The Fourth Wall: 100th Episode
Music Games: Top 9: Marx Brothers Music Moments
Brad Tries: Pepsi Holiday Spice (Co-Reviewer)
Sage Reviews: Garzey's Wing
Brads Sketches: The Hooker With A Heart Of Gold Part 5
King's Quest Retrospective: Absence Makes The Heart Go Yonder
Sad Panda Q and A: Episode 10
Forget About It: Kickassia
Music Movies: Mary Martin's Peter Pan
Specials: Friday by all of TGWTG
The Nostalgia Chick: The Sexual Awakening Of Nerds A Scientific Study Part 3
The Sound Pit: Top 5 John Frusciante Songs
Phelous (shows): Boogeyman 3
Atop The Fourth Wall: Rise Of Arsenal #3-4
Benzaie Specials: Deja Deja View: French True Lies (Archive Footage)
Brows Held High: A Serbian Film (Voiceover)
Phelous (shows): House Of Wax
Specials: Warrior #4 Comic Review
The Cinema Snob: E.T. WEEK: Badi (The Turkish E.T.)
The Cinema Snob: E.T. WEEK: Homoti (The OTHER Turkish E.T.)
Obscurus Lupa Presents: Bloody Mary Killer
Sad Panda Q and A: Christmas Special
Brads Sketches: Paranoia: The Writer's Cut (Voiceover)
Hagan Reviews: Dominion Prequel to the Exorcist (Voiceover)
The Cinema Snob: Ninja Terminator (Archive Footage)
Atop The Fourth Wall: The Invincible Four of Kung Fu and Ninja #1 (Archive Footage) (Voiceover)
Forget About It: Top 10 TGWTG Reviewers
Phelous (shows): Killdozer (Archive Voiceover)
Brads Sketches: Doug and Ed Explain "Tree of Life" to Jake (Co-Star)
Brads Current Movie Reviews: Midnight Screening - The Avengers (Co-Reviewer)
Hagan Reviews: Virus (Voiceover)
Forget About It: TGWTG 1st Year Brawl (Voiceover)
Hagan Reviews: Sextette
Brads Sketches: Drunk El Topo Chico & Friends
Obscurus Lupa Presents: 100th Episode - Evil Dead 2
Diamanda Hagan Other Stuff: Best of 2012 (Archive Footage)
Phelous (shows): The Adventure to Shrek Feast
Phelous (shows): Dr. Jekyll and Mr. Hyde
Year Five: The Uncanny Valley - The Reviewers

24
Elisa Hansen

Music Movies: Mary Martin's Peter Pan
Specials: Friday by all of TGWTG
Specials: Nella vs. the Baconalia
Specials: Interstela 5555 (Co-Reviewer)
The Nostalgia Critic: Suburban Knights Part Six
Benzaie Top 5: TOP 5 Murder attempts in JEM & The Holograms
The Nostalgia Critic: Duck Tales
Obscurus Lupa Specials: Honor And Glory
Music Movies: Singin' in the Rain
Atop The Fourth Wall: NBComics #1
Music Movies: Phantom Of The Paradise (Co-Reviewer)
Welshy Reviews: Scream 4 Part 2*
Miscellany And Hodge Podge: Citizen Con: Oancitizen's Trip To The NYCC
Welshy Reviews: Killjoy 2 (Co-Writer)*
The Nostalgia Critic: Superman - The Animated Series
The Nostalgia Critic: Nostalgia Critic MUSICAL REVIEW: Moulin Rouge
Sad Panda Q and A: Christmas Special
Specials: Disneycember! Part 10 (The Little Mermaid) (Archive Footage)
Specials: Channel Awesome Holiday Video
Music Movies: Top 9 Music Movies Moments of 2011 (Archive Footage)
Anime Abandon: Dracula: Soverign of the Damned (with Linkara!)
JO Anime Reviews: Fullmetal Alchemist
Hagan Reviews: The Truth About Demons (Voiceover)
Welshy Reviews: Casino Royale Part 1*
Forget About It: Top 10 TGWTG Reviewers
Music Movies: Fantasia (Part One/Two) (Co-Reviewer)
Specials:Rejected Spooning with Spoony Ideas
Specials: Live Action Fanfic - Lay Your Head Down, Darling (Co-Star)
Music Movies: Fantasia 2000 (Co-Reviewer)
Music Movies: The Disney Shorts
Atop the Fourth Wall: Southland Tales
Specials: Brows Beat Down - The League of Extraordinary Gentlemen
Music Movies: Cannibal! The Musical
Bad Movie Beatdown: Blade Trinity
Music Movies: Little Shop of Horrors
Welshy Reviews: Saw Retrospective Part 5 (Saw IV)*
That SciFi Guy: Zombie Aocalypse
Obscurus Lupa Presents; Vampire Cop (Archive Footage)
Obscurus Lupa Presents: 100th Episode - Evil Dead 2
Music Movies: A Muppet Christmas Carol
Music Movies: Snow White 
The LIG: Strongbow: Cider (Co-Reviewer)
Hagan Reviews: God of Vampires 
The Nostalgia Critic: Les Miserables
Todd's Pop Song Reviews: Ep. 73: Wrecking Ball
Todd's Pop Song Reviews: Ep. 76: The Top Ten Best Hit Songs of 2013

25
Film Brain

Specials: Happy Holidays 2008
Specials: Goodbye Suede!
Atop The Fourth Wall: Countdown Part 2
Shameful Sequels: Jaws III and IV (Part 2)
Specials: That Guy With The Glasses Christmas Special
MikeJ Specials: The 12 Days of Geekmas
Phelous (shows): Cinema Snob & Phelous - Troll 4
The AngryJoeShow: Hotel Awesome Season 2 Episode 2
Atop The Fourth Wall: AT4W & Spoony: Experiment Warrior 2-3
The Nostalgia Critic: Hook
Phelous (shows): Doctor Phulse
The Cinema Snob: Caligula (Part 2)
Sad Panda Q and A: Episode 7
Specials: Lockjaw (Co-Reviewer)
JW Special: Fanime 2011: Special Convention only YCPT! Episode*
Specials: Bad Movie Beatdown: Sunday School Muscial (Co-Reviewer) (Editor)
Specials: Friday by all of TGWTG
Specials: Bad Movie Beatdown Presents: Hercules in New York (Co-Reviewer) (Editor)
Obscurus Lupa Presents: Gooby
Specials: Interstella 5555
The Nostalgia Chick: The Sexual Awakening Of Nerds A Scientific Study Part 3
Bonekickers Reviews: Bonekickers Episode 1 Review (Archive Footage)
Forget About It: Monty Python and the Holy Grail
Shameful Sequels: The Matrix Reloaded (Voiceover)
The Nostalgia Chick: TLC and the 90's
The Spoony Experiment: Tekken: The Motion Picture*
Shameful Sequals: Matrix Revolutions (Co-Reviewer)
Nash Specials: The Incredible Hulk Returns Review (Co-Reviewer)
Welshy Reviews: Red Eye (Archive Voiceover)*
The Spoony Experiment: Tekken (2010) (Co-Reviewer) (Editor)*
Welshy Specials: TGWTG Brit - LFCC Vlog (Co-Writer)*
Shameful Sequals: Matrix Revolutions Part II (Co-Reviewer)
Familiar Faces: Episode 58 - My Little Pony Retrospective - G4 (Archive Footage)
Phelous (shows): House Of Wax
The Spoony Experiment: DOA: Dead Or Alive*
Specials: Warrior #4 Comic Review
Specials: Channel Awesome Holiday Video
Nash Specials: Wonder Woman (2011) - A Review (Co-Reviewer)
Sad Panda Specials: Team Marganaras: Bloody Mallory
Hagan Reviews: Battle of the Bone
Phelous (shows): Evil Toons
Forget About It: Top 10 TGWTG Reviewers
Specials:Rejected Spooning with Spoony Ideas
Specials: Live Action Fanfic - Lay Your Head Down, Darling (Co-Star)
Music Movies: Fantasia 2000
Specials: Bad Movie Beatdown Presents - Metal Man AKA Iron Hero (Co-Reviewer) (Editor)
Welshy Reviews: Backwoods Bloodbath*
Atop the Fourth Wall: Southland Tales (Co-Reviewer)
Specials: Brows Beat Down - The League of Extraordinary Gentlemen (Co-Reviewer) (Editor)
Welshy Reviews: Osombie*
Welshy Reviews: Transformers Movie/Live Action Retrospective (Archive Footage)*
Welshy Specials: 4 Minutes of FIlm Brain Watching Porn (Werid Science XXX) (Co-Star)*
Familiar Faces: Episode 69 - Animalympics (Archive Footage)
WTFIWWY: Dumber Than Curling (Voiceover)
Stuck In Your Head: Danger Mouse*
Welshy Specials: NerdQuest Behind the Scenes (Days 3, 4, 5)*
Obscurus Lupa Presents: 100th Episode - Evil Dead 2
Brows Held High: Ep. 50 - Melancholia (Part 2)
Specials: The 2012 Channel Awesome Holiday Video! 
Nash Specials: The Trial of the Incredible Hulk - A Review (Co-Reviewer)
Nash Specials: MEGASTREAM Q&A's - Todd, Tara & Film Brain (Film Brain) (Co-Star)
The Cinema Snob: Ilsa, She Wolf of the SS
Year Five: The Uncanny Valley - Internet Dating and Me (Co-Star)
Anime Abandon: The Guyver with the Nostalgia Critic
The Nostalgia Critic: The Purge
The Nostalgia Critic: Ghost Rider 2
Brows Held High: Beauty and the Beast (Part 1)
The Nostalgia Critic: Forest Warrior (Co-Reviewer)
The Nostalgia Critic: Teenage Mutant Ninja Turtles (2014)

26
Goggles (X)

Specials: Goodbye Suede!
Atop the Fourth Wall: Amazons Attack #5 and 6 (voice)
The Spoony Experiment: Warrior #1*
The Nostalgia Critic: Full House
Full Circle: Top 9: Music Moments in Gaming (New School Edition)
Specials: That Guy With The Glasses Christmas Special
The Nostalgia Critic: Kickassia Part 1 (Voiceover)
The Nostalgia Critic: Kickassia Part 5
Music Games: Top 9 Video Game Composers (Part 2: Convergence) (Co-Star)
Atop The Fourth Wall: Silent Hill: Dead/Alive #5 (Voiceover)

27
Guru Larry

You Can Play This: You Can Hear This Music Video*
Benzaie Specials: TGWTG Special Sing Along!!!
The Nostalgia Critic: Kickassia Part 5
Atop The Fourth Wall: 100th Episode
Sad Panda Q and A: Episode 7
Shameful Sequals: Xmas Vacation 2 Part 1 (Co-Reviewer)
Shameful Sequals: Xmas Vacation 2 Part 2 (Co-Reviewer)
The Spoony Experiment: The Dungeonmaster*
Heart Of Gaming: Cards (Voiceover)
Specials: Channel Awesome Holiday Video
Welshy Specials: NerdQuest Behind the Scenes (Days 3, 4, 5)*

28
Happy Harry

Benzaie Specials: TGWTG Special Sing Along!!!
The Proxy: Ep04 - Hidden Powers Exposed
Welshy Specials: NerdQuest Behind the Scenes (Days 1,3, 4, 5)*

29
Handsome Tom

Specials: Benzaie Vs Handsome Tom
Bad Movie Beatdown: Far Cry
The AngryJoeShow: Hotel Awesome: Season 2 - Episode 4
Atop The Fourth Wall: AT4W & Spoony: Experiment Warrior 2-3
Revieweraverse Saga: Episode 4 Kamen Rider ZO (Archive Footage)*
Specials: 3DS with Jew Wario and Tom (Voiceover) (Co-Star)
The Nostalgia Chick: The Sexual Awakening Of Nerds A Scientific Study Part 2
Speicals: Friday by all of TGWTG (Editor)
Specials: Warrior #4 Comic Review
Hagan Reviews: Nixon and Hogan Smoke Christmas (Archive Footage)
The Nostalgia Critic: To Bldly Flee, Part 2
5 Second Movies: Kickassia in 5 Seconds (Diamanda Hagan) (Archive Footage)

30
Heisanevilgenius

Specials: Channel Awesome Holiday Video
Vangelus Specials: V-Chat: Ides of Guelph (Archive Footage)
Clan of the Grey Wolf: ConBravo! 2012 - Game Reviewers Panel (Co-Star)
Specials: The 2012 Channel Awesome Holiday Video! 
BT Staff: Smarty - MAGFest! Blistered Thumbs Community Q&A! (Parts 1&2) (Co-Star)

31
Holly Christine Brown

The Nostalgia Critic: Suburban Knights Part 1
Phelous (shows): House of Wax
Specials: Channel Awesome Holiday Video
Forget About It: Batman (Part 2)
Forget About It: Star Wars (Prequels)
WTFIWWY - Rebel, Rebel (aka Episode 32)
The Machinimist: 1 Long Year! (Voiceover)
Forget About It: Top 10 TGWTG Reviewers
Specials:Rejected Spooning with Spoony Ideas
Music Movies: Fantasia 2000
WTFIWWY: This Is All YOUR Fault (The Return)
Forget About It: TGWTG 1st Year Brawl
The Nostalgia Critic: To Boldly Flee, Part 5
Obscurus Lupa Presents: 100th Episode - Evil Dead 2
Demo Reel: The Blair Witch Hangover (Voiceover) (Part 1)
BT Staff: Smarty - MAGFest! Blistered Thumbs Community Q&A! (Parts 1&2) (Co-Star)

32
HopeWithinChaos

Specials: Happy Holidays 2008 (Voiceover)
Specials: Goodbye Suede! (Voiceover)
GYMDK: Three Wonders
The Spoony Experiment: Final Fantasy VIII: The Finale*
You Can Play This: You Can Hear This Music Video*
Paw Specials: Dragonball Evolution: The Epic Review (Co-Reviewer)
The Nostalgia Critic: Kickassia Part 1 (Voiceover)
The Nostalgia Critic: Kickassia Part 5
GameFap: 3D Custom Girl
Phelous (shows): DotCom For Murder
Atop The Fourth Wall: 100th Episode
Sad Panda Q and A: Episode 6
You Can Play This: One Piece Gigant Battle*
You Can Play This: Hatsune Miku - Project DI*
The Spoony Experiment: The Dungeonmaster*
JW Special: JewWario vs Sean Fausz "Tatsunoko vs Capcom" Fight 3 (Co-Star)*
WTFIWWY - Episode 21
A Revieweraverse Saga: Episode 4 Kamen Rider ZO (Voiceover)*
Music Movies: Mary Martin's Peter Pan
Revieweraverse Saga: Episode 5 Battle For Terra (Voiceover)*
JW Special: Fanime 2011: Special Convention only YCPT! Episode*
You Can Play This: Monster Hunter Portable 3rd (How To Play) (Part 3 and Part 8)*
You Can Play This: 3rd Year Anniversary - Part 1 (Co-Writer)*
Last on the Bandwagon: Shadow of the Colossus
PushingUpRoses Specials: Behind the Video*
BT Staff: Smarty - MAGFest! Blistered Thumbs Community Q&A! (Parts 1&2) (Co-Star)
Last on the Bandwagon: Psychonauts (Co-Reviewer)
Nash Specials: Channel Awesome Against Humanity (Voiceover) 

33

The Horror Guru

Shark Jumping: Saved By the Bell
WTFIWWY: Live - Come On Baby, "Like" My Fire (Co-Star)

34
Iron Liz (X)

Linkara Specials: AT4W & Spoony: Experiment Warrior 2-3
Atop The Fourth Wall: Chain Gang Warrior #1 (Guest Lead)
Atop The Fourth Wall: Ewoks #9 (Co-Reviewer)
Atop The Fourth Wall: 100th Episode
Atop The Fourth Wall: Silent Hill: Dead/Alive #3-4
Atop The Fourth Wall: Silent Hill: Dead/Alive #5 (Co-Star)
Atop The Fourth Wall: Action Comics #1
Atop The Fourth Wall: Santa Claus Conquers The Martians
Atop The Fourth Wall: Power Rangers Zeo #1 (Co-Star)
Atop The Fourth Wall: Care Bears 13
Atop The Fourth Wall: Superman: Distant Fires
Atop The Fourth Wall: Doctor Who Classics #7 (Co-Star)
Atop The Fourth Wall: Star Trek: The Motion Picture #1-3
Linkara Specials: AT4W Story Recap (Archive Footage)
Obsscurus Lupa Presents: Gooby (Co-Reviewer)
Stuck In Your Head: Duck Tales*
Atop The Fourth Wall: Star Trek 2 (Gold Key)
Bad Movie Beatdown: Spy Kids 3D - Game Over (Archive Footage)
You Can Play This: 4.7 - Batman*
Atop The Fourth Wall: Twilight Zone 9
Atop The Fourth Wall: Silent HIll - The Grinning Man
Atop The Fourth Wall: Spider-Man - Planet Of The Symbiotes
Atop The Fourth Wall: Pokemon: The Electric Tale Of Pikachu
Atop The Fourth Wall: The Fantastic Four #1 (Voiceover)
Atop The Fourth Wall: Star Trek II: The Wrath of Khan #1 (Voiceover)
Atop The Fourth Wall: Star Trek II: The Wrath Of Khan #2 (Voiceover)
Atop The Fourth Wall: Star Trek II: The Wrath Of Khan #3
Atop The Fourth Wall: Southland Tales
The Nostalgia Critic: Indiana Jones and the Temple of Doom (Archive Footage)
Atop The Fourth Wall: 200th Episode (Parts 1&2) (Archive Footage)
Atop The Fourth Wall: Catwoman: Guardians of Gotham #2 (Archive Footage)
Obscurus Lupa Presents: 100th Episode - Evil Dead 2

35
JesuOtaku (X)

Words of Wisdom: The Fairer Sex and Gaming (Voiceover) (Co-Star)
Linkara Specials: Linkara and JesuOtaku Interview with Johnny Yong Bosch (Voiceover) (Co-Star) (Editor)
Atop The Fourth Wall: 100th Episode
Todd's Pop Song Reviews: Ep 15: "Whip My Hair"
WTFIWWY - Episode 21 (Co-Reviewer)
You Can Play This: Labyrinith (Famicom)*
YROT Specials: The Last Airbender (Co-Reviewer)
WTFIWWY - Bad Idea Bonanza
Todd's Pop Song Reviews: Episode 20: "Firework" vs "Born This Way"
JW Special: Fanime 2011: Special Convention only YCPT! Episode*
Nash Specials: Transformers Animated (Co-Writer)
WTFIWWY Live - Booty Call Ninjas (Co-Reviewer)
Todd's Pop Song Reviews: Episode 23 "E.T"
Atop The Fourth Wall: Rise Of Arsenal #3-4
WTFIWWY Live - Naked Robot Attack (Co-Reviewer)
WTFIWWY Live - Eel Spelunking (Co-Reviewer)
Nostalgia Chick Specials: Post Comic Con Exhaustion
Miscellany And Hodge Podge: Citizen Con: Oancitizen's Trip To The NYCC
Nash Speicals: Doctor Who Classic - WTFIWWY
Todd Specials: Todd's Black Eyed Peas Experience
Atop The Fourth Wall: Pokemon: The Electric Tale Of Pikachu
Brows Held High: Revolutionary Girl Utena (Editor) (Co-Reviewer)
WTFIWWY: Live - Red Hot Toowoomba (Co-Reviewer)
WTFIWWY: Live - Like a Hoo-Ha in the Sky (Co-Reviewer)
Specials: Channel Awesome Holiday Video
WTFIWWY: Live - Adventures in Babysitting (Co-Reviewer)
Nash Specials: Wonder Woman (2011) - A Review
The Nostalgia Chick: Top Ten "Hottest" Animated Guys
Bad Movie Beatdown: Sucker Punch (w/Jesuotaku) (Co-Reviewer) (Editor)
Forget About It: Top 10 TGWTG Reviewers
Todd's Pop Song Reviews: Stronger (What Doesn't Kill You)
Specials:Rejected Spooning with Spoony Ideas
Music Movies: Fantasia 2000
Atop the Fourth Wall: Southland Tales
WTFIWWY: Live - A Whiter Bajingo (Co-Reviewer)
WTFIWWY: Live - Baby Not on Board (Co-Reviewer)
Nash Specials: Doctor Who Classic - Top Classic Doctor
WTFIWWY: Live- You May Now Punch the Bride (Co-Reviewer)
The Nostalgia Chick: The Fresh Prince of Bel-Air
WTFIWWY: Live- Nudestravaganza! (Co-Reviewer)
Brows Held High: The Devils
WTFIWWY: This Is All YOUR Fault (The Return)
WTFIWWY: Live - Everything Must Be Flapping (Voiceover)
The Nostalgia Critic: Digimon the Movie (with JesuOtaku) (Co-Reviewer)
The Psykoneko Show: Anime Basics 8 - Anime Hair (Co-Star)*
You Can Play THis: Anime Girls of TGWTG (Co-Star)*
Hagan Reviews: The Knackery (Voiceover)
Nash Specials: Doctor Who Classic - Dr. Who and the Daleks
WTFIWWY: Live - Going Nuclear (Co-Reviewer)
WTFIWWY: Live - I Steal Pets (Co-Reviewer)
WTFIWWY: Live - You Obviously Like Owls (Co-Reviewer)
WTFIWWY: Dumber Than Curling (Voiceover)
Atop The Fourth Wall: Catwoman: Guardians of Gotham #2
WTFIWWY: Live - A Better Love Story Then Twilight (Co-Reviewer)
Brows Held High: Ep. 50 - Melancholia (Part 2)
Nash Specials" He There Be Dragons (Voiceover)
WTFIWWY: Live - That Doesn't Go There 2012 (Co-Reviewer)
Hagan Reviews: 69th Episode Special - Naked Killer
WTFIWWY: LIve - The Secret Canine Jihad (Co-Reviewer) 

36
JewWario (X)

Shameful Sequels: Wicker Man
Specials: That Guy With The Glasses Christmas Special (Editor) 
That Jewish Guy: Eight Myths of Hanukkah*
MikeJ Specials: The 12 Days of Geekmas
Full Circle: Music Games-Otocky
Game Heroes Specials: 8-Bit Mickey vs Lord Kat Robot Unicorn Attack*
Phelous (shows): Cinema Snob & Phelous - Troll 4
AngryJoeShow: Hotel Awesome Season 2, Episode 2
Linkara Specials: AT4W & Spoony: Experiment Warrior 2-3
Epic Fail: 21 - Shake THIS
Phelous (shows): PulselousDotCom.Com
Inbetweens: TRIGUN Volume Two (Archive Footage)
Inbetweens: TRIGUN Volume Three
The Cinema Snob: Caligula (Part 2)
Atop The Fourth Wall: Action Comics #593
Atop The Fourth Wall: 100th Episode
Sad Panda Q and A: Episode 6
WTFIWWY - Episode 21
Epic Fail: 22- Chop Fooey
The Psychotaku Show - Transformers*
A Revieweraverse Saga: Episode 1 The Guyver (Archive Footage)*
YROT Specials: The Last Airbender
Phelous (shows): Resident Evil Degeneration (Archive Footage)
A Revieweraverse Saga: Episode 4 Kamen Rider ZO*
Forget About It: Kickassia (Voiceover)
Specials: 3DS with Jew Wario and Tom (Voiceover) (Co-Star) (Editor)
The Nostalgia Chick: Les Miserables The Musical (Co-Writer)
The Nostalgia Chick: The Sexual Awakening Of Nerds A Scientific Study
Specials: Friday by all of TGWTG
Specials: Iinterstella 5555 (Editor) (Co-Reviewer)
The Psychotaku Show: Psykoneko Anime Basics - Gakuran*
Brows Held High: The Man Who Fell To Earth
The Psychotaku Show: Anime Basics 7 - Yanki
Specials: Warrior #4 Comic Review
Sean's Game Reviews: Sean vs. JewWario - Kamen Rider Climax OOO (Co-Star)
The Nostalgia Critic: Doug's First Movie (Archive Footage)
Angry Specials: Darth Joe vs. SpoonyWan
Epic Fail: 25 - There Are No Words (Co-Reviewer)
Specials: Channel Awesome Holiday Video
Hagan Reviews: Zombeak (with JewWario) (Co-Reviewer)
Marzgurl Vlogs: MarzGurl's Con-G Preperation (Archive Footage)
JO Anime Reviews: Fullmetal Alchemist
Vangelus Specials: V-Chat: Ides of Guelph (Archive Footage)
Animenia: Pokemon: The First Movie (Part One/Two) (Co-Reviewer) (Voiceover)
Specials: Tutorial - How to Make a Crossover
Specials: A Fake Frog in Chicago
Forget About It: Top 10 TGWTG Reviewers
Specials:Rejected Spooning with Spoony Ideas
Comic Book Issues: Avengers: The Children's Crusade
The Spoony Experiment: Game Over*
Music Movies: Fantasia 2000 (Co-Reviewer)
Pop Song Reviews: We Are Young and Somebody That I Used to Know
WTFIWWY: Live - A Whiter Bajingo (Co-Reviewer)
The Nostalgia Chick: The Fresh Prince of Bel-Air
That SciFi Guy: Splice (Voiceover)
BT Staff: Sahun K - Thumb Wars: Episode 9; Wi(i)ll U Play the Game? (Voiceover) (Co-Star)
Animenia: Pokemon the Movie 2000 (Co-Reviewer)
Read Right To Left: Franken Fran (Co-Reviewer)
Hagan Reviews: The Most Dangerous Game (Guest Lead)
Demo Reel: The Blair Witch Hangover (Voiceover) (Part 1) 
PushingUpRoses Specials: Behind the Video
Atop The Fourth Wall: The Next 15 Screw Ups of AT4W (Archive Footage)
BT Staff: Smarty - MAGFest! Blistered Thumbs Community Q&A! (Parts 1&2) (Co-Star)
Nash Specials: The Trial of the Incredible Hulk - A Review 
Hagan Reviews: Poultrygeist (Co-Reviewer)
Animenia: Pokemon the Movie 3 (Co-Reviewer)
Hagan Reviews: The Island of Doctor Moreau (Co-Reviewer)
Nash Specials: Channel Awesome Against Humanity (Voiceover) 
Animenia: Mewtwo Returns (Archive Voiceover) 
Weird Video Games: Yume Penguin Monotagari (Co-Reviewer)

37
JonTron

PeanutButterGamer (show): Hatoful Boyfriend
Forget About It: Star Wars (Prequels)
Tutorial: How to Make Budget Cuts? (Archive Footage)

38
KaiserNeko

The Nostalgia Critic: Kickassia Part 5
Atop The Fourth Wall: 100th Episode
Anime Abandon: Ninja Scroll (Voiceover)
Furuba Raido Drama: EP8 - All Shapes And Sizes (Voiceover)
Anime Abandon: Urotsukidoji (Voiceover)
GameFap: Let's Fap in Public with Team4Star (Parts 1&2) (Co-Star)
Furuba Radio Drama: EP 19 - High School Reunion (Voiceover)
Anime Abandon: Armitage III

39
Kirbopher

Paw Specials: Dragonball Evolution: The Epic Review
YROT Speicals: The Last Airbender
Music Movies: Snoopy, Come Home (Voiceover)

40
Krin

Atop The Fourth Wall: Mr. T #2 (AP Comics)
Todd's Pop Song Reviews: Applause by Lady Gaga
Vangelus: V-Build - Dreadwing (Transformers Prime) (Voiceover) (Co-Star)

41
Kyle Justin

The Nostalgia Critic: Video Game
The Nostalgia Critic: Year One Anniversary Brawl
The AngryJoeShow: Hotel Awesome: Season 1- Episode 2
Atop The Fourth Wall: Top 15 Worst Moments of Countdown (Archive Footage)
GH Specials: Handsome Tom and GH Retiring (Archive Footage)*

42
The Last Angry Geek

The Nostalgia Critic: Kickassia Part 5
The Nostalgia Critic: The Next Top 11 Nostalgia Critic Fuck Ups (Voiceover)
Atop The Fourth Wall: 100th Episode
ThatGuy Riffs: The Good Loser (Co-Writer)
Bad Movie Beatdown: Spy Kids 3D - Game Over (Archive Footage)
Specials: Channel Awesome Holiday Video
Atop The Fourth Wall: Battle for Bludhaven #1-2
The Nostalgia Critic: Indiana Jones and the Temple of Doom (Archive Footage)
Atop The Fourth Wall: 200th Episode (Part 1)
Atop The Fourth Wall: Catwoman: Guardians of Gotham #2 (Archive Footage)
Nash Specials: Doctor Who Classic - The Cartmel Masterplan
Demo Reel: The Blair Witch Hangover (Co-Star) (Parts 1&2)
Specials: The 2012 Channel Awesome Holiday Video! 
Demo Reel: Blue Patches
Year Five: The Uncanny Valley - Dragonbored
WTFIWWY: Live - Cop vs Squirrel
The Nostalgia Critic: Teenage Mutant Ninja Turtles (2014)

43
Lanipator

Atop The Fourth Wall: Doom #1
The Nostalgia Critic: Kickassia Part 5
Fanfic Theatre: Vampire Stalkers Part II
Atop The Fourth Wall: 100th Episode
Music Games: Top 9 Video Game Composers (Part 2: Convergence) (Voiceover)
Familiar Faces: Episode 45: Krampus (Archive Voiceover)
Anime Abandon: Psychic Wars (Voiceover)
The Nostalgia Cirtic: Baby Geniuses 2
Angry Reviews: DBZ Kinect (Voiceover)
Angry Joe Top Reasons Why: Top 10 WORST Games of 2012! (Archive Voiceover) 

44
Lee Davidge

Atop The Fourth Wall: Countdown Part 2
The Spoony Experiment: Final Fantasy VIII: The Finale*
Phelous (shows): Meat Train
Game Den: Golden Axe
Little Miss Gamer: Psychonauts (Co-Star)*
The Spoony Experiment: FMV Hell: Nightmare*
Atop The Fourth Wall: Top 15 Missed Opportunties of AT4W
You Can Play This: You Can Hear This Music Video*
Phelous: FearDotCom
The AngryJoeShow: Hotel Awesome: Season 2 - Episode 4
Atop The Fourth Wall: AT4W & Spoony: Experiment Warrior 2-3
Atop The Fourth Wall: 100th Episode
JW Special: Fanime 2011: Special Convention only YCPT! Episode*
Game Den: Silent Hill: End Of An Era (Archive Footage)

45
Leon Thomas

Specials: Channel Awesome Holiday Video
Specials: The 2012 Channel Awesome Holiday Video! (Voiceover)
BT Staff: Smarty - MAGFest! Blistered Thumbs Community Q&A! (Parts 1&2) (Co-Star)
Hagan Reviews: 69th Episode Special - Naked Killer
The Nostalgia Critic: Editorial - Is The Big Lebowski a Masterpiece? (Archive Footage)

46
Lindsay Ellis

The Nostalgia Critic: Top 11 Disney Villians (Archive Footage)
The Nostalgia Critic: Top 12 Greatest Christmas Specials (Archive Footage)
Specials: Happy Holidays 2008
The Nostalgia Critic: Ferngully: The Last Rain Forest (Co-Reviewer)
Atop The Fourth Wall: Daredevil #306
That Jewish Guy: Eight Myths of Hanukkah*
Specials: That Guy With The Glasses Christmas Special
The AngryJoeShow: Hotel Awesome: Season 2 - Episode 4
Linkara Specials: AT4W & Spoony: Experiment Warrior 2-3
Atop The Fourth Wall: 100th Episode
Familiar Faces: Episode #36: Baby Doll (Archive Footage)
The Nostalgia Critic: A Nostalgia Critic Christmas
The Nostalgia Critic: Ferngully 2
Forget About It: Resident Evil (in general)
Music Movies: Mary Martin's Peter Pan
Game Heroes Specials: Casual Gaming with Lindsay Ellis aka Nostalgia Chick*
Specials: Friday by all of TGWTG
Stuck In Your Head: Rescue Rangers*
Musical Youth: Meet The California Raisins (Archive Footage)*
Familiar Faces: Episode #54: Anne Qwish (Archive Footage)
Todd's Pop Song Reviews: Episode 23 "E.T"
Brows Held High: The Man Who Fell To Earth
The Spoony Experiment: Final Fantasy X-2 Part 2*
Obscurus Lupa Specials: Honor And Glory (Co-Reviewer)
Todd's Pop Song Reviews: Episode 24 "Party Rock Anthem" (Voiceover)
Todd's Pop Song Reviews: Episode 25 "Give Me Everything" (Voiceover)
Nash Specials: Let's Interview Mike J. Nelson (Co-Star)
Phelous (shows): House Of Wax
Todd's Pop Song Reviews: Top Ten Songs About Mediocre Romances
Todd Specials: Todd's Black Eyed Peas Experience
Phelous (shows): Wrong Turn 4: Hostel (Archive Footage)
The Nostalgia Critic: Nostalgia Critic MUSICAL REVIEW: Moulin Rouge (Co-Revewer)
Specials: Disneycember! Part 10 (The Little Mermaid) (Archive Footage)
Specials: Channel Awesome Holiday Video
Specials: Tutorial - How to Make a Crossover
Hagan Reviews: Preaching to the Perverted
Forget About It: Top 10 TGWTG Reviewers
Todd's Pop Song Reviews: Stronger (What Doesn't Kill You)
Specials:Rejected Spooning with Spoony Ideas
Specials: Live Action Fanfic - Lay Your Head Down, Darling (Editor)
Music Movies: Fantasia 2000
Todd Specials: From Justin to Kelly (Co-Reviewer)
Atop the Fourth Wall: Southland Tales (Co-Reviewer)
Music Movies: Cannibal! The Musical
That SciFi Guy: 5/5 Jeff Goldblum
Music Movies: The Incredibly Strange Creatures Who Stopped Living and Became Mixed-Up Zombies
Obscurus Lupa Presents: 100th Episode - Evil Dead 2 (Voiceover)
Brows Held High: Ep. 50 - Melancholia (Part 1)
Brows Held High: Ep. 50 - Melancholia (Part 2) (Voiceover)
Music Movies: A Muppet Christmas Carol
5 Second Movies: Kickassia in 5 Seconds (Diamanda Hagan) (Archive Footage)
The Nostalgia Critic: The Review Must Go On
Shut Up and Talk: Lindsay Ellis (Co-Star)

47
Linkara

Specials: Happy Holidays 2008
Specials: Goodbye Suede!
Masterpiece Fanfic Theatre Episode 4: Root Her
Masterpiece Fanfic Theatre Episode 5: Web of Dimensions
The Spoony Experiment: Warrior #1 (Co-Reviewer)*
The Nostalgia Critic: Full House
MarzGurl's Sketches: Cool World (Co-Reviewer)
Phelous (shows): Skinned Deep
Bad Movie Beatdown: Transmorphers
Still Gaming: Prototype
The Spoony Experiment: Final Fantasy VIII: The Finale*
5 Second Movies (Lee): Rosario Vampire (Archive Voiceover)
Comic Conventions: 6 Retarded Silver Age Moments
The Spoony Experiment: The Clones Of Bruce Lee Part I*
The Nostalgia Critic: Warriors of Virtue
The Nostalgia Critic: Alone in the Dark (Co-Reviewer)
Phelous (shows): Day of the Dead
GYMDK: IK+
The Nostalgia Chick: Bratz
The Nostalgia Critic: Superman IV (Co-Reviewer)
The Spoony Experiment: FMV Hell Halloween Special - Bloodwings: Pumpkinhead's Revenge*
Game Den:Silent Hill 3, Part 5
Bum Reviews: Youmacon
That Jewish Guy: Eight Myths of Hanukkah*
Specials: That Guy With The Glasses Christmas Special
You Can Play This: You Can Hear This Music Video*
Epic Fail Special: (Later called Ep 20: A Look back )
MikeJ Specials: The 12 Days of Geekmas
Quickies: 7 Reasons to see The Princess and the Frog*
The Nostalgia Critic: Bebe's Kids
The Spoony Experiment: Captain America part 1*
The Spoony Experiment: Party Mania review*
Familiar Faces: Episode 18 - Spuds McKenzie
The Nostalgia Critic: Bio-Dome
SpoonyOne VLogs: Linkara & Spoony Interview Kristanna Loken (Chicago 2009) (Co-Star)*
Game Heroes Specials: 8-Bit Mickey vs Lord Kat Robot Unicorn Attack*
Bad Movie Beatdown: Bad Movie Beatdown/Atop The Fourth Wall: The Spirit (Co-Reviewer)
Phelous (shows): Cinema Snob & Phelous - Troll 4
The Angry Joe Show: Hotel Awesome Season 2 Episode 3
NChick Specials: Linking Up With Linkara (Co-Star)
Familiar Faces: Episode 27: Connie Benge (Archive Voiceover)
The Nostalgia Chick: Grease
The Nostalgia Critic: The Room
Obscurus Lupa Specials: A Day in the Life of Tommy Wiseau
The Cinema Snob: Caligula (Part 1)
Familiar Faces: Episode #36: Baby Doll (Archive Footage)
The Nostalgia Critic: The Next Top 11 Nostalgia Critic Fuck Ups (Archive Footage)
Phelous (shows): Silent Hill Again
Bum Reviews: Harry Potter And The Deathly Hollows, Part One (Co-Reviewer)
The Spoony Experiment: The Deadliest Character - Mechagodzilla vs. Megazord (Co-Star)*
Brad Tries: Pepsi Holiday Spice (Co-Reviewer)
The Nostalgia Critic: A Nostalgia Critic Christmas
The Spoony Experiment: Final Fantasy X Finale*
Comic Book Issues: Spider-Man OMIT (Co-Reviewer)
WTFIWWY - Episode 21
Sad Panda Q and A: Episode 9
King's Quest Retrospective: Absence Makes The Heart Go Yonder
The Nostalgia Chick: Disater Movies Of Roland Emmericah: PART ONE
Sad Panda Q and A: Episode 10
WTFIWWY - Bad Idea Bonanza
Obscurus Lupa Presents: Birdemic
WTFIWWY - War Never Changes (Archive Footage)
Comic Book Issues: FLASHBACK: Legion Lost
GYMDK: Best 8-bit VS Fighters
Music Movies: Mary Martin's Peter Pan
Stuck In Your Head: Duck Tales*
Specials: Phelous & Linkara: The Airzone Solution (Co-Reviewer)
The Spoony Experiment: Beastmaster 2: Through The Portal Of Time*
Specials: Manimal (Co-Reviewer)
Specials: Bimbos B.C (Co-Reviewer) (Editor)
Todd's Pop Song Reviews: Ep 21: "S&M"
That SciFi Guy: Superman Returns (Voiceover)
Phelous (shows): Doctor Who I Don't Want To Go (Archive Footage)
JW Special: Fanime 2011: Special Convention only YCPT! Episode*
The Nostalgia Chick: Les Miserables The Musical
Obscurus Lupa Presents: Nick Fury Agent Of Shield
The Nostalgia Chick: The Sexual Awakening Of Nerds A Scientific Study
Specials: Friday by all of TGWTG
Nash Specials: Justice League of America (1997) Review (Co-Reviewer)
Specials: Brad And Phelan Try Grass Jelly
The Sound Pit: Top 5 John Frusciante Songs
Brows Held High: The Doom Generation
The Nostalgia Chick: TLC and the 90's*
The Spoony Experiment: Tekken: The Motion Picture*
Animenia: Top 11 American Anime
Hagan Reviews: The Raspberry Reich
Welshy Reviews: Red Eye (Archive Voiceover)*
You Can Play This: 4.7 - Batman (Co-Reviewer)*
Nash Specials: Let's Interview Mike J. Nelson (Co-Star)
Phelous (shows): Croc
The Nostalgia Critic: Simon Sez
Phelous (shows): House Of Wax
Brad Tries: Japanese Kit Kats
Specials: Warrior #4 Comic Review (Co-Reviewer)
The Nostalgia Critic: Nostalgia Critic MUSICAL REVIEW: Moulin Rouge
Comic Book Issues: Daredevil #1-3 (Archive Footage)
Sad Panda Q and A: Christmas Special (Archive Footage)
Nostalgia Chick Specials: Mr. Awesome Goes to Washington
Specials: Channel Awesome Holiday Video (Editor)
Forget About It: Titanic
Nash Specials: Doctor Who Classic - The Twin Dilemma
Anime Abandon: Dracula: Soverign of the Damned (with Linkara!) (Co-Reviewer)
Nash Specials: Wonder Woman (2011) - A Review (Co-Reviewer)
The Nostalgia Chick: What Women Want
The Nostalgia Critic: Star Trek 9 - Insurrection (Co-Reviewer)
Iron Liz Crossovers and Specials: From the Vault: Mystery Date (Co-Star)*
MMO Grinder: Star Trek Online Review
JO Anime Reviews: Fullmetal Alchemist
Cheap Damage: Doctor Who Trading Card Game (Archive Footage)
Bad Movie Beatdown: Sucker Punch (w/JesuOtaku)
The Nostalgia Critic: Top 11 Nostalgia Critic Fuck Ups, Part 3
Animenia: Pokemon: The First Movie (Part One) (Co-Reviewer)
Animenia: Pokemon: The First Movie (Part Two) (Co-Reviewer) (Voiceover)
Forget About It: Top 10 TGWTG Reviewers
Specials: Brad Tries Airheads
Comic Book Issues: Avengers: The Children's Crusade
Brows Held High: Tromeo and Juliet
The Film Den: CINO, Part 2 (Archive Footage)
The Spoony Experiment: Game Over*
Music Movies: Fantasia 2000
Todd Specials: From Justin to Kelly
Phelous (shows): Amityville 4: The Lamp Escapes
The Machinimist: Space Dementia
The Nostalgia Chick: The Fresh Prince of Bel-Air
WTFIWWY: This Is All YOUR Fault (The Return)
Anime Abandon: Demon City Shinjuku
The Nostalgia Critic: The Wiz (with Todd In The Shadows)
The Nostalgia Chick: Supergirl (Co-Reviewer)
Vampire Reviews: Count Chocula
The Cinema Snob: Goldengirl
HeIsAnEvilGeinus: Audtion for the Worst Movie Ever (Co-Star)
Hagan Reviews: Nixon and Hogan Smoke Christmas (Archive Footage)
JO Anime Reviews: High School of the Dead
The Blockbuster Buster: Transformers - Dark of The Moon
WTFIWWY: Live- Deja Vu (And Monkeys, Too) (Co-Reviewer)
Phelous (shows): To Boldly Flee - Alternate Endings (Archive Footage)
MMO Grinder: DC Universe Online (Voiceover)
Nash Specials: Doctor Who Classic - The Cartmel Masterplan
Hagan Reviews: Sextette
Animenia: Pokemon the Movie 2000 (Co-Reviewer)
Nash Specials: The Musical Chair - Unsung Heroes
Vampire Reviews: 30 Days of Night
Todd's Pop Song Reviews: Gangnam Style by Psy
That SciFi Guy: Zombie Aocalypse
Comic Book Issues: Marvel 2012 Annuals
The Film Den: Top 5 Things I Hate About the Silent Hill Movie (Archive Footage)
Bum Reviews: Wreck-It Ralph
Obscurus Lupa Presents: 100th Episode - Evil Dead 2
Comic Book Issues: The Search for the Geek (Movie) (Archive Footage)
Brows Held High: Ep. 50 - Melancholia (Part 2)
Diamanda Hagan Other Stuff: Twatty Who Review - The Next Doctor (Voiceover)
Specials: The 2012 Channel Awesome Holiday Video! 
5 Second Movies: Kickassia in 5 Seconds (Diamanda Hagan) (Archive Footage)
WTFIWWY: Live - That Doesn't Go There 2012 (Co-Reviewer)
Anime Abandon: Baoh
Nash Specials: The Trial of the Incredible Hulk - A Review (Co-Reviewer)
The Nostalgia Critic: The Review Must Go On
Marzgurl Vlogs: TGWTG Panel @ GATO Con (Co-Star)
Diamanda Hagan Other Stuff: Twatty Who Review - The End of Time, Episode 2 (Part 1&2) (Voiceover)
Obscurus Lupa Specials: Power Rangers - Alpha's Magical Christmas (Co-Reviewer)
Animenia: Pokemon the Movie 3 (Co-Reviewer)
Phelous (shows): Marvel Unvierse: The Book of the Dead
WTFIWWY: Live - The Whizzinator (Co-Reviewer) 
Nash Specials: Channel Awesome Against Humanity (Voiceover) 
Nash Specials: MEGASTREAM Q&A's - Linkara, MarzGurl & Welshy (Linkara) (Co-Star)
Animenia: Mewtwo Returns (Archive Voiceover)
You Know Who: Nightmare in Silver
The Nostalgia Critic: Turbo - A Power Rangers Movie
The Nostalgia Critic: Les Miserables
The Blockbuster Buster (show): Casting Couch - Batman Villains
The Blockbuster Buster (show): Batman (1966) with Linkara (Co-Reviewer)
The Nostalgia Critic: The Shining Mini-Series (Archive Voiceover)
Comic Book Issues: The Dark Knight Returns
Bad Movie Beatdown: The Shepard (Voiceover)
Phelous (shows): The Time Machine Part 1
Phelous (shows): The Time Machine Part 2
The Cinema Snob: Silent Night, Deadly Night
The Nostalgia Critic: Bloodrayne (Co-Reviewer)
Shark Jumping: Saved By the Bell
Brows Held High: Beauty and the Beast (Part 1)
Shut Up and Talk: Lewis Lovhaug (Co-Star)
The Blockbuster Buster (show): Flash Gordon with Linkara (Co-Reviewer)
The Nostalgia Critic - Monster Squad (as Fat Grandma)

48
LittleKuriboh

Familiar Faces episode 10 (Voiceover)
PawDugan: Dragonball Evolution: The Epic Review
Atop The Fourth Wall: Bimbos in Time (Voiceover)
The Spoony Experiment: Captain America 2 (Vioceover)*
Atop The Fourth Wall: Ultimates 3 #1-2 (Voiceover)
The Spoony Experiment: Party Mania Review (Voiceover)*
Familiar Faces: Episode 27: Connie Benge (Archive Voiceover)
Atop the Fourth Wall: Cable #2 (Voiceover)
Fanfic Theatre: Vampire Stalkers Part 1 (Co-Star) (Voiceover)
JO Anime Reviews: Digimon Adventure - 3 Parts (Part 2) (Archive Voiceover)
Fanfic Theatre: Vampire Stalkers Part II (Co-Star) (Voiceover)
JO Anime Reviews: Digimon Zero Two: Parts Two & Three (Part 3) (Archive Voiceover)
5 Second Character Analysis: Castor (Archive Voiceover)
Famailiar Faces: Episode 52 Rushuna Tendo (Archive Voiceover)
Anime Abandon: Bounty Dog (Voiceover)
The Spoony Experiment: Tekken: The Motion Picture (Archive Voiceover)*
Anime Abandon: Mad Bull 34 Part II (Voiceover)
The Spoony Experiment: DOA: Dead Or Alive (Voiceover)*
Familiar Faces: Episode #61: Lady Goo Goo (Archive Voiceover)
Atop The Fourth Wall: Marville #1 (Voiceover)
The Nostalgia Critic: Ponyo
Anime Abandon: Mezzo Forte
Furuba Radio Drama: EP 19 - High School Reunion (Voiceover)
Anime Abandon: Voltage Fighter Gowcaizer, Part 1 (Voiceover)
Atop The Fourth Wall: Marville #4 (Archive Voiceover)
Cheap Damage: Yugioh Millenium Board Game (Archive Voiceover) 
Familiar Faces: Episode 73: Porygon (Archive Voiceover) 
Chapter Damage: Simpsons Trading Card Game (Archive Voiceover)

49
Little Miss Gamer (X)

Specials: That Guy With The Glasses Christmas Special
Still Gaming: Food Fight (Guest Lead)
The Nostalgia Critic: Kickassia Part 1
The Nostalgia Critic: Kickassia Part 5
The Blockbuster Buster: ERod vs. Episode 1, Vol. 3

50
lordhebe

Sad Panda Q and A: Episode 7
Forget About It: Monty Python and the Holy Grail
Welshy Specials: TGWTG Brit - LFCC Vlog*

51

Lordkat

(X)

Specials: That Guy With The Glasses Christmas Special
Epic Fail Special: (Later called Ep 20: A Look back)
MikeJ Specials: The 12 Days of Geekmas
Paw Specials: Dragonball Evolution: The Epic Review (Co-Reviewer)
Familar Faces Specials: CR!/Sad Panda Double Feature!
GH Specials: 8-Bit Mickey vs Lord Kat Robot Unicorn Attack (Co-Star)*
You Can Play This: JewWario and LordKat's Holy Diver Review (Co-Reviewer)
The AngryJoeShow: Hotel Awesome: Season 2 - Episode 4
The Spoony Experiment: Spoony & Lordkat PumpkinHead's Revenge (Co-Reviewer) (Editor)*
Atop The Fourth Wall: AT4W & Spoony: Experiment Warrior 2-3
GameFap: Rapelay!
The Cinema Snob: Caligula (Part 1)
Atop The Fourth Wall: 100th Episode
Familiar Faces: Episode #36: Baby Doll (Archive Footage)
Phelous (shows): Stay Alive
Sad Panda Q and A: Episode 7
WTFIWWY - Episode 21
Todd's Pop Song Reviews: Top 10 Songs of 2010
YROT Specials: The Last Airbender
Revieweraverse Saga: Episode 4 Kamen Rider ZO (Archive Footage)*
JW Special: Fanime 2011: Special Convention only YCPT! Episode*
The Nostalgia Critic: Suburban Knights Part 6 (Voiceover)
Anime Abandon: Mad Bull 34 Part 1 (Voiceover)

52
Lotus Prince

Specials: The 2012 Channel Awesome Holiday Video! 
BT Staff: Smarty - MAGFest! Blistered Thumbs Community Q&A! (Parts 1&2) (Co-Star)
BT Staff: Sahun K - Thumb Wars: Episode 37: Ninten-Don't's?: Of LPs & Twitter (Voiceover) (Co-Star)

53
Luke Mochrie

WTFIWWY - Episode 21
Phelous (shows): Chain Letter
You Can Play This – The WA?RI?ON – Part 1 – Mario to Wario (SuFami}*
YROT Specials: The Last Airbender
The Nostalgia Critic: Doug's First Movie (Archive Footage)
Specials: Tutorial - How to Make a Crossover
Specials:Rejected Spooning with Spoony Ideas
Specials: Live Action Fanfic - Lay Your Head Down, Darling (Co-Star)
Music Movies: Fantasia 2000
The Nostalgia Chick: Freddy Got Fingered
Music Movies: The Devil's Carnival (Archive Footage)

54
Mara Wilson

The Nostalgia Critic: Top 12 Greatest Christmas Specials (Archive Footage)
Specials: Doug's Top 10 Movies He Hates By Everyones Else Loves (Archive Footage)
The Nostalgia Critic: Thomas And The Magic Railroad (Archive Footage)
The Nostalgia Critic: A Simple Wish
The Nostlagia Chick: Matilda (Co-Reviewer)
Demo Reel: Lost in Translation (Romance Version) (Part 1) (Voiceover) 
Shut Up and Talk: Mara Wilson (Co-Star) 
The Nostagia Chick: Nostalgic Foods of Yore (Co-Star)
Lindsay Ellis Specials: Pumpktoberfest: Little House on the Pumpkin (Co-Star)

55
MasakoX

Paw Specials: Dragonball Evolution: The Epic Review
Benzaie Specials: TGWTG Special Sing Along!!!
The Nostalgia Critic: Kickassia Part 5
Atop The Fourth Wall: 100th Episode
Familiar Faces: Episode 45: Krampus (Archive Voiceover)
Forget About It: Monty Python and the Holy Grail
Shameful Sequals: Matrix Revolutions
Bad Movie Beatdown: The Texas Chainsaw Massacre: The Beginning
Welshy Specials: TGWTG Brit - LFCC Vlog (Co-Star)*
Specials: Channel Awesome Holiday Video
CR Specials: Reviews are Magic - The Super Speedy Cider Squeezy 6000 (Archive Voiceover)
GameFap: Let's Fap in Public with Team4Star (Parts 1&2) (Co-Star)
Stuck In Your Head: Danger Mouse*
Welshy Specials: NerdQuest Behind the Scenes (Days 3, 4, 5)*

56
MasterTheCreator

Atop The Fourth Wall: Mr. T #2 (AP Comics)

57
MarzGurl

Specials: Happy Holidays 2008
Specials: Goodbye Suede!
Atop The Fourth Wall: Uncanny X-Men #424
Atop The Fourth Wall: Daredevil #306
The Spoony Experiment: Warrior #1*
5 Second Movies (Lee): Rosario Vampire (Archive Voiceover)
GYMDK: IK+
Atop The Fourth Wall: Doom #1
Specials: That Guy With The Glasses Christmas Special
Digiital Games: Art and Video Games (Voiceover) (Guest Lead)
Benzaie Specials: TGWTG Special Sing Along!!!
Game Heroes Specials 8-Bit Mickey vs Lord Kat Robot Unicorn Attack*
AngryJoeShow: Hotel Awesome Season 2 Episode 2
Phelous (shows): Cinema Snob & Phelous - Troll 4
Atop The Fourth Wall: AT4W & Spoony: Experiment Warrior 2-3
NChick Specials: Linking Up With Linkara (Co-Star)
GameFap: 3D Custom Girl (Voiceover)
Atop The Fourth Wall: 100th Episode
You Can Play This: Labyrinith (Famicom)
Game Heroes: 8-Bit Mickey Takes On AllCon*
GameFap: Let's Fap To Marzgurl With Marzgurl (Voiceover) (Co-Star)
JW Special: Fanime 2011: Special Convention only YCPT! Episode*
Specials: Bad Movie Beatdown Presents: Hercules in New York (Voiceover)
Specials: Friday by all of TGWTG
The Nostalgia Chick: The Sexual Awakening Of Nerds A Scientific Study Part 2
Specials: Interstella 5555
The Nostalgia Chick: The Little Mermaid
Phelous (shows): House Of Wax
Atop The Fourth Wall:: Silent Hill: Among The Damned
Specials:: Warrior #4 Comic Review
Atop The Fourth Wall: Pokemon: The Electric Tale Of Pikachu
Obscurus Lupa Presents: Peewee's Playhouse Christmas Special
You Can Play This: 3rd Year Anniversary - Part 2 (Voiceover)*
You Can Play This: J-Dub goin' ta Con-G! (Co-Star)*
JO Anime Reviews: Fullmetal Alchemist
Vangelus Specials: V-Chat: Ides of Guelph (Archive Footage)
Specials: Tutorial - How to Make a Crossover
Specials:Rejected Spooning with Spoony Ideas
Comic Book Issues: Avengers: The Children's Crusade
The Psykoneko Show: Anime Basics 8 - Anime Hair (Co-Star)*
You Can Play THis: Anime Girls of TGWTG (Co-Star)*
Hagan Reviews: Nixon and Hogan Smoke Christmas
JO Anime Reviews: High School of the Dead
Atop The Fourth Wall: Catwoman: Guardians of Gotham #2
Music Movies: The Devil's Carnival (Archive Footage)
PushingUpRoses Specials: Behind the Video*
Anime Abandon: Tenchi Muyo In Love
Atop The Fourth Wall: Titans Retrospective: JLA/Titans - The Technis Imperative (Archive Footage)
Nash Specials: MEGASTREAM Q&A's - Linkara, MarzGurl & Welshy (Marzgurl) (Co-Star)
JO Special: Anime Expo 2013 Panel with JesuOtaku (Co-Star)

58
Mike Dodd

The Nostalgia Critic: Year One Anniversary Brawl
Vangelus Specials: V-Chat: Ides of Guelph (Archive Footage)
Clan of the Grey Wolf: ConBravo! 2012 - Game Reviewers Panel (Co-Star)
BT Staff: Sahun K - Thumb Wars: Episode 21; The Triumphs of 2012 (Voiceover) (Co-Star)
BT Staff: Shaun K - Thumb Wars: Episode 22; Gamer Resolutions 2013 Edition (Voiceover) 
BT Staff: Smarty - MAGFest! Blistered Thumbs Community Q&A! (Parts 1&2) (Co-Star)
Year Five: The Uncanny Valley - Dragged In

59
Mike Ellis (X)

Specials: Goodbye Suede!
The Nostalgia Critic: Year One Anniversary Brawl
The Nostalgia Critic: Top 11 F*ckups
Bad Movie Beatdown: The Jazz Singer

60
MikeJ

Atop The Fourth Wall: Doom #1
You Can Play This: You Can Hear This Music Video*
Epic Fail 20: A Look Back
The Nostalgia Critic: Kickassia Part 5
The Film Den: Ep 04: Jaws Part 2 (Archive Footage)
Atop The Fourth Wall: 100th Episode
Phelous (shows): Anacondas
Sad Panda Q and A: Episode 7
Welshy Reviews: Most Unconventional Double Acts and Pairings
JW Special: Fanime 2011: Special Convention only YCPT! Episode*
Forget About It: Monty Python and the Holy Grail
Bad Movie Beatdown: The Texas Chainsaw Massacre: The Beginning
Welshy Specials: TGWTG Brit - LFCC Vlog (Co-Star)*
Welshy Reviews: Tremors*
Sad Panda Q and A: Christmas Special (Voiceover)
Specials: Channel Awesome Holiday Video
The Nostalgia Critic: To Boldly Flee, Part 8
Welshy Specials: NerdQuest Behind the Scenes (Days 1, 3, 4, 5)*
Obscurus Lupa Presents: Witchcraft 5 - Dance With the Devil (Co-Reviewer)
Bad Movie Beatdown: Shameful Sequel Beatdown (w/MikeJ) - Nutty Professor II: The Klumps (Co-Reviewer)
The Nostalgia Critic: Ghost Rider 2 (Co-Reviewer)

61
Mike Michaud

The Nostalgia Critic: Surf Ninjas
Specials: Lost in DC: Making of the PBS Commercial
Specials: Goodbye Suede!
The Nostalgia Critic: Year One Anniversary Brawl
The Nostalgia Critic: Suburban Knights Part One

62
Nash

Obscurus Lupa Presents: Hard To Kill
Music Games: Top 9: Marx Brothers Music Moments
Todd's Pop Song Reviews: Ep 15: "Whip My Hair"
Obscurus Lupa Presents: Birdemic
Stuck In Your Head: Duck Tales*
JO Specials: ACEN Adventures!
Revieweraverse Saga: Episode 5 Battle For Terra*
Obscurus Lupa Presents: Gooby (Voiceover)
Todd's Pop Song Reviews: Episode 23 "E.T"
Atop The Fourth Wall: Rise Of Arsenal #3-4
Phelous (shows): 1983 Boogeyman II
JO Specials: Building A Computer! (Guest Lead)
Phelous (shows): House Of Wax
Nostalgia Chick Specials: Post Comic Con Exhaustion
Miscellany And Hodge Podge: Citizen Con: Oancitizen's Trip To The NYCC
Bonekickers Reviews: Bonekickers Episode 4 Review
The Nostalgia Critic: Doug's First Movie
Specials: Channel Awesome Holiday Video
JO Specials: The Secret World of Arrietty VLOG (Co-Reviewer)
JO Anime Reviews: Fullmetal Alchemist
Bad Movie Beatdown: Sucker Punch (w/Jesuotaku)
JO Anime Reviews: Witchblade
The Machinimist: 1 Long Year! (Voiceover)
The Spoony Experiment: Game Over*
Todd Specials: From Justin to Kelly
Atop the Fourth Wall: Southland Tales (Co-Reviewer)
The Nostalgia Chick: The Fresh Prince of Bel-Air
Hagan Reviews: Apocalypse 4 - Judgement
The Nostalgia Critic: To Boldly Flee, Part 8
Obscurus Lupa Presents: 100th Episode - Evil Dead 2
You Know Who - The Snowmen
Diamanda Hagan Other Stuff: Twatty Who Review - The End of Time, Episode 2 (Part 2) (Voiceover)
The Nostalgia Critic: Les Miserables
The Nostalgia Critic: Man of Steel
Brows Held High: Beauty and the Beast (Part 1)

63
Nella

Specials: That Guy With The Glasses Christmas Special
The Nostalgia Critic: A Nostalgia Critic Christmas
WTFIWWY - Episode 21
Sad Panda Q and A: Episode 9
Sad Panda Q and A: Episode 10
Specials: Friday by all of TGWTG
Specials: Nella vs. the Baconalia (Guest Lead)
Specials: Interstella 5555 (Co-Reviewer)
The Nostalgia Critic: Suburban Knights Part Seven
Familiar Faces: Episode #54: Anne Qwish (Archive Footage)
The Nostalgia Critic: Duck Tales
Obscurus Lupa Specials: Honor And Glory
The Cinema Snob: Dr. Sex (Archive Footage)
Miscellany And Hodge Podge: Citizen Con: Oancitizen's Trip To The NYCC
Nash Speicals: Doctor Who Classic - WTFIWWY (Co-Reviewer)
Todd Specials: Todd's Black Eyed Peas Experience
The Nostalgia Critic: Nostalgia Critic MUSICAL REVIEW: Moulin Rouge
Nash Specials: The Comic-Con Files: The Way
Sad Panda Q and A: Christmas Special
Specials: Disneycember! Part 10 (The Little Mermaid) (Archive Footage)
Specials: Channel Awesome Holiday Video
Specials: A Fake Frog in Chicago (Co-Writer)
Forget About It: Top 10 TGWTG Reviewers
Specials:Rejected Spooning with Spoony Ideas
Music Movies: Fantasia 2000 (Co-Reviewer)
Atop the Fourth Wall: Southland Tales
Music Movies: Dr Horrible's Singalong Blog
Atop The Fourth Wall: Catwoman: Guardians of Gotham #2
Nash Specials: Doctor Who Classic - The Web Planet (Archive Footage)
Music Movies: A Muppet Christmas Carol
The Nostalgia Critic: The Review Must Go On
The LIG: Strongbow: Cider (Co-Reviewer)
The LIG: Straub: American Amber (Co-Reviewer)
Music Movies: 1776
The Nostalgia Critic: Les Miserables

64

Nobunaga

Specials: Channel Awesome Holiday Video

65
Oancitizen (X)

The Nostalgia Chick: Les Miserables
The Sound Pit: Top 5 John Frusciante Songs
Atop The Fourth Wall: Rise Of Arsenal #3-4
Phelous (shows): Jeepers Creepers
Bad Movie Beatdown: The Tourist (Voiceover)
The Nostalgia Chick: She's All That
Obscurus Lupa Presents: City Dragon
Hagan Reviews: Aftermath / Thomas and the Magic Railroad Double Reivew
The Nostalgia Chick: City of Angels
Phelous (shows): House Of Wax
Nostalgia Chick Specials: Post Comic Con Exhaustion
Todd Specials: Todd's Black Eyed Peas Experience
Hagan Reviews: Freaks (Guest Lead)
That SciFi Guy: Johnny Mnemonic (Voiceover)
Todd's Pop Song Reviews: Ep 30: Sexy and I know It
The Nostalgia Critic: Nostalgia Critic MUSICAL REVIEW: Moulin Rouge
Hagan Reviews: Schizophreniac the Whore Mangler (Archive Footage)
Nostalgia Chick Specials: Mr. Awesome Goes to Washington
Obscurus Lupa Presents: Peewee's Playhouse Christmas Special
Specials: Channel Awesome Holiday Video
Anime Abandon: Jin-Roh: The Wolf Brigade
Hagan Reviews: The Taint
Obscurus Lupa Specials: Hamlet the Vampire Slayer (Co-Reviewer)
Atop The Fourth Wall: 15 Things That Are Wrong With Identity Crisis
The Nostalgia Chick: Top Ten "Hottest" Animated Guys (Voiceover)
Hagan Reviews: Eat the Schoolgirl (with Oancitizen) (Co-Reviewer)
JO Anime Reviews: Fullmetal Alchemist
Atop The Fourth Wall: Mr. T #2 (AP Comics)
Specials: Tutorial - How to Make a Crossover
Specials: A Fake Frog in Chicago
Forget About It: Top 10 TGWTG Reviewers
Specials:Rejected Spooning with Spoony Ideas (Editor)
The Nostalgia Chick: Baby Whatever - Nostalgic Baby Dolls
Music Movies: Fantasia 2000
The Nostalgia Chick: Freddy Got Fingered (Co-Reviewer)
Hagan Reviews: Emmanuelle 5
Atop the Fourth Wall: Southland Tales (Co-Reviewer)
Specials: Brows Beat Down - The League of Extraordinary Gentlemen (Co-Reviewer)
The Nostalgia Chick: How to Make This Web Series
Vampire Reviews: I Am Legend
Music Movies: Cannibal! The Musical
The Nostalgia Chick: The Fresh Prince of Bel-Air
WTFIWWY: This Is All YOUR Fault (The Return)
Todd Specials: Top Ten Groin Shots in Movies
Familiar Faces: Episode 69 - Animalympics (Voiceover)
WTFIWWY: Dumber Than Curling (Voiceover)
Atop The Fourth Wall: Catwoman: Guardians of Gotham #2
Anime Abandon: The End of Evangelion
Diamanda Hagan Other Stuff: Best of 2012 (Archive Footage)
Hagan Reviews: A Diamanda Hagan Review
PushingUpRoses Specials: Behind the Video*
Nostalgia Chick Specials: Chez MAGFest Panel Highlights (Co-Star)
Hagan Reviews: Dolla Morte (Voiceover)
Hagan Reviews: Green Porno
WTFIWWY: Live - The Hard-Packed Snow (Co-Reviewer)
Atop The Fourth Wall: Titans Retrospective: JLA/Titans - The Technis Imperative (Archive Footage)
Hagan Reviews: The Island of Doctor Moreau (Co-Reviewer)
Furuba Radio Drama: EP 22 - Halfway (Voiceover)
WTFIWWY: Live - Smoke Weed Erryday (Co-Reviewer)
Rap Critic: Rap Critic & Kyle: Jay-Z's "Picasso Baby" (Co-Reviewer)
The Nostalgia Critic: Les Miserables (Co-Reviewer)
50 Shades of Green: Ep. 17 - Dramatic Reading at the Launch Party
WTFIWWY: Live - Katamari Dildocy
Todd's Pop Song Reviews: Ep. 76: The Top Ten Best Hit Songs of 2013

66
Obscurus Lupa (X)

The Nostalgia Critic: The Room
Todd's Pop Song Reviews: Ep 09: "OMG"
The Cinema Snob: Caligula (Part 2)
Atop The Fourth Wall: Action Comics #593
Atop The Fourth Wall: 100th Episode
Sad Panda Q and A: Episode 2
WTFIWWY: It's Stupid at the Top
WTFIWWY: Hate the Gamer, Not the Game (Co-Reviewer)
Phelous (shows): House of the Dead
Todd's Pop Song Reviews: Ep 15: "Whip My Hair"
A Revieweraverse Saga: Episode 1 The Guyver (Archive Footage)*
WTFIWWY - Episode 21
Todd's Pop Song Reviews: Top 10 Songs of 2010
Sad Panda Q and A: Episode 9 (Archive Footage)
WTFIWWY - Episode 22
You Can Play This: Labyrinith (Famicom)*
A Revieweraverse Saga: Episode 3 Caprica*
Apollo Z Hack Specials: Dance Of The Dead (Co-Reviewer)*
Sad Panda Q and A: Episode 10
WTFIWWY - Bad Idea Bonanza
A Revieweraverse Saga: Episode 4 Kamen Rider ZO*
Music Movies: Mary Martin's Peter Pan
Specials: The Asylum's Sherlock Holmes (Editor) (Co-Reviewer)
Specials: The Airzone Solution
The Cinema Snob: Pieces
Revieweraverse Saga: Episode 5 Battle For Terra (Co-Reviewer)*
Brows Held High: Gerry
Phelous (shows): Doctor Who I Don't Want To Go (Archive Footage)
Specials: Bad Movie Beatdown: Sunday School Musical
The Nostalgia Chick: Les Miserables The Musical
Specials: Bad Movie Beatdown Presents: Hercules in New York (Co-Reviewer)
Brows Held High: Exterminating Angels
Specials: Friday by all of TGWTG
Phelous (shows): Boogeyman (Voiceover)
Specials:: Brad And Phelan Try Grass Jelly
The Nostalgia Chick: The Sexual Awakening Of Nerds A Scientific Study Part 3
Welshy Reviews: Killjoy*
The Nostalgia Chick: The Little Mermaid
The Sound Pit: Top 5 John Frusciante Songs
Todd's Pop Song Reviews: Episode 23 "E.T"
Comic Book Issues: Star Wars: Legacy - War (Archive Footage)
Bad Movie Beatdown: Shadow Man (Archive Voiceover)
Brows Held High: The Man Who Fell To Earth
WTFIWWY Live - Furry Batmobile (Co-Reviewer)
Nostalgia Chick Vlogs: Captain America Movie Vlog (Co-Reviewer)
The Nostalgia Chick: The Spiderman Musical Review (Co-Reviewer)
Bad Movie Beatdown: The Texas Chainsaw Massacre: The Beginning
Hagan Reviews: The Raspberry Reich
Ask That Guy With The Glasses: Episode 62
Phelous (shows): Jeepers Creepers
NChick Specials: Live Action Fanfic: A Change Of Pace (Co-Star)
Phelous (shows) Jeepers Creepers 2 (Archive Footage)
The Nostalgia Chick: She's All That
Todd's Pop Song Reviews: Episode 25 "Give Me Everything"
Phelous (shows): Crocodile (Archive Footage)
WTFIWWY: Episode 28
Welshy Reviews: The Loved Ones*
Phelous (shows): Croc
The Nostalgia Critic: Simon Sez (Co-Reviewer)
Phelous (shows): House Of Wax
Bad Movie Beatdown: When In Rome
Todd's Pop Song Reviews: Top Ten Songs About Mediocre Romances
Specials: Warrior #4 Comic Review
Phelous (shows): A Nightmare On Elm Street
Phelous (shows): Halloween: Resurrection (Archive Footage)
Atop The Fourth Wall: Pokemon: The Electric Tale Of Pikachu
Phelous (shows): Wrong Turn 4: Hostel
Music Movies: Snoopy, Come Home
The Nostalgia Critic: Babes In Toyland
Phelous (shows): Shredder
Sad Panda Q and A: Christmas Special
Phelous (shows): Disney's Satan Claus (Archive Footage)
Phelous (shows): Jack Frost
Forget About It: Titanic
Phelous (shows) :Jack Frost 2
The Cinema Snob: The Top 10 Cinema Snob Moments of 2011 (Archive Footage)
Nash Specials: Doctor Who Classic - The Twin Dilemma (Archive Footage)
Music Movies: Top 9 Music Movies Moments of 2011 (Archive Footage)
Todd's Pop Song Reviews: The Top Ten Best Hit Songs Of 2011
Sad Panda Specials: Team Marganaras: Bloody Mallory (Co-Reviewer)
Phelous (shows): Julie & Jack (Co-Reviewer)
Forget About It: Batman (Voiceover)
Phelous (shows): Evil Toons
Iron Liz Crossovers and Specials: "She Creature" Crossover with Obscurus Lupa (Co-Reviewer)*
Atop The Fourth Wall: Star Trek III: The Search for Spock (Voiceover)
Phelous (shows): Allison & Phelan Eat While Julien & Andrew Watch (Co-Star)
Phelous (shows): Valentine
JO Anime Reviews: Fullmetal Alchemist
Vampire Reviews: Underworld
Phelous (shows): My Bloody Valentine (Co-Reviewer)
WTFIWWY - Rebel, Rebel (aka Episode 32)
Phelous (shows): Roller Samurai Vampire Slayers (Co-Star)
Forget About It: Top 10 TGWTG Reviewers
Brows Held High: W.R: Mysteries of the Organism
Specials: Bad Movie Beatdown Presents - Metal Man AKA Iron Hero (Co-Reviewer)
Phelous (shows): Tender Loving Care - Part 1 & 2 (Co-Star)
Atop the Fourth Wall: Southland Tales (Co-Reviewer)
Phelous (shows): Tender Loving Care - Part 3 & 4 (Co-Star)
Phelous (shows): Tender Loving Care - Part 5 & 6 (Co-Star)
Phelous (shows): Tender Loving Care - Part 7 & 8 (Co-Star)
Phelous (shows): Tender Loving Care - Part 9 & 10 (Co-Star)
Brows Held High: The Devils
Hagan Reviews: Apocalypse 3 - Tribulation (Voiceover)
WTFIWWY: Live - "The Contraption" (Co-Reviewer)
Bad Movie Beatdown: Going Overboard (Full Episode)
Brows Held high: The Future (Voiceover)
Atop The Fourth Wall: 200th Episode (Parts 1&2)
Phelous (shows): Clue VCR Mystery Game (Co-Reviewer)
Atop The Fourth Wall: Catwoman: Guardian of Gotham #1 (Voiceover)
WTFIWWY: Dumber Than Curling
Forget About It: TGWTG 1st Year Brawl
Phelous (shows): Clue VCR Mystery Game - Ch 1 & Making Fun of the Rest (Co-Reviewer)
Phelous (shows): Resident Evil - Retribution Rant (Co-Reviewer)
Todd's Pop Song Reviews: Want U Back by Cher Lloyd
That SciFi Guy: Zombie Aocalypse
Phelous (shows): Twilight Board Game (Co-Star)
Brows Held High: Ep. 50 - Melancholia (Part 1)
Diamanda Hagan Other Stuff: Twatty Who Review - The Next Doctor
PushingUpRoses Specials: Behind the Video*
Phelous (shows): Top 10 Phelous Moments 2012
Phelous (shows): The Adventure to Shrek Feast (Co-Star)
Phelous (shows): Phelan & Allison Try to Survive Sesame Street (Co-Star) 
Marzgurl Vlogs: TGWTG Panel @ GATO Con (Co-Star)
Hagan Reviews: Poultrygeist 
Hagan Reviews: God of Vampires (Co-Reviewer)
Phelous (shows): Marvel Unvierse: The Book of the Dead (Voiceover) 
Sad Panda Specials: Top 10 TGWTG Something Whatever I Guess...
Nash Specials: Channel Awesome Against Humanity (Voiceover) 
Year Five: The Uncanny Valley - Dragged In
Phelous: I'm Your Man, Part 1 & 2
Phelous: I'm Your Man, Part 3 & 4
Comic Book Issues: The Dark Knight Returns
Brows Held High: Beauty and the Beast (Part 1)
The Good Hook: Jonathan Frakes Time Travels Through the Bible (Co-Reviewer)

67
Paw

Epic Fail: #17: Crossover Win
MarzGurl's Sketches: Cool World
The Spoony Experiment: Final Fantasy VIII: The Finale*
Atop The Fourth Wall: Batman: Fortunate Son
Specials: That Guy With The Glasses Christmas Special
Epic Fail Special: Carlton Dance (Later called Ep 20: A Look back )
You Can Play This: You Can Hear This Music Video*
Benzaie Specials: TGWTG Special Sing Along!!!
GH Specials: 8-Bit Mickey vs Lord Kat Robot Unicorn Attack*
Angry Joe: Hotel Awesome Season 2 Episode 1
Atop The Fourth Wall: AT4W & Spoony: Experiment Warrior 2-3
Atop the Fourth Wall: 100th Episode
Brad Tries: Pepsi Holiday Spice (Co-Reviewer)
Vinyl Destination: The Monkees: Head Review (Co-Reviewer)*
Vinyl Destination: 33 1/3 Revolutions Per Monkee*
YROT Specials: The Last Airbender
Benzaie Specials: Benzaie is a Douche in America
The Nostalgia Chick: Les Miserables The Musical
Musical Youth: Barbie And The Rockers (Voiceover)*
Specials:: Interstella 5555 (Co-Reviewer)
The Nostalgia Chick: The Sexual Awakening Of Nerds A Scientific Study Part 3
Obscurus Lupa Specials: Honor And Glory
The Nostalgia Chick: TLC and the 90's
Nostalgia Critic: Top 11 Batman TAS Episodes (Archive Footage)
NChick Specials: Live Action Fanfic: A Change Of Pace (Co-Star)
Specials: Warrior #4 Comic Review
Nostalgia Chick Specials: Post Comic Con Exhaustion
The Nostalgia Chick: The Worst Witch
Nostalgia Chick Specials: Mr. Awesome Goes to Washington
Miscellany And Hodge Podge: Notes From Film School: PREtension (Co-Star)
Specials: Channel Awesome Holiday Video (Voiceover)
The Nostalgia Chick: What Women Want
Forget About It: Top 10 TGWTG Reviewers
Specials:Rejected Spooning with Spoony Ideas
The Nostalgia Critic: The Wiz (with Todd In The Shadows)
Todd's Pop Song Reviews: Titanium by David Guetta ft. Sia
Atop The Fourth Wall: Catwoman: Guardians of Gotham #2
Todd's Pop Song Reviews: Whistle by Flo Rida
Nostalgia Chick Specials:Highlights from NYCC Party 2011
PushingUpRoses Specials: Behind the Video*
The LIG: Köstritzer: Schwarzbier (Co-Reviewer)
The Nostalgia Critic: Les Miserables (Co-Reviewer)
Todd's Pop Song Reviews: Ep. 76: The Top Ten Best Hit Songs of 2013

68
PeanutButterGamer

Specials: Channel Awesome Holiday Video
PushingUpRoses Specials: Behind the Video*

69
Phelous (X)

Atop The Fourth Wall: Secret Defenders #10
Atop The Fourth Wall: Doom #1
Specials: That Guy With The Glasses Christmas Special
You Can Play This: You Can Hear This Music Video*
MikeJ Specials: The 12 Days of Geekmas
The Nostalgia Critic: Bebe's Kids
Benzaie Specials: TGWTG Special Sing Along!!!
The Angry Joe Show: Hotel Awesome Season 2 Episode 3
Atop The Fourth Wall: AT4W & Spoony: Experiment Warrior 2-3
Bad Movie Beatdown: Parting Shots
Obscurus Lupa Specials: A Day in the Life of Tommy Wiseau
The Cinema Snob: Caligula (Part 2)
Atop The Fourth Wall: 100th Episode
Familiar Faces: Episode #36: Baby Doll (Archive Footage)
SadPanda Q and A: Episode 1
WTFIWYY: It's Stupid at the Top
The Cinema Snob: Dolemite
Sad Panda Q and A: Episode 6
Sad Panda Q and A: Episode 7
GYMDK: Beverly Hills Cop
Welshy: An Introduction to Welshy*
Sad Panda Q and A: Episode 9
Sad Panda A and A: Episode 10
Obscurus Lupa Presents: Birdemic
Welshy Reviews: Scream 1 Part 2 (Voiceover)*
Welshy Reviews: Scream 2 Part 1 (Voiceover)*
GYMDK: Best 8 bit VS Fighters
Music Movies: Mary Martin's Peter Pan
Specials: Lockjaw (Co-Reviewer) (Editor)
Specials: Benzaie is a Douche in America (Co-Star) (Editor)
Specials: Bad Movie Beatdown: Sunday School Musical
JW Special: Fanime 2011: Special Convention only YCPT! Episode*
The Nostalgia Chick: Les Miserables The Musical
Welshy Reviews: Scream 3 Part 1 (Archive Footage)*
Angry Specials: Con Bravo Annoucement
Specials: Friday by all of TGWTG
Specials: Brad And Phelan Try Grass Jelly (Co-Reviewer)
Forget About It: Highlander
The Nostalgia Chick: The Sexual Awakening Of Nerds A Scientific Study Part 3
The Sound Pit: Top 5 John Frusciante Songs
Welshy Reviews: Wolf Creek (Archive Voiceover)*
Forget About It: Fight Club (Archive Voiceover)
The Nostalgia Chick: TLC and the 90's (Voiceover)
Atop The Fourth Wall: Mightily Murdered Power Ringers #1
Atop The Fourth Wall: Kamandi at Earth's End #1
Welshy Reviews: Tremors (Archive Voiceover)*
Welshy Reviews: The Loved Ones*
Welshy Reviews: The Weeping Angels (Archive Voiceover)*
Welshy Reviews: Granny (Archive Voiceover)*
Welshy Reviews: Scream 4 Part 1 (Voiceover)*
Specials: Warrior #4 Comic Review
Welshy Reviews: Scream 4 Part 2 (Voiceover)*
The Nostalgia Chick: Lion King (Voiceover)
Atop The Fourth Wall: Spider-Man - Planet Of The Symbiotes (Archive Footage)
Obscurus Lupa Presents: The Howling - Reborn
Forget About It: Kickass
Atop The Fourth Wall: Pokemon: The Electric Tale Of Pikachu
Forget About It: How to get it
The Nostalgia Critic: Nostalgia Critic MUSICAL REVIEW: Moulin Rouge
Obscurus Lupa Presents: We Wish You A Turtle Christmas
Sad Panda Q and A: Christmas Special (Archive Footage) (Voiceover)
Obscurus Lupa Presents: Peewee's Playhouse Christmas Special
The Nostalgia Critic: Child's Play (Co-Reviewer)
Forget About It: Titanic
Obscurus Lupa Specials: Allison Eats While Phelan Watches (Co-Star)
The Nostalgia Critic: Santa Claus The Movie
Anime Abandon: Dracula: Soverign of the Damned (with Linkara!)
The Nostalgia Chick: Top Five LEAST Awful Disney Sequels (Voiceover)
Sad Panda Specials: Team Marganaras: Bloody Mallory (Co-Reviewer)
Atop The Fourth Wall: The New Guardians #1 (Archive Footage)
Atop The Fourth Wall: Star Trek III: The Search for Spock (Archive Footage)
Obscurus Lupa Specials: Karate Dog (Co-Reviewer)
Welshy's Top Ten: Welshy's Top Ten Rose Moments*
5 Second Movies: Surburan Knights in 5 Seconds (Benzaie) (Archive Footage)
Forget About It: Top 10 TGWTG Reviewers
Atop The Fourth Wall: Bloodstrike #1 (Archive Footage)
The Nostalgia Chick: Freddy Got Fingered
Atop The Fourth Wall: Southland Tales (Co-Reviewer)
Tutorial: How to Make Budget Cuts? (Voiceover)
The Nostalgia Chick: The Fresh Prince of Bel-Air
MMO Grinder: Spiral Knights
Hagan Reviews: Apocalypse 4 - Judgement
Bad Movie Beatdown: Going Overboard (Full Episode)
Atop The Fourth Wall: 200th Episode (Parts 1&2)
Atop The Fourth Wall: Catwoman: Guardians of Gotham #2
Forget About It: TGWTG 1st Year Brawl
Todd's Pop Song Reviews: Want U Back by Cher Lloyd (Archive Footage)
Nash Specials: Doctor Who Classic - The Cartmel Masterplan
Hagan Reviews: Maniac Nurses Find Ectasy (Voiceover)
Atop The Fourth Wall: Spider-Man: Power and Responsibility
That SciFi Guy: Zombie Aocalypse
Brows Held high: Vase De Noces
Obscurus Lupa Presents: The Mystical Adventures of Billy Owens (Voiceover)
Obscurus Lupa Presents: 100th Episode - Evil Dead 2
Team Blistered Thumbs: Weird Video Games - House of the Dead - Part 1 
Atop The Fourth Wall: All-Star Batman and Robin #5 (Archive Footage) 
The Cinema Snob: The Cinema Snob DVD Trailer! (Voiceover) 
Diamanda Hagan Other Stuff: Twatty Who Review - The End of Time, Episode 2 (Part 2) (Voiceover)
Hagan Reviews: God of Vampires (Voiceover) 
Animenia: Pokemon the Movie 3
Atop The Fourth Wall: Power Pachyderms #1
Sad Panda Specials: Top 10 TGWTG Something Whatever I Guess...
Nash Specials: Channel Awesome Against Humanity (Voiceover) 
Atop The Fourth Wall: Dragnet #4 (Archive Footage) 
Game Boys: GAME BOYS The Animated Series - Camping Trip (Voiceover)
5 Second Games: Conventions in 5 Seconds
Year Five: The Uncanny Valley - Dragged In
Game Boys: Base Wars (Voiceover)
Obscurus Lupa: Phelan & Allison Try Fruit Brute
Brows Held High: Beauty and the Beast (Part 1)
Obscurus Lupa: Allison & Phelan Try Durian and Toxic Waste

70
Phil Buni

You Can Play This: Sexy Famicom Moments (Co-Reviewer)*
Atop The Fourth Wall: Mr. T #2 (AP Comics)
The Nostalgia Chick: The Fresh Prince of Bel-Air
Brows Held High: Ep. 50 - Melancholia (Part 2)
Diamanda Hagan Other Stuff: Twatty Who Review - The End of Time, Episode 2 (Part 2) (Voiceover)

71

Psychoneko

You Can Play This: Labyrinth (Famicom)*
Stuck In Your Head: Gummi Bears*
JW Special: Fanime 2011: Special Convention only YCPT! Episode*
Stuck In Your Head: Rescue Rangers*
You Can Play This: 4.9 - Sailor Moon (SuFami) (Co-Reviewer)*
Hagan Reviews: Zombeak (with JewWario)
Stuck In Your Head: TMNT*
WTFIWWY: Live - A Whiter Bajingo
You Can Play THis: Anime Girls of TGWTG (Co-Star)*
JO Special : Anime Expo 2013 Panel with JesuOtaku (Co-Star)

72
Psychotaku

JW Special History of Super Sentai Part 1 (Co-Reviewer)*
JW Special: History of Super Sentai Part 2 (Co-Reviewer)*
Epic Fail: "Tatsunoko vs Capcom" Fight 3
Stuck In Your Head: Gummi Bears*
Stuck In Your Head: Duck Tales*
JW Special: Fanime 2011: Special Convention only YCPT! Episode*
Stuck In Your Head: Rescue Rangers*
Stuck In Your Head: TMNT*
JW Special: JewWario at E3 2012 - Microsoft Cofrence Impressions (Co-Reviewer)*
You Can Play This: Video Games LIVE! 2012*
You Can Play This: Anime Girls of TGWTG (Parts 1&2) (Editor)/MotorCity Panel (Editor)*

73
Punky

Foreign Delicacies: Episode 1*
Phelous (Shows): Open Graves
Sad Panda Q and A Episode 7
Sad Panda Q and A: Christmas Special (Voiceover)
Welshy Specials: TGWTG 4th Year Anniversary*
Specials: The 2012 Channel Awesome Holiday Video! 

74
PushingUpRoses (X)

Paw Specials: Epilation: A Woman Scorned
Todd's Pop Song Reviews: Ep 15: "Whip My Hair"
King's Quest Retrospective: To Heir Is Human
You Can Play This: Labyrinith (Famicom)*
King's Quest Retrospective: Heir Today, Gone Tommorow
Todd's Pop Song Reviews: Episode 19 "Grenade"
King's Quest Retrospective: The Princeless Bride
Music Movies: Mary Martin's Peter Pan
JO Specials: ACEN Adventures!
Music Movies: Blues Brothers
Todd's Pop Song Reviews: Episode 22 "The Lazy Song" (Voiceover)
The Nostalgia Chick: The Little Mermaid
Welshy Reviews: The Loved Ones*
Phelous (shows): House Of Wax
FAQ you!: Dark Souls (Voiceover)
Music Movies: Oklahoma!
Specials: Channel Awesome Holiday Video (Voiceover)
Brad Tries: Flaming Brian's Kitchen - Ghost Rider
Stuck In Your Head: TMNT*
Heart Of Gaming: Calls (Voiceover)
WTFIWWY: This Is All YOUR Fault (The Return)
Diamanda Hagan Other Stuff: Twatty Who Review - The End of Time, Episode 2 (Part 2) (Voiceover)

75
Rap Critic

Sad Panda Q and A: Episode 1
Music Games: Top 9: Marx Brothers Music Moments
Todd's Pop Song Reviews: Ep 15: "Whip My Hair"
Atop The Fourth Wall: Eminem And The Punisher #1
Todd's Pop Song Reviews: Ep 29 "Lighters"
Todd's Pop Song Reviews: Runaway by Kanye West (with Rap Critic) (Co-Reviewer)
The Nostalgia Chick: What Women Want
Brows Held High: Ghost Dog: Way of the Samurai
Bad Movie Beatdown: Big Mommas - Like Father, Like Sun (Co-Reviewer)
Hagan Reviews: *Censored* from Outer Space
That SciFi Guy: Wild Wild West (Co-Writer)
Bad Movie Beatdown: The Marine (Voiceover)
The Nostalgia Chick: Will Smith Was a Rapper, Once (Co-Reviewer)
The Nostalgia Chick: The Fresh Prince of Bel-Air
Atop The Fourth Wall: Rock and Roll #31
The Nostalgia Critic: To Boldly Flee, Part 2
Bad Movie Beatdown: The Art Of War III: Retribution
Hagan Reviews: Sextette
Bad Movie Beatdown: John Carpenter's Ghosts of Mars (Voiceover)
Hagan Reviews: Harlan Rides the Range (Guest Lead)
Specials: The 2012 Channel Awesome Holiday Video! 
Diamanda Hagan Other Stuff: Best of 2012 (Archive Footage)
Todd's Pop Song Reviews: The Top Ten Best Hit Songs of 2012
Todd's Pop Song Reviews: Mac and Devin Go to High School (with Rap Critic!) (Co-Reviewer)
Todd's Pop Song Reviews: Girl on Fire
Diamanda Hagan Other Stuff: Twatty Who Review - The End of Time, Episode 2 (Part 2) (Voiceover)
Bad Movie Beatdown: Set Up (Co-Reviewer)
Hagan Reviews: Poultrygeist 
Hagan Reviews: The Island of Doctor Moreau (Co-Reviewer)
Todd's Pop Song Reviews: Todd and Rap Critic Talk About "Accidental Racist" (Co-Reviewer)
Todd's Pop Song Reviews: Feel This Moment by Pitbull ft. Christina Aguilera (Archive Footage)
Hagan Reviews: Big Money Hustlas (With Rap Critic) (Co-Reviewer)
Hagan Reviews: Big Money Rustlas with Rap Critic (Co-Reviewer)
Brows Held High: Beauty and the Beast (Part 1)

76
Rinry

Sad Panda Q and A: Christmas Special

77
Rocked Reviews

WTFIWWY: Live - Cloudy With a Chance of Spiders (Co-Reviewer)
The Nostalgia Critic: Teenage Mutant Ninja Turtles (2014)

78
Rollo T

Epic Fail #12: Inaugural Headache (voice only)
Specials: Happy Holidays 2008 (Voiceover)
Full Circle: Session 5: Amalgamatic
Specials: Goodbye Suede! (Voiceover)
Full Circle Finale: Paw vs Sumo Ninja
Benzaie's Top 5: Worst Parts of Street Fighter: the Legend of Chun-li
Specials: That Guy With The Glasses Christmas Special
Epic Fail Special: Carlton Dance (Later called Ep 20: A Look back )
Paw Specials: Dragonball Evolution: The Epic Review (Co-Reviewer)
GH Specials: 8-Bit Mickey vs Lord Kat Robot Unicorn Attack*
You Can Play This: JewWario and LordKat's Holy Diver Review*
The AngryJoeShow: Hotel Awesome Season 2 Episode 2
Phelous (shows): Cinema Snob & Phelous - Troll 4
You Can Play This: Jojo's Bizarre Adventure*
Atop The Fourth Wall: 100th Episode
You Can Play This: One Piece Gigant Battle*
Welshy: Most Unconventional Double Acts and Pairings*
Todd's Pop Song Reviews: Episode 18 "Black And Yellow"
YROT Specials: The Last Airbender (Writer/Co-Reviewer)
Sad Panda Q and A: Episode 10
Forget About It: Back To The Future
JW Special: Fanime 2011: Special Convention only YCPT! Episode*
Todd's Pop Song Reviews: Episode 23 "E.T"
Read Right to Left: Nintendo Manga (Archive Voiceover)
Read Right to Left: The Downfall of Bleach, Part 1 (Archive Voiceover)
The Gaming Pipeline: JoJo's Bizarre Adventure News (Voiceover) (Co-Star)*
BT Staff: Sahun K - Thumb Wars: New Year's Eve Special - THUMB WARS: EPISODE 0: JRPGS: PAST & FUTURE  (Voiceover) (Co-Star) 
BT Staff: Shaun K - Thumb Wars: Episode 22; Gamer Resolutions 2013 Edition (Voiceover) 
BT Staff: Smarty - MAGFest! Blistered Thumbs Community Q&A! (Parts 1&2) (Co-Star)
MMO Grinder: TERA (Voiceover) 
Nash Specials: Channel Awesome Against Humanity (Voiceover) 

79
Rooney Enterprises (X)

Specials: That Guy With The Glasses Christmas Special
You Can Play THis: You Can Hear This Music Video*
MikeJ Specials: The 12 Days Of Geekmas
The Nostalgia Critic: Kickassia Part 5
Atop The Fourth Wall: Action Comics #593

80
Roo Clan Of The Grey Wolf

Apollo Z Hack Specials: Star Hack: The Wrath Of Roo (Co-Reviewer)
Team Blistered Thumbs: Weird Video Games - Rock 'n Rage (Arcade)
PushingUpRoses Specials: Behind the Video*
BT Staff: Smarty - MAGFest! Blistered Thumbs Community Q&A! (Parts 1&2) (Co-Star)

81
SadPanda (X)

Benzaie Specials: TGWTG Special Sing Along!!!
Phelous (shows): Dawn of the Living Dead
Phelous (shows): Turistas
Phelous (shows): DotCom For Murder
Benzaie: KICKASSIA AUCTION!
Atop The Fourth Wall: Action Comics #593
Atop The Fourth Wall: 100th Episode
Phelous (shows): House of the Dead 2
Welshy: An Introduction to Welshy*
Phelous (shows): La Horde (Co-Reviewer)
The Machinimist - Soulja Boy Presents My Halo Episode 1
Phelous (shows): Funny Games Again
Phelous (shows): Twilight
Welshy Reviews: Scream 2 Part 1*
Music Movies: Mary Martin's Peter Pan
Welshy Reviews: Scream 3 Part 1*
Specials: Lockjaw (Voiceover)
Welshy Reviews: Psychoville (Archive Voiceover)*
Shameful Sequels: Matrix Revolutions
Bad Movie Beatdown: The Texas Chainsaw Massacre: The Beginning
Welshy Specials: TGWTG Brit - LFCC Vlog (Co-Star)*
Welshy Reviews: Tremors (Archive Voiceover)*
Specials: Doug, Spoony, Benzaie and SadPanda Try PUSSY (Co-Star)
Specials: The Most Useless Game In The World (Co-Star)
Phelous (shows): Croc
Welshy Specials: Aninite 2011 Vlog*
Phelous (shows): House Of Wax
Weslhy Reviews: Scream 4 Part 1*
Atop The Fourth Wall: Silent HIll - The Grinning Man
Welshy Reviews: Scream 4 Part 2*
Obscurus Lupa Presents: Howling 7 - New Moon Rising (Voiceover)
Welshy Reviews: Wes Craven's New Nightmare*
Welshy Reviews: The Three Musketeers (1993) (Archive Footage)*
Welshy Reviews: Braindead (Archive Footage)*
Specials: Channel Awesome Holiday Video
Phelous (shows): Evil Toons
Phelous (shows): Octopus 2
Phelous (shows): Allison & Phelan Eat While Julien & Andrew Watch
MMO Grinder: World of Tanks Review
MMO Grinder: La Tale Review
Welshy Reviews: Casino Royale Part 2 (Archive Footage)*
Welshy's Top Ten: Welshy's Top Ten Rose Moments*
Specials: Tutorial - How to Make a Crossover (Editor)
Specials: A Fake Frog in Chicago (Editor)
Specials:Rejected Spooning with Spoony Ideas
Music Movies: Fantasia 2000
Todd Specials: From Justin to Kelly
Atop The Fourth Wall: Southland Tales (Co-Reviewer)
Welshy Reviews: Transformers Movie/Live Action Retrospective (Archive Footage)*
Todd's Pop Song Reviews: Want U Back by Cher Lloyd (Archive Footage)
Nash Specials: Doctor Who Classic - The Cartmel Masterplan
Obscurus Lupa Presents: 100th Episode - Evil Dead 2
Phelous (shows): Top 10 Phelous Moments 2012 (Archive Footage)
Phelous (shows): The Adventure to Shrek Feast (Co-Star)
Nash Specials: Channel Awesome Against Humanity (Voiceover) 
Phelous (shows): Smiley
Welshy Specials: Welshy Farewell and Goodbye

82
Skitch

Paw Specials: Dragonball Evolution: The Epic Review
Phelous (shows): Phetomatous Transfusion
The Cinema Snob: Riki-Oh: The Story of Ricky (Voiceover)
Phelous (shows): DotCom For Murder
Y Ruler of Time: "Anime" by...Soulja Boy!?
AngryJoeShow: Machete Review (Voiceover)
Atop the Fourth Wall: 100th Episode
Sad Panda Q and A: Episode 1
Sad Panda Q and A: Episode 6
Sad Panda Q and A: Episode 7
Sketches: Fear and Loathing in ShadoCon
Sad Panda Q and A: Episode 9
Sad Panda Q and A: Episode 10
Sad Panda Q and A: Christmas Special (Archive Footage)
The Film Den: Top 10 Scariest Moments on Sesame Street (Voiceover)
Specials: TGWTG CD Now for Sale!
The Machinimist: 1 Long Year!
The Film Den: Top 5 Things I Hate About the Silent Hill Movie (Voiceover)
Bum Reviews: Twilight: Breaking Dawn Part 2 (Co-Reviewer)
BT Staff: Smarty - MAGFest! Blistered Thumbs Community Q&A! (Parts 1&2) (Co-Star)
MMO Grinder: Dungeons and Dragons Online (Co-Reviewer) 
BT Staff: Sahun K - Thumb Wars: Episode 28: After the Reveal: Examining the PS4 (Part 1&2) (Voiceover) (Co-Star)
Hagan Reviews: Poultrygeist
Nash Specials: Channel Awesome Against Humanity (Voiceover) 

83
Smarty (X)

Sad Panda Q and A: Episode 3
Sad Panda Q and A: Episode 4
Sad Panda Q and A: Episode 10
Welshy Reviews: Scream 4 Part 1 (Archive Footage)*
Specials: Channel Awesome Holiday Video
Welshy Specials: TGWTG 4th Year Anniversary*
The Nostalgia Critic: To Boldly Flee, Part 8
Specials: The 2012 Channel Awesome Holiday Video! (Editor)
Nash Specials: Channel Awesome Against Humanity (Voiceover) 

84
Some Jerk with a Camera

Shark Jumping: Saved By the Bell
Brows Held High: Beauty and the Beast (Part 1) (Co-Reviewer)
Brows Held High: Beauty and the Beast (Part 2) (Co-Reviewer)
Brows Held High: Beauty and the Beast (Part 3) (Co-Reviewer)
The Nostalgia Critic: Teenage Mutant Ninja Turtles (2014)

85
Spoony (X)

GYMDK: Wiz N' Liz
Specials: Goodbye Suede!
Atop The Fourth Wall: Uncanny X-Men #424
Atop The Fourth Wall: Neutro #1
Atop The Fourth Wall: Daredevil #306
Epic Fail: #17
MarzGurl's Sketches: Cool World
Atop The Fourth Wall: Superman vs. Terminator #1
Atop The Fourth Wall: Countdown Part 2
Atop The Fourth Wall: Top 15 Worst Moments of Countdown (Archive Footage)
Full Circle: Top 9: Music Moments in Gaming (New School Edition)
The Nostalgia Critic: Alone in the Dark (Co-Reviewer)
Atop The Fourth Wall: Blackest Night (Co-Reviewer)
Atop The Fourth Wall: Maximum Clonage (Archive Footage)
Specials: Spooning With Spoony Episode 2 (Co-Star)
Sage Reviews: Space Thunder Kids (Co-Reviewer)
Atop The Fourth Wall: Pitt #1
The Nostalgia Critic: Battlefield Earth
Atop The Fourth Wall: Mighty Morphin' Power Rangers #1
The AngryJoeShow: 5 Things I hate about STO: Spoony vs Joe (Co-Star)
GH Specials: 8-Bit Mickey vs Lord Kat Robot Unicorn Attack*
Angry Joe: Hotel Awesome Season 2 Episode 1
Phelous (shows): Cinema Snob & Phelous - Troll 4
Atop The Fourth Wall: AT4W & Spoony: Experiment Warrior 2-3 (Co-Reviewer)
The Nostalgia Critic: The Room
The Cinema Snob: Caligula (Part 1)
Atop The Fourth Wall: 100th Episode
Bad Movie Beatdown: Hudson Hawk
Music Games: Top 9 Video Game Composers (Part 1: Cataclysm) (Co-Star)
Music Games: Top 9 Video Game Composers (Part 2: Convergence)
Atop The Fourth Wall: Spider-Man: The Greatest Responsibility (Archive Footage)
Brad Tries: Pepsi Holiday Spice (Co-Reviewer)
Atop The Fourth Wall: Santa Claus Conquers The Martians (Archive Voiceover)
Sage Reviews: Garzey's Wing (Co-Reviewer)
The Nostalgia Critic: A Nostalgia Critic Christmas
Atop The Fourth Wall: Top 15 Screw-Ups of AT4W (Archive Footage)
A Revieweraverse Saga: Episode 1 The Guyver (Archive Footage)*
WTFIWWY - Episode 21
The Nostalgia Critic: The Secret Of NIMH 2
King's Quest Retrospective: Absence Makes The Heart Go Yonder
The Nostalgia Critic: Dungeons And Dragons (Archive Voiceover)
The Nostalgia Chick: Disater Movies of Roland Emmerich: PART ONE
Sad Panda Q and A: Episode 10
Atop The Fourth Wall: Lady Gaga #1
Anime Abandon: Psychic Wars (Voiceover)
Guru Larry Sketches: How to make Coca Cola BlaK (and Coke Vanilla) (Archive Footage)
Atop The Fourth Wall: Ultimate Warrior's Workout
TheAngryJoeShow: The Spoony One vs Angry Joe: MK Verus (Voiceover)
JW Special: Fanime 2011: Special Convention only YCPT! Episode*
Specials: Linkara and Brad Bimbos B.C
Bad Movie Beatdown: Transformers Revenge Of The Fallen Part One
Specials: Friday by all of TGWTG
The Nostalgia Chick: The Sexual Awakening Of Nerds A Scientific Study Part 2
Bad Movie Beatdown: Transformers Revenge Of The Fallen Part Two
Angry Joe Interviews XCOM E3 2011 - New Details!
Specials: Brad And Phelan Try Grass Jelly
GYMDK: Sonic Pocket Adventure
The Nostalgia Critic: Duck Tales (Archive Footage)
Brows Held High: Me and You and Everyone We Know (Archive Footage)
Bum Reviews: Dr. Insanso and the Bum Conquer Canada (Co-Star)
Music Video Theather: Flight Of Fantasy: Censored Version
PushingupRoses Specials: Get To Know Me!*
Specials: Doug and Spoony In Austria!
Anime Abandon: Mad Bull 34 Part II
Specials: Doug, Spoony, Benzaie and SadPanda Try PUSSY (Co-Star)
That Guy Riffs: Cindy Goes To A Party (Co-Star)
Specials: The Most Useless Game In The World (Co-Star)
Welshy Specials: Aninite 2011 Vlog*
Benzaie Specials: Spoony & Ben: Old Vs New: CONAN (Co-Reviewer)
Atop The Fourth Wall: Street Figther #1 (Archive Footage)
The Nostalgia Critic: Simon Sez
Phelous (shows): House Of Wax
Forget About It: Suburban Knights
Atop The Fourth Wall: Silent Hill: Paint It Black
Brad Tries: Japanese Kit Kats
Specials: Warrior #4 Comic Review (Co-Reviewer) (Editor)
You Can Play This: Monster Hunter Portable 3rd (How To Play) (Part 8)
Brad Sketches: "The Human Spider II (Full Sequence)" Spoof Trailer
Game Den: Silent Hill - Shattered Memories (Archive Footage)
Atop The Fourth Wall: Pokemon: The Electric Tale Of Pikachu
Angry Specials: Darth Joe vs. SpoonyWan (Co-Star)
Atop The Fourth Wall: All-Star Comics #8
Angry Reviews: Skyrim (Archive Footage)
The Nostalgia Critic: Nostalgia Critic MUSICAL REVIEW: Moulin Rouge
Sad Panda Q and A: Christmas Special
Anime Abandon: Dracula: Soverign of the Damned (with Linkara!)
Anime Abandon: Diatron-5 (with Spoony!) (Co-Reviewer)
Atop The Fourth Wall: 15 Things That Are Wrong With Identity Crisis (Archive Voiceover)
Hagan Reviews: Zombeak (with JewWario)
Atop The Fourth Wall: Youngblood #4 (Archvie Footage)
Brad Tries: Flaming Brian's Kitchen - Ghost Rider
JO Anime Reviews: Fullmetal Alchemist
Atop The Fourth Wall: Mr. T #2 (AP Comics)
The Bruno Mattei Show: Episode 17 - Strike Commando (Co-Reviewer)
Welshy Reviews: Casino Royale Part 1 (Archive Voiceover)*
The Nostalgia Critic: Richie Rich
Specials: A Fake Frog in Chicago
Bad Movie Beatdown: Universal Solider: The Return
Forget About It: Top 10 TGWTG Reviewers
Specials:Rejected Spooning with Spoony Ideas
Music Movies: Fantasia 2000
DVD-R Hell: Bibleman
AJ Interviews: AJ & Spoony Exclusive: XCOM 2012 (Co-Star)
Atop The Fourth Wall: Blake 7 #2
Hagan Reviews: Apocalypse
Welshy Reviews: Transformers Movie/Live Action Retrospective (Archive Footage)*
That SciFi Guy: Splice
A Quick Look At... : The Amiityville Dollhouse (Archive Voiceover)
Clan of the Grey Wolf: ConBravo! 2012 - Game Reviewers Panel (Co-Star)
The Nostalgia Critic: Scooby Doo (Archive Footage)
Atop The Fourth Wall: Catwoman: Guardians of Gotham #2 (Archive Footage)
Brows Held High: The Idiots (Archive Footage)
Hagan Reviews: International Guerillas (Voiceover)
Hagan Reviews: Sting (with Spoony) (Co-Reviewer)
Angry Reviews: XCOM Enemy Unknown
Hagan Reviews: Chirpy (Archive Voiceover)
Diamanda Hagan Other Stuff: Best of 2012 (Archive Footage)
Atop The Fourth Wall: Youngblood #5 (Voiceover)
Atop The Fourth Wall: Star Wars 3-D #1
Angry Reviews: Aliens: Colonial Marines
The Cinema Snob: I Spit on Your Grave (Part 1) 
The Cinema Snob: I Spit on Your Grave (Part 2) 
Game Boys: Carter's Alley (Voiceover)
GameFap: Let's Fap with Spoony Live!
The Nostalgia Critic: Wicker Man
The Nostalgia Critic: Bloodrayne (Co-Reviewer)
Shut Up and Talk: Noah Antwiler (Co-Star)

86
Suede

GYMDK: Wiz N' Liz
Specials: Happy Holidays 2008
Atop The Fourth Wall: Rise Of Arsenal #3-4
Specials: Warrior #4 Comic Review
Atop The Fourth Wall: Pokemon: The Electric Tale Of Pikachu
Specials: Channel Awesome Holiday Video
The Nostalgia Critic: To Boldly Flee, Part 2
Team Blistered Thumbs: Last on the Bandwagon - Tomba!
Specials: The 2012 Channel Awesome Holiday Video! 
Atop The Fourth Wall: The Next 15 Screw Ups of AT4W (Archive Footage)
Hagan Reviews: The Island of Doctor Moreau
One Hit Wonderland: Ep. 28: How Bizarre

87
Substance TV

Specials: Channel Awesome Holiday Video<

88

Sursum Ursa

Welshy Specials: Welshy Farewell and Goodbye
Shark Jumping: Saved By the Bell
Bad Movie Beatdown: Killers (Co-Reviewer)

89
Takahata101

The Nostalgia Critic: Kickassia Part 5
Epic Fail - Shake THIS
Atop The Fourth Wall: 100th Episode
Cheap Damage: Club Penguin Card Jitsu (Archive Voiceover)
Cheap Damage: Lego Ninjago (Archive Voiceover)
The Nostalgia Cirtic: Baby Geniuses 2
Angry Reviews: DBZ Kinect (Archive Voiceover)
Atop The Fourth Wall: Doom 2099 #1 (Archive Voiceover)

90
ThatGuyWithTheGlasses

Animenia: Top 11 Greatest Anime Openings (Archive Footage)
The Nostalgia Chick: Anastasia
The Nostalgia Chick: She-Ra - Princess Of Power (Archive Footage)
Thanks For The Feedback: Date with Doug (Co-Star)
The Nostalgia Chick: Top 11 Embarrassing Nostalgic Dance Crazes (Archive Footage)
Film Brain Specials: Bum Fun Ad (Archive Footage)
The Spoony Experiment: Warrior #1*
The Nostalgia Chick: Transformers
Atop The Fourth Wall: Countdown Part 2
The Nostalgia Chick: Armageddon Part One
GYMDK: IK+
The Nostalgia Chick: Armageddon Part Two
True Internet Story: The Nostalgia Critic.
The Nostalgia Chick: Bratz
Bad Movie Beatdown: The Jazz Singer
Atop The Fourth Wall: Doom #1
Bad Movie Beatdown: The Jazz Singer
That Jewish Guy: Eight Myths of Hanukkah*
You Can Play This: You Can Hear This Music Video*
MikeJ Specials: The 12 Days of Geekmas
Paw Specials: Dragonball Evolution: The Epic Review
The Nostalgia Chick: The Smurfette Principle
The Spoony Experiment: Captain America part 1*
Bad Movie Beatdown: Mission Impossible II
Phelous (shows): The Deaths of Ian Stone
Until We Win: Bebe's Kids*
Phelous (shows): Cinema Snob & Phelous - Troll 4
The Spoony Experiment: Spoony & Lordkat PumpkinHead's Revenge*
The AngryJoeShow: Hotel Awesome: Season 2 - Episode 4
Atop The Fourth Wall: AT4W & Spoony: Experiment Warrior 2-3
The Game Heroes: Top 5 Videogame Movies*
Guy Lynor: The Lost Episode*
Familiar Faces: Episode 27: Connie Benge (Archive Footage)
Inbetweens: TRIGUN Volume One (Archive Footage)

The Film Den

: Ep 04: Jaws Part 2 (Archive Footage)
Obscurus Lupa Specials: A Day in the Life of Tommy Wiseau
The Cinema Snob: Caligula (Part 1)
Comic Book Issues: Top 11 Comic mis-fires
Familiar Faces: Episode #36: Baby Doll (Co-Reviewer)
Atop The Fourth Wall: 100th Episode
Sad Panda Q and A: Episode 2 (Archive Footage)
Atop The Fourth Wall: Silent Hill: Dead/Alive #3 and 4
Todd's Pop Song Reviews: Ep 12: "Club Can't Handle Me"
Sad Panda Q and A: Episode 7
Brad Tries: Pizza Beer (Co-Star)
Familiar Faces: Episode 42: Top 13 Treehouse of Horror (Archive Voiceover)
Music Games: Top 9: Marx Brothers Music Moments
Brad Tries: Pepsi Holiday Spice (Co-Reviewer)
Atop The Fourth Wall: Top 15 Screw-Ups of AT4W
Familiar Faces: Episode 46: 12 Forgotten Animated Christmas Classics
A Revieweraverse Saga: Episode 1 The Guyver (Archive Footage)*
You Can Play This: Super Back To The Future Part 2*
King's Quest Retrospective: Absence Makes The Heart Go Yonder
TheAngryJoeShow: Angry Joe Vs. Nostalgia Critic – Grudge Match!
Forget About It: Ghostbusters
Comic Book Issues: Uncanny X-Force #1-4
Weird Video Games - Revolution X (Arcade) (Voiceover)
Music Movies: South Park - Bigger, Longer & Uncut (Archive Footage)
JesuOtaku Reviews: Gurren Lagann
5 Second Character Analysis: Lucas (Archive Footage)
YROT Specials: The Last Airbender
The Last Angry Geek Specials: Video Game Confession Confessions
GameFap: 3D Real Girlfriend (Archive Footage)
Atop The Fourth Wall: The Godyssey #1 (Voiceover)
The Distressed Watcher: Karate Kid Trilogy (Archive Voiceover)*
Welshy Reviews: Scream 2 Part 1 (Archive Voiceover)*
JW Special: Fanime 2011: Special Convention only YCPT! Episode*
The Nostalgia Chick: Les Miserables The Musical
Angry Joe: Con Bravo Annoucement (Archive Footage)
Specials: Friday by all of TGWTG
Musical Youth: Meet The California Raisns (Archive Footage)*
The Sound Pit: Top 5 John Frusciante Songs
Comic Book Issues: Star Wars: Legacy - War (Archive Footage)
Bad Movie Beatdown: Shadow Man (Archive Voiceover)
The Nostalgia Chick: Grease 2 (Voiceover)
Welshy Reviews: Psychoville*
Atop The Fourth Wall: Comic Book Advertisements
The Nostalgia Chick: TLC and the 90's*
The Spoony Experiment: Tekken: The Motion Picture (Archive Footage)*
WTFIWWY: Episode 28 (Archive Footage)
Familiar Faces: Episode 57; My Little Pony Retrospective Part 1 (Archive Voiceover)
Welshy Specials: Aninite 2011 Vlog*
Phelous (shows): House Of Wax
The Nostalgia Chick: Kate and Leopold
Forget About It: Suburban Knights
WTFIWWY: Deep Hurting (aka Episode 29)
Familiar Faces: Episode 59: Halloween Kid Meal Toys (Archive Footage)
Pen And Paper Corner: Ironclaw (Voiceover)
The Nostalgia Chick: The Worst Witch
Animenia: The Girl Who Lept Through Time (Voiceover)
Blockbuster Buster: Top 10 Cartoons that Should be Movies (Archive Footage)
Familiar Faces: Episode #61: Lady Goo Goo (Archive Voiceover)
WTFIWWY Live: Gooey Hot Pockets (Voiceover)
Sad Panda Q and A: Christmas Special
Comic Book Issues: Flashback: Gotham Central
Rap Critic: Shaq Diesel (the Album)
Obscurus Lupa Presents: Peewee's Playhouse Christmas Special
Hagan Reviews: Children of the Living Dead (Archive Footage)
Nash Specials: Doctor Who Classic - The Twin Dilemma (Archive Footage)
WTFIWWY - Take it to the Limit (aka Episode 31)
JO Anime Reviews: Fullmetal Alchemist
Phelous (shows): Nostalgia Critic and Phelous: Child's Play 2 (Co-Reviewer)
Animenia: Pokemon: The First Movie (Part One/Two) (Archive Footage)
Hagan Reviews: Project Million (Archive Footage)
5 Second Movies: Surburan Knights in 5 Seconds (Benzaie) (Archive Footage)
Forget About It: Top 10 TGWTG Reviewers
Anime Abandon: The Ultimate Teacher
Comic Book Issues: Avengers: The Children's Crusade
The Nostalgia Chick: The Chipmunk Adventure (Co-Reviewer)
Brads Sketches: Doug and Ed Explain "Tree of Life" to Jake (Co-Star)
Welshy Reviews: Backwoods Bloodbath (Archive Footage)*
Vampire Reviews: I Am Legend (Voiceover)
The Nostalgia Chick: The Fresh Prince of Bel-Air
Hagan Reviews: Apocalypse 2: Revelation (Voiceover)
That SciFi Guy: Splice (Archive Voiceover)
Atop The Fourth Wall: 200th Episode (Part 2)
Atop The Fourth Wall: Rock and Roll #31 (Archive Voiceover)
Vampire Reviews: Count Chocula (Co-Reviewer)
That SciFi Guy Specials: Shootin the $#!Y - Ask That Guy (Co-Star)
HeIsAnEvilGeinus: Audtion for the Worst Movie Ever (Co-Star)
Phelous (shows) Nostalgia Critic and Phelous: Child's Play 3 (Co-Reviewer)
Atop The Fourth Wall: Catwoman: Guardians of Gotham #2 (Archive Footage)
Brows Held High: The Idiots (Archive Footage)
Familiar Faces:Episode 70 - Top 11 Comic Strips (Archive Voiceover)
Phelous (shows): To Boldly Flee - Alternate Endings (Archive Footage)
The Nostalgia Chick: Cutthroat Island (Voiceover)
The Nostalgia Chick: Top Ten Viral Videos from the Ancient Internet (aka Before YoutTube) (Archive Footage)
Hagan Reviews: Sextette
The Nostlagia Chick: Matilda
Comic Book Issues: Spider-Men
Team Blistered Thumbs: Last on the Bandwagon - Tomba! (Voiceover)
Anime Abandon: Sonic The Hedgehog: The Movie
Music Movies: The Devil's Carnival (Archive Footage)
Atop The Fourth Wall: Archie Giant Series Magazine #452
Diamanda Hagan Other Stuff: Best of 2012 (Archive Footage)
Atop The Fourth Wall: The Next 15 Screw Ups of AT4W
BT Staff: MegaGWolf - GView - Sonic Fan Movie Thoughts (Archive Footage)
Blockbuster Buster: Top 10 Movies People Want Me To Talk About (Archive Footage)
Atop The Fourth Wall: Titans Retrospecitve: The Titans #26-50
Diamanda Hagan TV Reviews: Twatty Who Review - Doctor Loo and the Phaleks (Archive Footage) 
Last On The Bandwagon: Aladdin (Voiceover)
Todd's Pop Song Reviews: Applause by Lady Gaga
Anime Abandon: The Guyver with the Nostalgia Critic (Co-Reviewer)
Comic Book Issues: The Dark Knight Returns (Co-Reviewer)
Obscurus Lupa Presents: A Talking Cat!?! (Co-Reviewer)
Internet Superstar - Episode 80 - That Guy With The Glasses
Welshy Specials: Welshy Farewell and Goodbye
Brows Held High: Beauty and the Beast (Part 1)
That SciFi Guy: The Sixth Day (Co-Reviewer)
The Blockbuster Buster: Transformers: Age of Extinction with The Nostalgia Critic (Co-Reviewer)
Everything Wrong With How The Grinch Stole Christmas - Again - With Nostalgia Critic
JURASSIC WORLD Ft NOSTALGIA CRITIC (Epic Voice Review)

91
That SciFi Guy

Atop The Fourth Wall: Rise Of Arsenal #3-4
Marzgurl Reviews: Marzgurl Loves Don Bluth - Titan A.E (Co-Reviewer)
Specials: Channel Awesome Holiday Video
The Nostalgia Critic: Star Trek 3 - The Search for Spock
The Nostalgia Critic: Star Trek 9 - Insurrection
The Spoony Experiment: Game Over*
Atop The Fourth Wall: Southland Tales
Atop The Fourth Wall: 200th Episode (Part 2)
The Nostalgia Critic: Total Recall (with Sci-Fi Guy) (Co-Reviewer)
The Nostalgia Critic: To Boldly Flee, Part 1
The Nostalgia Critic: To Boldly Flee, Part 8
The Blockbuster Buster: Jason X
Hagan Reviews: The Island of Lost Souls (Guest Lead)
Specials: The 2012 Channel Awesome Holiday Video! 
Hagan Reviews: The Island of Doctor Moreau
The Blockbuster Buster: Casting Couch - The TGWTG Producers
Nash Specials: Channel Awesome Against Humanity (Voiceover) 
The Nostalgia Critic: Les Miserables
Comic Book Issues: The Dark Knight Returns
Bad Movie Beatdown: The Shepard (Co-Reviewer)

92
The Film Renegado

Obscurus Lupa Presents: Peewee's Playhouse Christmas Special
The Blockbuster Buster: Top 10 Hispanic Heroes
Hagan Reviews: 69th Episode Special - Naked Killer (Voiceover)
Obscurus Lupa Presents: Witchcraft 7 - Judgement Hour 

93
The Nerd

The Nostalgia Critic: The Nerd Rant (Archive Footage)

The Nostalgia Critic:

The Nerd Rant 2

(Archive Footage)

The Nostalgia Critic: The Nerd Wizard Rant (Archive Footage)
The Nostalgia Critic: The Wizard (Archive Footage)
The Nostalgia Critic:

The Nerd Response...Response

(Archive Footage)
The Nostalgia Critic:

The Battle Of Epic Proportions

(Co-Star)
The Nostalgia Critic: Video Game Review (Archive Footage)
The Nostalgia Critic: NC vs The Nerd Showdown
The Nostalgia Critic: The Nerd vs. NC: The Final Battle (Co-Star)
The Nostalgia Critic: NC vs AVGN Retrospect (Archive Footage)
The Nostalgia Critic: Year One Anniversary Brawl (Co-Star)
Atop The Fourth Wall: Wolverine: Adamantium Rage
The Nostalgia Critic: Critic and Nerd: TMNT Making of Coming out of Their Shells (Co-Reviewer)
Specials: Trip to the Faimly Matters House (Co-Star)
Atop The Fourth Wall: Top 15 Worst Moments of Countdown (Archive Footage)
The Nostalgia Critic: Kickassia Part 5
Familiar Faces: Episode #36: Baby Doll (Archive Footage)
Atop The Fourth Wall: 100th Episode (Archive Footage)
The Spoony Experiment: Highlander - Last of the MacLeods (Archive Footage)
The Spoony Experiment: The Deadliest Character - Mechagodzilla vs. Megazord (Co-Star)*
You Can Play This: Super Back To The Future Part 2 (Archive Footage)
The Nostalgia Critic:

Suburban Knights Part 6

(Voiceover)
The Nostalgia Critic: Felix The Cat - The Movie (Archive Footage)
Hagan Reviews: Children of the Living Dead (Archive Footage)
Clan of the Grey Wolf: ConBravo! 2012 - Game Reviewers Panel (Co-Star)
The Nostalgia Critic: To Boldly Flee, Part 8
GH Specials: Handsome Tom and GH Retiring (Archive Footage)*
BT Staff: MegaGWolf - GView - Sonic Fan Movie Thoughts (Archive Footage)

94
Nostalgia Critc

Anime Abandon: The Guyver (with Nostalgia Critic)
Comic Book Issues: Avengers: The Children's Crusade
Comic Book Issues - The Dark Knight Returns Movie
CR - Familiar Faces #36
Dragonball Evolution: The Epic Review
JesuOtaku - Fullmetal Alchemist
Obscurus Lupa & Nostalgia Critic - A Talking Cat!?! VOSTFR
Phelous and Nostalgia Critic - Child's Play 2
Phelous and Nostalgia Critic - Child's Play 3
Titans Retrospective: The Titans #26-50
The Spoony & Nostalgia Critic & LordKat — PumpkinHead's Revenge
The Nostalgia Critic: Sharknado
The Thing from Another World: Climate of Fear #3-4
Vampire Reviews: Count Chocula (Co-Reviewer)
Watch AT4W: Countdown, Part 2
Until We Win - Bebe's Kids (lowres)
YROT Specials: The Last Airbender
Nostalgia Chick: Thanks for the feedback ep 1 Date with Doug (Nostalgia Critic)
SJS 1 Year Spectacular! (ft. hISHE, CinemaSins, Nonstalgia Crtic, and more!)
Transformers: Age of Extinction Review by The Blockbuster Buster and The Nostalgia Critic (Co-Reviewer)
Nostalgia Chick - Matilda

95
The Other Guy

Sketches: The Bjork Show Episode 1 (Co-Writer)
Sketches: The Bjork Show Episode 2 (Co-Writer)
The Nostalgia Criitc The Wizard (Voiceover)
The Nostalgia Critic: Batman & Robin
The Nostalgia Ciritc: '90's Sports Montage
The Nostalgia Critic: Captain Planet
The Nostalgia Critic: Surf Ninjas
The Nostalgia Critic: Mortal Kombat: Annihilation
The Nostalgia Critic: Nickcoms
Atop The Fourth Wall: Uncanny X-Men #424
Sketches: Melvin Brother of the Joker (Voiceover)
The Nostalgia Critic: Year One Anniversary Video
The Nostalgia Critic: Barb Wire
True Internet Story: The Nostalgia Critic
The Nostalgia Chick: Bratz
Specials: The Inebreati Episode One (Editor) (Co-Star)
True Internet Story: The Bjork Show
The Nostalgia Critic: He-Man Christmas Special (Voiceover)
The Nostalgia Critic: Star Wars Holiday Special
Specials: Christmas Day (Co-Star)
The Nostalgia Critic: Junior
The Nostalgia Critic: End of Days
The Nostalgia Critic: Bebe's Kids
Comic Book Issues: Planet Hulk DVD
The Nostalgia Critic: Drop Dead Fred
Cinema Snob & Phelous - Troll 4
The Angry Joe Show: Hotel Awesome Season 2 Episode 3
The Nostalgia Critic: Ernest Scared Stupid
Brad Tries Pizza Beer (Co-Reviewer)
The Nostalgia Critic: It
The Nostalgia Critic: My Pet Monster
The Nostalgia Critic: Commercial Special
Brad Tries: Pepsi Holiday Spice (Co-Reviewer)
The Nostalgia Critic: A Nostalgia Critic Christmas
Comic Book Issues: Cool Gifts For Dear Friends
The Nostalgia Critic: Care Bears 2
The Nostalgia Critic: The Lost World Jurassic Park
5 Second Movies: Puss In Boots in 5 Seconds (Archive Footage)
The Nostalgia Critic: X-Men Cartoon
The Nostalgia Critic: The OTHER Titanic Movie
The Nostalgia Critic: Revenge Of The Commericals
Todd's Pop Song Reviews: Ep 21: "S&M"
Specials: Friday by all of TGWTG
Angry Reviews: X-Men Destiny (Voiceover)
Comic Book Issues: New Teen Titans - Games (Voiceover)
Specials: AVGN Movie Casting Call
Nostalgia Chick Specials: Mr. Awesome Goes to Washington
The Nostalgia Critic: Child's Play
The Nostalgia Critic: Santa Claus The Movie
Angry Specials: AJ's Top 10 Most Disappointing Games of 2011 (Archive Voiceover)
Forget About It: Batman
The Spoony Experiment: Final Fantasy X-2 Part 3*
Ask That Guy With the Glasses: Episode 68
Anime Abandon: The Ultimate Teacher
The Nostalgia Critic: Mr. Magoo (Voiceover)
The Nostalgia Critic: Scooby Doo
Welshy Reviews: Saw Retrospective Part 1 (Introduction)*
That SciFi Guy: 5/5 Jeff Goldblum (Voiceover)
The Nostalgia Critic: Worst NC Reviewed Movies EVER! (Archive Footage)
Comic Book Issues: Marvel 2012 Annuals
The Nostalgia Chick: Sleepy Hollow (Voiceover)
Comic Book Issues: The Search for the Geek (Movie) (Archive Footage)
80's Dan: Christmas Eve in Springfield (Voiceover)
The Nostalgia Critic: The Review Must Go On
The Nostalgia Critic: Pearl Harbor
The Nostalgia Critic: Son of the Mask
Diamanda Hagan TV Reviews: Twatty Who Review - Doctor Loo and the Phaleks (Voicoever)
The Nostalgia Critic: The Cat in the Hat
The Nostalgia Critic: AI (Voiceover)
Game Boys: Carter's Alley (Voiceover)
Specials: The Last Airbender Vlogs - Tales of Ba Sing Se (Co-Reviewer)
Specials: The Last Airbender Vlogs - Appa's Lost Days
The Nonstalgia Gamer

96
ToddInTheShadows

Obscurus Lupa Specials: A Day in the Life of Tommy Wiseau (Co-Star)
Y Ruler of Time: "Anime" by...Soulja Boy!?
Familiar Faces: Episode #34: Lindsey Naegle (Archive Footage)
Atop The Fourth Wall: Action Comics #593
Atop The Fourth Wall: 100th Episode
WTFIWWY: It's Stupid at the Top
Music Games: Top 9: Marx Brothers Music Moments
Vinyl Destination: The Monkees: Head Review (Co-Reviewer)*
WTFIWWY: Episode 22
Atop The Fourth Wall: KISS Comics
Vinyl Destination: 33 1/3 Revolutions Per Monkee*
YROT Specials: The Last Airbender (Co-Reviewer)
Vinyl Destination: I Want My MTV*
Obscurus Lupa Presents: Birdemic
Rap Critic Reviews: "It Wasn't Me" featuring Todd in the Shadows (Co-Reviewer)
Music Movies: Mary Martin's Peter Pan
Stuck In Your Head: Duck Tales*
Specials: Bad Movie Beatdown:: Sunday School Musical (Co-Reviewer)
The Nostalgia Chick: Les Miserables The Musical
Specials: Bad Movie Beatdown Presents: Hercules in New York
Obscurus Lupa Presents: The Black Ninja
The Nostalgia Chick: The Sexual Awakening Of Nerds A Scientific Study
Specials: Friday by all of TGWTG
Nostalgia Chick Specials: Movie Vlog: Green Lantern (Co-Reviewer)
Welshy Reviews: Killjoy*
Musical Youth: Meet The California Raisins*
The Nostalgia Chick: The Little Mermaid
The Sound Pit: Top 5 John Frusciante Songs
The Nostalgia Chick: Grease 2
Brows Held High: The Man Who Fell To Earth
Nostalgia Chick Vlogs: Captain America Movie Vlog (Co-Reviewer)
The Nostalgia Chick: The Spiderman Musical Review (Co-Reviewer)
Obscurus Lupa Specials: Honor And Glory
The Nostalgia Chick: TLC and the 90's (Voiceover)*
Sage Specials: Top Five Best and Worst Covers of All Time
The Nostalgia Chick: Top Ten Songs About F**king (From Musicals)
NChick Specials: Live Action Fanfic: A Change Of Pace (Co-Star)
The Nostalgia Chick: She's All That
Rap Critic Reviews: "Raise Up" featuring Mues
The Nostalgia Chick: Sleepless in Seattle vs When Harry Met Sally (Co-Writer)
The Nostalgia Chick: City of Angels (Voiceover)
Phelous (shows): House Of Wax
The Nostalgia Chick: Kate and Leopold
Specials: Warrior #4 Comic Review
Nostalgia Chick Specials: Post Comic Con Exhaustion
Miscellany And Hodge Podge: Citizen Con: Oancitizen's Trip To The NYCC
The Nostalgia Chick: The Worst Witch
The Nostalgia Chick: Crossroads (Co-Reviewer)
The Nostalgia Critic: Nostalgia Critic MUSICAL REVIEW: Moulin Rouge
The Nostalgia Chick: The Christmas Shoes (Co-Writer)
Nostalgia Chick Specials: Mr. Awesome Goes to Washington (Co-Star)
Specials: Channel Awesome Holiday Video
The Nostalgia Chick: Top Ten Worst Disney Sequals (Co-Writer)
Worst Lyrics I've Ever Heard: This Year - 2011 (Archive Voiceover)
Nash Specials: Doctor Who Classic - The Twin Dilemma (Archive Footage)
Obscurus Lupa Specials: Hamlet the Vampire Slayer
The Nostalgia Chick: What Women Want
The Nostalgia Chick: Top Ten "Hottest" Animated Guys (Co-Writer)
JO Anime Reviews: Fullmetal Alchemist
Bad Movie Beatdown: Big Mommas - Like Father, Like Son
Specials: Tutorial - How to Make a Crossover
WTFIWWY: Live -Festive Holiday Grenades (Co-Reviewer)
Forget About It: Top 10 TGWTG Reviewers
Specials:Rejected Spooning with Spoony Ideas
The Nostalgia Chick: The Chipmunk Adventure (Co-Writer)
The Spoony Experiment: Game Over*
Music Movies: Fantasia 2000
The Nostalgia Chick: Will Smith Month! Men in Black (Co-Writer)
Atop The Fourth Wall: Southland Tales (Co-Reviewer)
The Nostalgia Chick: Will Smith Was a Rapper, Once
The Nostalgia Chick: How to Make This Web Series (Archive Footage)
Bad Movie Beatdown - Alvin and the Chipmunks: The Squeakquel (Co-Reviewer)
The Nostalgia Chick: The Fresh Prince of Bel-Air (Co-Writer)
WTFIWWY: This Is All YOUR Fault (The Return)
The Nostalgia Chick: Top Ten Boy Bands of the 90s (Co-Writer)
Hagan Reviews: Apocalypse 3 - Tribulation (Voiceover)
Vampire Reviews: Vampire Wine
The Nostalgia Chick: Ender's Game (Voiceover)
The Nostalgia Critic: The Wiz (with Todd In The Shadows) (Co-Reviewer)
The Nostalgia Critic: Total Recall (with Sci-Fi Guy) (Archive Footage)
HeIsAnEvilGeinus: Audtion for the Worst Movie Ever (Co-Star)
Nostalgia Chick Specials:Highlights from NYCC Party 2011
WTFIWWY: Live - The Cat's in the Kettle (Co-Reviewer)
Obscurus Lupa Presents: 100th Episode - Evil Dead 2
Brows Held High: Ep. 50 - Melancholia (Part 1)
Music Movies: A Muppet Christmas Carol
Nostalgia Chick Specials: Les Miserables (2012) (Co-Reviewer)
Nostalgia Chick Specials: Chez MAGFest Panel Highlights (Co-Star)
WTFIWWY: Live - Nudes on Ice (Co-Reviewer)
The Nostalgia Critic: The Review Must Go On
Vampire Reviews: Queen of the Damned
Nash Specials: MEGASTREAM Q&A's - Todd, Tara & Film Brain (Todd) (Co-Star)
Sage Specials: The Top 20 Worst #1 Songs
The Nostalgia Critic: Les Miserables
Shut Up and Talk: Todd in the Shadows (Co-Star)
WTFIWWY: Live - Texas Chainsaw Car Chase (Co-Reviewer)

97
Vangelus

Music Movies: Mary Martin's Peter Pan
Specials: Channel Awesome Holiday Video
JW Special: J-Dub Tries Poutine*
Nostalgia Chick Specials:Highlights from NYCC Party 2011

98
Ven Gethenian

Miscallany and Hodge Podge: A MAGFest Mini-VLOG: The Adventure of the Unexpected Cosplay (Co-Star)
Atop The Fourth Wall: Mr. T #2 (AP Comics)
Miscellany and Hodge Podge: Live Action Fanfic! The Origin of Escargoancitizen
Brows Held High: The Future
Brows Held High: Sleeping Beauty
Brows Held High: Ep. 50 - Melancholia (Parts 1 and Part 2)]
Brows Held High: Room in Rome

99
Victoria Turner

The Nostalgia Critic: Holiday Clusterf**k
The Nostalgia Critic: Drop Dead Fred
The Nostalgia Critic: To Boldly Flee, Part 8

100

Vincent E.L.

Atop The Fourth Wall: Mr. T #2 (AP Comics)
Forget About It: Top 10 TGWTG Reviewers (Voiceover)
Atop The Fourth Wall: 200th Episode (Part 2) (Voiceover)

101
Welshy (X)

Phelous (shows): I Know How Many Runs You Scored Last Summer
Bad Movie Beatdown: Bride Wars
Bad Movie Beatdown: Pirates of the Caribean: At World's End (Part Two)
Shameful Sequels: Halloween 2
Phelous (shows): La Horde (Co-Reviewer)
Obscurus Lupa Presents: Birdemic
Forget About It: Spiderman
Forget About It: Kickassia (Co-Star)
Forget About It: Highlander
The Sound Pit: Top 5 John Frusciante Songs
Atop The Fourth Wall: Rise Of Arsenal #3-4
Forget About It: Monty Python and the Holy Grail (Co-Star)
Bad Movie Beatdown: The Texas Chainsaw Massacre: The Beginning (Co-Reviewer)
Hagan Reviews: The Raspberry Reich (Voiceover)
Shameful Sequels: Matrix Revolutions Part II
Specials: Doug, Spoony, Benzaie and SadPanda Try PUSSY (Voiceover)
Forget About It: Inception
Sad Panda Specials: Welshy Vs SadPanda: The Final Fight (Co-Star)
Specials: The Most Useless Game In The World
Forget About It: My Little Pony
Phelous (shows): Croc
Phelous (shows): House Of Wax
Forget About It: Suburban Knights (Co-Star)
Forget About It: How to get it
Sad Panda Specials: Team Marganaras: Bloody Mallory
Hagan Reviews: Battle of the Bone
Forget About It: Star Wars (Prequels)
Hagan Reviews: The Dragon Lives Again
Atop The Fourth Wall: Southland Tales (Co-Reviewer)
Bad Movie Beatdown: Going Overboard (Full Episode)
Diamanda Hagan TV Reviews: Twatty New Who Review - The Beast Below
The Nostalgia Critic: To Boldly Flee, Part 2
Forget About It: TGWTG 1st Year Brawl
Stuck In Your Head: Danger Mouse*
Shameful Sequels: Hills Have Eyes 2
Nash Specials: Doctor Who Classic - The Cartmel Masterplan
That SciFi Guy: Zombie Aocalypse
Obscurus Lupa Presents: 100th Episode - Evil Dead 2
Sad Panda Specials: Sh*T TGWTG Producers Say - Reloaded (Co-Star)
Diamanda Hagan TV Reviews: Twatty Who Review - The Next Doctor (Voiceover)
Atop The Fourth Wall: The Next 15 Screw Ups of AT4W
Phelous (shows): Top 10 Phelous Moments 2012 (Archive Footage)
BT Staff: Smarty - MAGFest! Blistered Thumbs Community Q&A! (Part 1) (Voiceover)
Hagan Reviews: 69th Episode Special - Naked Killer
Diamanda Hagan TV Reviews: Twatty Who Review - The End of Time, Episode 2 (Part 1&2) (Voiceover)
The Blockbuster Buster: Casting Couch - The TGWTG Producers
Sad Panda Specials: Top 10 TGWTG Something Whatever I Guess..
Nash Specials: Channel Awesome Against Humanity (Voiceover) .
Nash Specials: MEGASTREAM Q&A's - Linkara, MarzGurl & Welshy (Welshy) (Co-Star)
Renegade Cut: That One Movie
Bad Movie Beatdown: The Shepard (Voiceover)
Bad Movie Beatdown: Texas Chainsaw (Co-Reviewer)
Shut Up and Talk: Welshy (Co-Star)

102
Y Ruler of Time

Specials: That Guy With The Glasses Christmas Special
Epic Fail Special: Carlton Dance (Later called Ep 20: A Look back )
MikeJ Specials: The 12 Days of Geekmas
Paw Specials: Dragonball Evolution: The Epic Review
The Nostalgia Critic: Kickassia Part 5
You Can Play This: Jojo's Bizarre Adventure*
Atop the Fourth Wall: 100th Episode
The Nostalgia Critic: To Boldly Flee, Part 8
Bum Reviews: Twilight: Breaking Dawn Part 2 (Co-Reviewer)