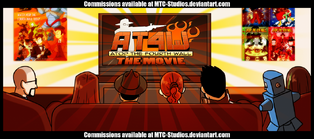 Atop the Fourth Wall: The Movie is the first feature-length production by Linkara and ties into the show's ongoing storylines. It was directed by him and Jessica Kitrick (aka Lady Jess). Having been made possible thanks to a successful Indiegogo campaign, the movie was released in daily parts between during November 24-28th, 2015. A DVD was releaseed in early 2016.
On Linkara's birthday, a government spaceship called the Caelestis is on a mission to check out a strange debris field near Jupiter (the remnants of the battle from "To Boldly Flee"). But when the government loses communication with the ship, Linkara's government liaison Allen recruits him and Comicron-1 to track it down. Aided by his friends, Linkara sets out to recover the ship.
As the group adjusts to their positions on the ship, Linkara asks MarzGurl to become captain should anything happen to him. Eventually, Comicron-1 reaches the Caelestis, only to find it's been outfitted with some of the debris around its exterior. When they attempt to approach, they're attacked and quickly weakened. They soon discover who destroyed the Caelestis' communications as Linkara comes face-to-face with an old foe.
The group assess the damage caused to Comicron-1, with Lupa suggesting they travel to Europa (the terraformed planet from "To Boldly Flee") in an attempt to find supplies. Before reaching Europa and heading down to it, MarzGurl and Linkara have a heart-to-heart over his recent concerns about his dangerous lifestyle, Nash expresses his fears to Harvey over nearly being killed and waxes philosophic with him about the existence of God, and Lupa is confused and amazed by 90's Kid's technical know-how.
Linkara, Nash and Lupa beam down to Europa to find supplies for Comicron-1 and quickly discover the planet has been affected by remnants of the Plot Hole. But Mechakara soon catches up and attacks, forcing Linkara to have the others go back to Comicron-1 without him. Meanwhile, the group works quickly to fix the ship. Linkara survives the attack, but Mechakara soon comes up with a plan that may destroy the comic book reviewer once and for all.
Comicron-1 duels with the Caelestis and manages to emerge victorious. The group quickly meet up with Linkara on Europa, and a climatic battle breaks out as Mechakara reveals his new powered-up form. The grueling fight comes to a head as the group bands together to attack Mechakara one last time, with Linkara delivering the final blow. Having a new lease on life and with the day saved, he returns home to finish celebrating his birthday.
| Episode Number | Name | Description | Date Released |
| --- | --- | --- | --- |
| 1 | Atop the Fourth Wall: The Movie Trailer | Coming November 24th... | November 11th, 2015 |
| 2 | Atop the Fourth Wall: The Movie - Part 1 | A grounded, realistic biopic of a man on the internet who reviews comic books. | November 24th, 2015 |
| 3 | Atop the Fourth Wall: The Movie - Part 2 | The movie continues as our heroes reach the Caelestis and discover what's happened to it... | November 25th, 2015 |
| 4 | Atop the Fourth Wall: The Movie - Part 3 | The movie continues with our heroes trying to figure out what to do in the wake of the battle… | November 26th, 2015 |
| 5 | Atop the Fourth Wall: The Movie - Part 4 | The movie continues with our heroes reaching Europa and discovering something incredible… | November 27th, 2015 |
| 6 | Atop the Fourth Wall: The Movie - Part 5 | The finale, as our heroes must come together and fight a great monster... | November 28th, 2015 |
Atop the Fourth Wall Transcripts
2008:
The Top 15 WTF Moments in Comics · US-1_1 · Doom's IV_2 · Superman At Earth's End · Sinnamon_11 · Batman_147
2009:
Spider-Man_56 · Godzilla Vs. Barkley · Titans_1 · Uncanny X-Men_423 · Uncanny X-Men_424 · S.C.I. Spy_1 · Mr. T and the T-Force_1 · Star Trek comic_1 · Newmen_1 · NFL Superpro_1 · Neutro_1 · Amazons Attack Prologue · Amazons Attack_1 and 2 · Amazons Attack_3 and 4 · Amazons Attack_5 and 6 · Sultry Teenage Super-Foxes_1 · Watchmen Review · Top 15 Worst Heroes Becoming Villains · Daredevil_305 · Daredevil_306 · Blue Beetle Tribute · World of Warcraft_2 and 3 · Captain Planet and the Planeteers_3 · Wolverine: Adamantium Rage · Youngblood_1 · New Guardians_2 · The Marriage of Hercules and Xena · Secret Defenders_9 · Secret Defenders_10 · Superman vs Terminator_1 · Countdown Prologue · Countdown Part 1 · Countdown Part 2 · Top 15 Worst Moments of Countdown · Xena_1 · Cable_1 · Law and Order_1 · Batman: Fortunate Son · Air Raiders_1 · Nightcat_1 · Zero Patrol_1 · Blackest Night · Blood Pack_1 · Mickey Mantle_2 · Adventures of the Kool-Aid Man_1 · Silent Hill: Dying Inside_1 and 2 · Silent Hill: Dying Inside_3 and 4 · Silent Hill: Dying Inside 5 · Maximum Clonage · 22 Brides_1 · All-Star Batman and Robin_1 and 2 · Doom_1 · Spider-Man, Storm and Cage · Bimbos in Time · The Dark Knight Strikes Again Part 1 · Extreme Super Christmas Special_1 · James Bond, Jr._3 · Top 15 Missed Opportunities of AT4W
2010:
Pitt_1 · Scarlett comic_1 · Future Five_1 · Ultimates 3_1 and 2 · Ultimates 3_3 and 4 · Ultimates 3_5 · Youngblood_2 · Mighty Morphin' Power Rangers_1 · Strange Adventures_136 · Doom's IV_1/2 · X-Men comic_1 · Darker Image_1 · The Dark Knight Strikes Again Part 2 · Sultry Teenage Super-Foxes_2 · Star Trek/X-Men _1 · Athena_1 · JLA - Act of God Part 1 · JLA - Act of God Part 2 · JLA - Act of God Part 3 · Teenage Mutant Ninja Turtles Meet Archie · Lunatik_1 · Chuck Norris Karate Kommandos_1 · AT4W & Spoony: Experiment Warrior_2-3 · The Dark Knight Strikes Again Part 3 · Tandy Computer Whiz Kids: Fit to Win · Anita Blake: The Laughing Corpse_1-2 · Freak Force_1 · Chain Gang War_1 · Ewoks_9 · Cable_2 · The California Raisins 3-D_2 · Hardcore Station_1 · The Others_1 and Brute Force_1 · Amazing Spider-Man: Skating on Thin Ice_1 · Star Trek Voyager: Elite Force · Action Comics_592 · Action Comics_593 · Top 15 Comics I'll Never Review · 100th Episode · Nolan Ryan_1 · Transformers comics_4-5 · Silent Hill: Dead/Alive_1 and 2 · Silent Hill: Dead/Alive_3 and 4 · Silent Hill: Dead/Alive_5 · Spider-Man: The Greatest Responsibility · Action Comics_1· Amazing Fantasy 15 · Detective Comics 27 · The X-Men 1 · Brute Force 2 · New Kids on the Block 4 · Marvel Team Up_127 · Santa Claus Conquers the Martians · Top 15 Screw-Ups of Atop the Fourth Wall
2011:
Justice League: Cry for Justice 1-2 · Justice League: Cry for Justice 3-4 · Power Rangers Zeo_1 · Justice League: Cry for Justice 5-7 · Care Bears 13 · Superman: Distant Fires · Youngblood 3 · Doctor Who Classics_7 · Spider-Man and the Fantastic Four in... Brain Drain! · KISS Comics · Superman and Wonder Woman: Tandy Computer Whiz Kids · Spawn_1 · X-Force 1 · The Backstreet Project 1 · All-Star Batman and Robin 3 and 4 · Lady Gaga 1 · Star Trek: The Motion Picture 1-3 · The Godyssey 1 · Superman Meets the Quik Bunny · Ultimate Warrior's Workout · Ultimatum 1-2 · Ultimatum 3-4 · Ultimatum 5 · SCI-Spy 2 · Miller Time: Batman/Spawn · Gameboy 1 · Eminem and the Punisher 1 · Barbi Twin Adventures 1 · Rise of Arsenal 1-2 · Rise of Arsenal 3-4 · Comic Book Advertisements · Star Trek 2 (Gold Key) · PSA Hell: Captain America: Return of the Asthma Monster! · NBComics 1 · Mightily Murdered Power Ringers 1 · Kamandi at Earth's End 1 · US-1 2 · Twilight Zone 9 · Superman and the TRS-80 Whiz Kids: The Computers that Saved Metropolis! · Street Fighter 1 (Malibu) · Silent Hill: Paint It Black · Silent Hill: Among the Damned · Silent Hill: The Grinning Man · Spider-Man: Planet of the Symbiotes · Pokemon - The Electric Tale of Pikachu · All-Star Comics 8 · The Fantastic Four 1 · All-American Comics 16 · Captain America Comics 1 · Star Trek: The Wrath of Khan 1 · Star Trek: The Wrath of Khan 2 · Star Trek: The Wrath of Khan 3 · Top 15 Personal Favorite Jokes of AT4W
2012:
Marville 1 · Miller Time: Robocop vs. the Terminator 1 · Brute Force 3 · 15 Things That Are Wrong With Identity Crisis · New Guardians 1 · Gameboy 2 · Youngblood 4 · Star Trek III: The Search for Spock · Mr. T 1 (AP Comics) · Mr. T 2 · The Amazing Spider-Man and Captain America in Dr. Doom's Revenge! · The Invincible Four of Kung-Fu & Ninja 1 · Kamandi at Earth's End 2 · Black Web 1 · Transformers: Generation 2 1 · Captain Tax Time 1 · Superman 701 · Bloodstrike 1 · Marville 2 · The Amazing Spider-Man on Bullying Prevention 1 · The New Teen Titans Anti-Drug Giveaway 1 · Daredevil vs Vapora 1 · Batman: A Word to the Wise · Marvel Team-Up 74 · Blake's 7 2 · Battle for Bludhaven 1-2 · Battle for Bludhaven 3-4 · Battle for Bludhaven 5-6 · Sir Charles Barkley and the Referee Murders · Captain Electron 1 · Star Trek IV: The Voyage Home · 200th Episode · Rock 'N Roll 31 · Future Shock 1 · Catwoman: Guardian of Gotham 1 · Catwoman: Guardian of Gotham 2 · Psychoman 1 · Marville 3 · Tandy Computer Whiz Kids: The Answer to a Riddle · Batman: Jazz 1 · Starstream 1 · The Thing From Another World 1 · The Thing From Another World 2 · Spider-Man: Power and Responsibility · Bart Simpson's Treehouse of Horror 2 · Flash Comics 1 · Tales of Suspense 39 · The Brave and the Bold 54 · The Incredible Hulk 1 · Superman's Christmas Adventure · Archie Giant Series Magazine 452 · Teen Titans 13: A Swingin' Christmas Carol · Batman: Noel · The Next 15 Screw-Ups of Atop the Fourth Wall
2013:
Kamandi at Earth's End 3 · Raver 1 · Transformers 31 · Happy Days 2 · All-Star Batman and Robin 5 · Youngblood 5 · Star Wars 3-D 1 · Marville #4 · Titans Retrospective: Team History · Titans Retrospective: JLA/Titans: The Technis Imperative · Titans Retrospective: Titans 1-25 · Titans Retrospective: Titans 26-50 · Frankenstein Meets the Space Monster · Power Pachyderms 1 · Star Trek V: The Final Frontier · Dragnet 4 · Wild Thing 1 · Spider-Man 2099 1 · Punisher 2099 1 · Doom 2099 1 · Ravage 2099 1 · Comic Book Quickies 1 · Kamandi at Earth's End 4 · SCI-Spy 3 · Star Trek: The Next Generation/X-Men 1 · Mr. T and the T-Force 2 · Miller Time: All-Star Batman and Robin 6 · Tandy Computer Whiz Kids: A Deadly Choice · Battlestar Galactica: Journey's End 1 · Marville 5 · Miller Time: Tales to Offend 1 · The Culling: Teen Titans Annual 1 · The Culling: Superboy 9 · The Culling: Legion Lost 9 · The Culling: Teen Titans 9 · Plan 9 From Outer Space: 30 Years Later 1 · Brute Force 4 · Star Trek VI: The Undiscovered Country · SCI-Spy 4 · The Thing From Another World: Climate of Fear 1-2 · The Thing From Another World: Climate of Fear 3-4 · Spider-Man: Crossfire · 2001: A Space Odyssey 1 · Showcase 4 · Tales to Astonish 27 · Showcase 22 · Journey into Mystery 83 · The Punisher: Silent Night 1 · Solson Christmas Special featuring Samurai Santa 1 · Star Trek: The Next Generation 2 · Doctor Who Classic Comics 15 · The Next 15 Missed Opportunities of AT4W
2014:
Marville 6-7 · Comic Book Quickies 2 · Miller Time: All-Star Batman and Robin 7 · Preparedness 101: A Zombie Pandemic · Gameboy 3 · US-1 3 · Youngblood 6 · Star Trek: Generations · The A-Team 1 · The Wild 1 · Kamandi at Earth's End 5 · Nova Girls: Kissing Canvas · Avengers 200 · SCI-Spy 5 · Red Hood and the Outlaws 1 · Athena 2 · Bill and Ted's Excellent Comic Book 1 · Zolastraya and the Bard 1 · PSA Hell: Superman: For the Animals 1 · Chuck Norris: Karate Kommandos 2 · Mighty Morphin' Power Rangers: The Movie 1 · Speed Steer 5 · Batman: Jazz 2 · 2001: A Space Odyssey 2 · Comic Book Quickies 3 · 300th Episode · Godzilla: Kingdom of Monsters 1 · Batman: Shadow of the Bat 56 · Sinnamon 1 · US-1 4 · The Adventures of Jell-O Man and Wobbly 1 · Miller Time: All-Star Batman and Robin 8 · Tandy Computer Whiz Kids: The Computer That Said No to Drugs · Marvel Super Special 17 · SCI-Spy 6 · Kamandi at Earth's End 6 · Sonic Super Special 7 · Star Trek: First Contact · Cosmic Slam 1 · The Thing from Another World: Eternal Vows 1-2 · The Thing from Another World: Eternal Vows 3-4 · The Thing from Another World: Questionable Research · Spider-Man: The Trial of Peter Parker · Whiz Comics 2 · Tales to Astonish 44 · Detective Comics 38 · The Avengers 1 · The Hobbit 1 · The Hobbit 2 · The Hobbit 3 · Santa the Barbarian 1 · Top 15 Worst Comics I've Reviewed
2015:
Miller Time: All-Star Batman and Robin 9 · Godzilla: Kingdom of Monsters 2 · Trouble 1 · Comic Book Quickies 4 · PSA Hell: Energy and Safety with the Justice League · Youngblood 7 · ROMTROSPECTIVE: ROM Spaceknight 1-40 · ROMTROSPECTIVE: ROM Spaceknight 41-75 · The Star Wars 1 · Batman: Jazz 3 · Mr. T and the T-Force 3 · Big Bang Presents 3: Protoplasman! · Crimson 1 · Vampire: The Masquerade - Bloodlines (RPG Game) · Titans: Scissors, Paper, Stone · PSA Hell: Batman: Shadow of the Bat 57 · Comic Book Quickies 5 · Avengers Assemble Featuring Captain Citrus 1 · Doctor Who/Star Trek: The Next Generation: Assimilation Squared · My Cage · The Punisher 60 · The Punisher 61 & 62 · Steam Wars · Ultimate Power 1-2 · Homestuck, Act 1 · Atomic Robo, Vol. 3 · Just Imagine Stan Lee Creating Superman · Just Imagine Stan Lee Creating Batman · Just Imagine Stan Lee Creating Wonder Woman · Just Imagine Stan Lee Creating the Flash · Zyuranger Episodes 17-22 · Tandy Computer Whiz Kids: The Computer Trap · Trouble 2 · Pokemon Reburst, Chapter 1 · Green Lantern 23.1 · Team Youngblood 1 · US-1 5 · The Star Wars 2 · Power Man and Iron Fist 79 · Nightmares on Elm Street 1-2 · Nightmares on Elm Street 3-4 · Nightmares on Elm Street 5-6 · Spider-Man: Virtual Mortality · More Fun Comics 73 · Daredevil 1 · Action Comics 252 · Tales of Suspense 52 · Atop the Fourth Wall: The Movie, Part 1 · Atop the Fourth Wall: The Movie, Part 2 · Atop the Fourth Wall: The Movie, Part 3 · Atop the Fourth Wall: The Movie, Part 4 · Atop the Fourth Wall: The Movie, Part 5 · Deadpool Bi-Annual 1 · Cho Dengeki Stryker · Zombies Christmas Carol 1-3 · Zombies Christmas Carol 4-5 · Another 15 Missed Opportunities of AT4W
2016:
NFL SuperPro Special Edition 1 · Popeye: Borned to Sea 1 · Onstar Batman Auto Show Special Edition · Godzilla: King of Monsters 3 · The Star Wars 3 · Youngblood 8 · All-Star Batman and Robin 10 · Pokemon Adventures Ch. 1-2 · Kaizoku Sentai Gokaiger Episodes 1-5 · Blue-Skying, Part 1: Blue Beetle Dan Garrett · Blue-Skying, Part 2: Blue Beetle Ted Kord · Blue-Skying, Part 3: Blue Beetle Jaime Reyes · Blue-Skying, Part 4: Blue Beetle Jaime Reyes New 52 · Star Trek Special: Flesh and Stone · Blackest Night 1-8 · Dart 1 · Batman: Shadow of the Bat 58 · The Legend of Heroes: Trails in the Sky · Ultimate Power 3 · Star Trek: The Next Generation 3 · Comic Book Quickies 6 · 400th Episode · Superman vs. the Amazing Spider-Man · Titans/Young Justice: Graduation Day 1 · Titans/Young Justice: Graduation Day 2 · Titans/Young Justice: Graduation Day 3 · 15 Things Wrong With Marvel's Civil War · Star Trek: Deep Space Nine 1 · The Minister of Chance · US-1 6 · Star Trek: Voyager 1 · Unsounded, Chapter 1 · Biggles and the Menace from Space · Batman and Robin: The Official Comic Adaptation · Superman and the TRS-80 Computer Whiz Kids: Victory by Computer · Star Trek/Green Lantern: The Spectrum War · My Little Pony: Friendship is Magic 27-28 · Yu-Gi-Oh! GX Ch. 1 · Pryde of the X-Men · A Nightmare on Elm Street: Paranoid 1 · A Nightmare on Elm Street: Paranoid 2 · A Nightmare on Elm Street: Paranoid 3 · Spider-Man: Cyberwar · The Real Ghostbusters in Ghostbusters II 1-3 · Strange Tales 110 · More Fun Comics 73 · Tales of Suspense 57 · All-Star Comics 3 · My Little Pony: Friendship is Magic 2015 Holiday Special · Ghostbusters: Past, Present, and Future · Elvira's House of Mystery Special 1 · Another 15 Screw-Ups of AT4W
2017:
Digimon: Digital Monsters 1 · Phonogram: The Immaterial Girl 1-6 · Teenage Mutant Ninja Turtles 1 · Trouble 3 · The Star Wars 4 · Spectacular Spider-Man Episode 1x10 - "Persona" · Youngblood 9 · The A-Team 2 · The Batman/Superman Movie: World's Finest · See You Next Mirror: Exiles Retrospective, Part 1 · See You Next Mirror: Exiles Retrospective, Part 2 · Reagan's Raiders 1 · Fist of the North Star, Ch. 1 · The New 52 · Godzilla: Kingdom of Monsters 4 · Iron Man: The Animated Series - The Wedding of Iron Man · Athena 3 · Batman: The Dark Knight 1-3 · The New Teen Titans Anti-Drug Giveaway 2 · Crisis on Infinite Earths · Secret Wars (1984) · The Infinity Gauntlet · Flashpoint · Babylon 5 1 · The Star Wars 5 · All-New Ghost Rider, Volume 2 · Robocop vs. the Terminator 2 · Superman vs. the Terminator 2 · Tandy Computer Whiz Kids: News By Computer Foils Kidnappers · Ultimate Power 4 · Delicious in Dungeon, Vol. 1 · Batman: Odyssey 1 · Asterix: The Legionary · Comic Book Quickies 7 · JoJo's Bizarre Adventures Episodes 1-4 (2012-2013 series) · Thunderbirds Are Go · Batman: The Official Movie Adaptation · Ultimate Iron Man Vol. 1 1-2 · My Little Pony: Friendship is Magic 11-12 · Stormwatch 0 · A Nightmare on Elm Street: The Beginning 1-2 · A Nightmare on Elm Street: Fearbook · New Line Cinema's Tales of Horror 1 · · The Sensational Spider-Man 0 · Freddy vs. Jason vs. Ash · Marvel Comics 1 · Brave and the Bold 28 · Kamen Rider Fourze Episodes 1-4 · Clive Barker's Hellraiser Dark Holiday Special · Sensation Comics 14: The Story of Fir Balsam · Steam Wars Holiday Special · Christmas with the Superheroes 2
2018:
My Top 15 Favorite Episodes of AT4W · Legion of Superheroes: The Great Darkness Saga · James Bond, Jr. 1 · JLA/Avengers · Homestuck, Act 2 · Isaac Asimov's I-Bots 1 · Thunderstrike 1 · Youngblood 10 · Badrock 1A · Event Comics Month II: Infinite Crisis · Event Comics Month II: Infinity War · Event Comics Month II: World War Hulk